In light of the newly-leaked opinion by the Supreme Court, anti-abortion advocates are detailing new fears and detailing past struggles in protesting at the Montgomery abortion clinic.
David Day is a Christian abolitionist who spends much of his time outside of abortion clinics, where he attempts to persuade women entering the clinic not to have an abortion. Day visits the clinic, often along with many others, and has for nearly a decade.
"I am not there simply to save a baby," Day said. "Not one mother that pulls into that mill is there trusting in Jesus Christ. That is their greatest need. My message isn't only 'do not murder,' but trust in Christ and love your baby as your neighbor to the glory of God."
One of the main areas in which Day spends time is Reproductive Health Services (RHS) in Montgomery.
The clinic is next door to a non-profit organization, POWER House.
People Organizing for Women's Empowerment Rights (POWER) is run by clinic escorts, who ferry mothers into the clinic and act as a home base for various other community activism organizations.
On July 20, 2021, Day was engaging in his usual activities of engaging with patients and clinic escorts outside of RHS while standing on the sidewalk.
According to court documents, James Raven, the husband of POWER House owner, Mia Raven, accosted Day while he was protesting outside of the clinic.
According to the complaint filed by Day, Raven was cursing at him and pushing him using his whole body while hurling obscenities. When Raven's wife led him away from the scene, Raven made a gun gesture toward Day.
Court documents detail that Raven was found guilty of harassment and sentenced to 180 days in jail, a sentence that was later suspended and replaced with court-supervised anger management.
The day before Raven's first scheduled court appearance, he and his wife filed claims against Day in municipal court, alleging harassment and criminal trespassing.
After the complaint was filed, the judge barred Day from further protesting at the clinic. Once Day's attorney filed an appeal, the restriction was lifted.
"Clearly, these [complaints] were for the purpose of retaliation because of the complaints that David filed against her husband," said Don Bethel, Day's attorney.
A common criticism by clinic protesters is a more biased approach by the Montgomery Police Department (MPD). Every protester that talked to 1819 News expressed concern with an apparent bias and lack of equal protection from the MPD.
According to multiple protesters, POWER plays music over loudspeakers to drown out the pleadings of the protesters, often playing music with sexually explicit language and profanity.
Day has posted videos on his public social media of MPD officers seizing a plastic cone he uses to amplify his voice, claiming that Day and others are violating some law by being too loud. The lawyer for Day has sent multiple letters to the MPD asking for a legal explanation for the seizures and has received no response.
"They took my cone twice, but they don't do anything about the radio."
"They [the police] will show up and reprimand us for preaching, but the radio will be sitting there just blaring as loud as they can," said Daniel French, another clinic protester. "We'll say, 'Hey, can you not hear that stereo?' And they'll say, 'I sure can, but I wasn't called out here for them. I was called out here for you.'"
"We have to be loud so people can hear us over the radio. You can see that it's just blatant bias; there's just no way around it."
One video from December 2020 shows a uniformed MPD officer, identified as officer Shingles, who was hired as a security guard for the clinic, aggressively arguing with protesters.
The video begins with the officer mocking an African American protester's hairstyle, followed by a string of aggressive statements.
"You look ridiculous," The officer said. "You got braids like you [are] a female."
"…You provoke the bear, you're going to get touched."
"… I'm here to protect who pay me; I don't bother you."
"…You talking to a wolf; I don't back down."
"One pro-abort grabbed my phone out of my hand and threw it into the ground and busted, and nothing at all happened to him," Day said. "The cops just don't do anything, so we just stopped calling them."
The POWER House often makes derogatory posts regarding Day, even going so far as to post his personal telephone number.
Day was not alone in describing instances of violence and harassment at the Montgomery Clinic.
Valarie French, a woman who would often visit the clinic in an attempt to address patients and others, detailed events in which clinic escorts made sexually suggestive remarks and hand gestures toward her and other protesters. Day documented such an occurrence on his social media.
French and her husband recounted to 1819 News experiences of aggression from the patients' companions, passersby, and clinic escorts.
The protesters stay on the public sidewalk since they are not allowed on the actual property of the clinic. After a court case, a judge prohibited clinic workers from confronting the protesters on the sidewalk, an order which the protesters claim the workers routinely violate.
"Before that ruling, it was nothing for the escorts to get right up in your face," French said.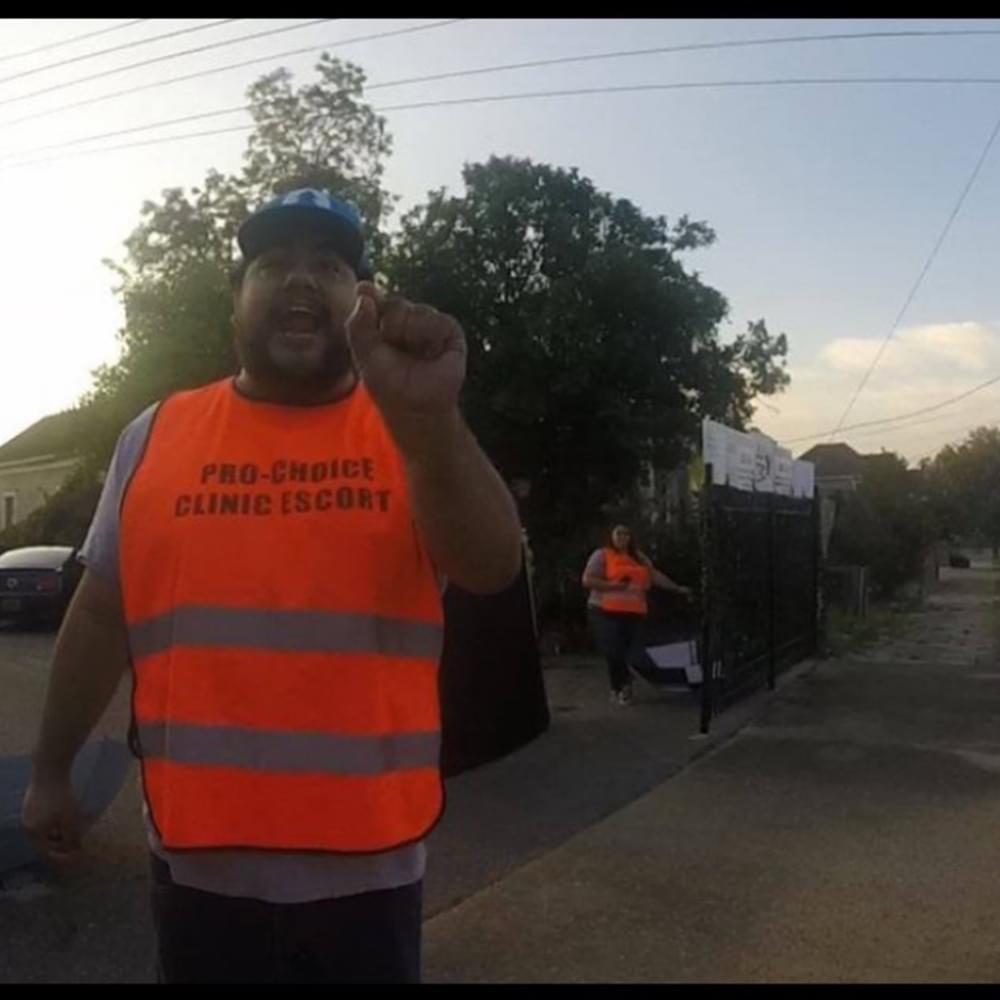 Both Daniel and Valarie French detailed instances of being spit upon, struck, and other physical confrontations outside POWER House. The couple described an event in which they claim a clinic escort attacked them both with an umbrella.
"He was going to hit me with an umbrella, and my husband stepped in the way," Valarie said. "And he hit my husband in the head with it until the umbrella broke."
"I don't know if he was being a jerk or just couldn't see, but he was about to just ram right into my wife with the umbrella." Daniel French said. "I had my phone in my left hand recording, so I reached out with my right hand, and I pushed the umbrella away. When I did, he snapped; he pulled the umbrella over his head like he was chopping firewood with an ax and came right on top of my head with the umbrella and absolutely destroyed it."
Although Daniel and Valarie claim there was no reciprocal violence, the escort filed an assault report with the MPD, and a warrant was sworn out for Daniel.
After turning himself over to police, Daniel filed a report against the escort.
"He was found not guilty even though I had video proof." Daniel French said. "Of course, they found me not [guilty] as well. But because he had so many people there lying for him that, if I wouldn't have had video, they would have found me guilty."
Although POWER House did not respond to inquiries from 1819 News, the clinic escort recounted his version of events in a video produced by Now This News. In the video, the escort, Travis Jackson, described the attack.
"I was attacked," Jackson said. "Somebody charged at me. One of the protesters destroyed the umbrella that I had."
Multiple protestors expressed safety concerns in light of the recent leaked opinion from the Supreme Court of the United States (SCOTUS), in which it appeared the majority opinion was to overturn Roe v. Wade. Day, French, and others pointed to a public photo on the POWER House's social media in which they were hosting a "personal safety course" in which multiple knives, clubs, and a single firearm could be seen.
The Montgomery Police Department and POWER House did not respond to inquiries regarding these events.
To connect with the author of this story, or to comment, email [email protected].
Don't miss out!Subscribe to our newsletterand get our top stories every weekday