As many as 50 nurses at the Birmingham Veterans' Affairs (VA) Hospital say their request for religious or medical exemptions to COVID-19 vaccines has gone unrecognized, and as a result, they are being threatened with disciplinary action, reassignment or even termination.
According to documents obtained by 1819 News and interviews with medical personnel, employees' request for exemption has been denied, and they say they have been allotted two weeks to update their vaccines status or face penalties ranging from "admonishment up to removal."
"I don't understand how they're going to keep the hospital open," said one VA doctor, who asked not to be identified. "They're already short 37% of their nursing positions because it's so hard to fill those spots. Are you going to get rid of 44 nurses? We're going to be down a ton of capacity."
Or, as one nurse said, "The bottom line is if they fire this many people, it's going to be really detrimental to our veterans, and these are the people who fought for these very freedoms and rights we have. But the hospital is hellbent on firing all these people because of their religious and medical exemptions."
All of the medical personnel 1819 News spoke with asked that their names not be used, for fear of reprisal by the VA. For the purposes of this article, they will be referred to by number rather than name.
According to Shannon Arledge, Communications Director for the Birmingham VA Healthcare System, the hospital is following federal guidance as it has throughout the pandemic.
"There has been no change to the Birmingham VA Health Care System vaccination policy," Arledge said. "We comply with federal health care policy, which requires VA employees to be vaccinated or have a religious or medical exemption – this has been the case for months.
"Patient safety is our priority. Therefore, we will do everything possible to accommodate employees who have a religious or medical exemption and directly care for patients by placing them in similar job roles outside of high-risk patient care settings. No terminations or reassignments have occurred, and we continue to follow all CDC guidelines to ensure patient safety and quality health care for the Veterans we are entrusted to serve."
When asked to confirm the number of employees who had their exemptions denied, Arledge refuted the presumption.
"No employee has received an official denial to his or her exemption," said Arledge.
However, multiple VA employees said that was not the case.
"My manager called me into the office, and we were presented a memo stating my exemption was being denied, and the memo we were required to sign said it's a final decision," said Nurse Four. "If you don't have two vaccines at least, you are not going to be able to work at the bedside as a nurse."
While it is unclear what constitutes an official denial, 1819 News has obtained copies of memos provided to multiple nurses informing them, "The agency has reviewed your request for the COVID-19 vaccination exemption and has determined the accommodation would pose an undue hardship for the agency."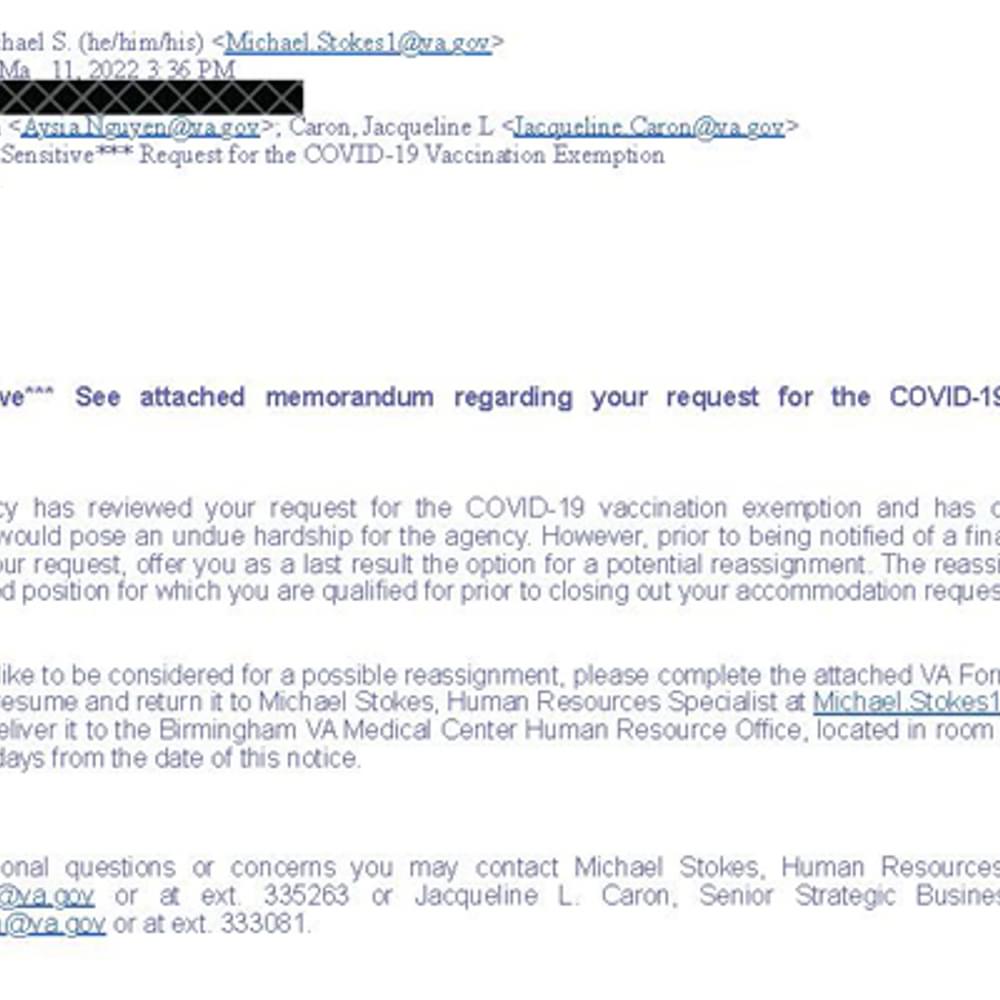 In documents obtained by 1819 News, the General Counsel's office for the Birmingham VA changed the handbook guidance on April 18, two days prior to the memos being sent to staff who did not meet the VA's vaccination requirements.
The change indicated that reasonable accommodations must work for the agency in addition to the employee. The previous handbook did not state the need for an accommodation to work for both, only for the employee.
A separate email from a senior medical professional acknowledged that "at this time religious exemptions are not being offered, per the directive."
While no official legal action has taken place, some of the nurses who spoke with 1819 News are represented by Matt Clark, President of the Alabama Center for Law and Liberty (ACLL).
Clark has been active in defending the rights of Alabamians with regard to the pandemic restrictions. He recently brought suit against Gov. Kay Ivey and Scott Harris, the State Health Officer, on behalf of a business owner who was severely impacted by lockdowns. Clark shared his legal reasoning on the VA's decision with 1819 News.
"The VA appears to be approaching religious exemptions through Title VII alone," Clark said. "But because the VA is a government agency, the Free Exercise Clause applies too. In this case, the Free Exercise Clause provides far more protection than Title VII does. If the VA does not catch that distinction, then it will get sued, and it will lose.
"The Free Exercise Clause, in this case, would require the VA to prove as to each individual employee that it was absolutely necessary to vaccinate them. In other words, if there is another way to keep the patients safe without firing the employees, then the government must choose that option."
According to nurses at the hospital, on April 20, the VA submitted memos to 50 personnel deemed "high risk," informing them that their religious or medical exemption request was denied and allotting them two weeks to update their vaccine status.
"Our supervisor sat us down and said, 'Look, they're going to fire you. I'm going to post your jobs and start interviewing people.' And they have done that," said Nurse One. "Two people were interviewing for my position on Monday."
Two weeks later, on May 12, the employees received another notice stating "the [exemption] accommodation would provide an undue hardship for the agency."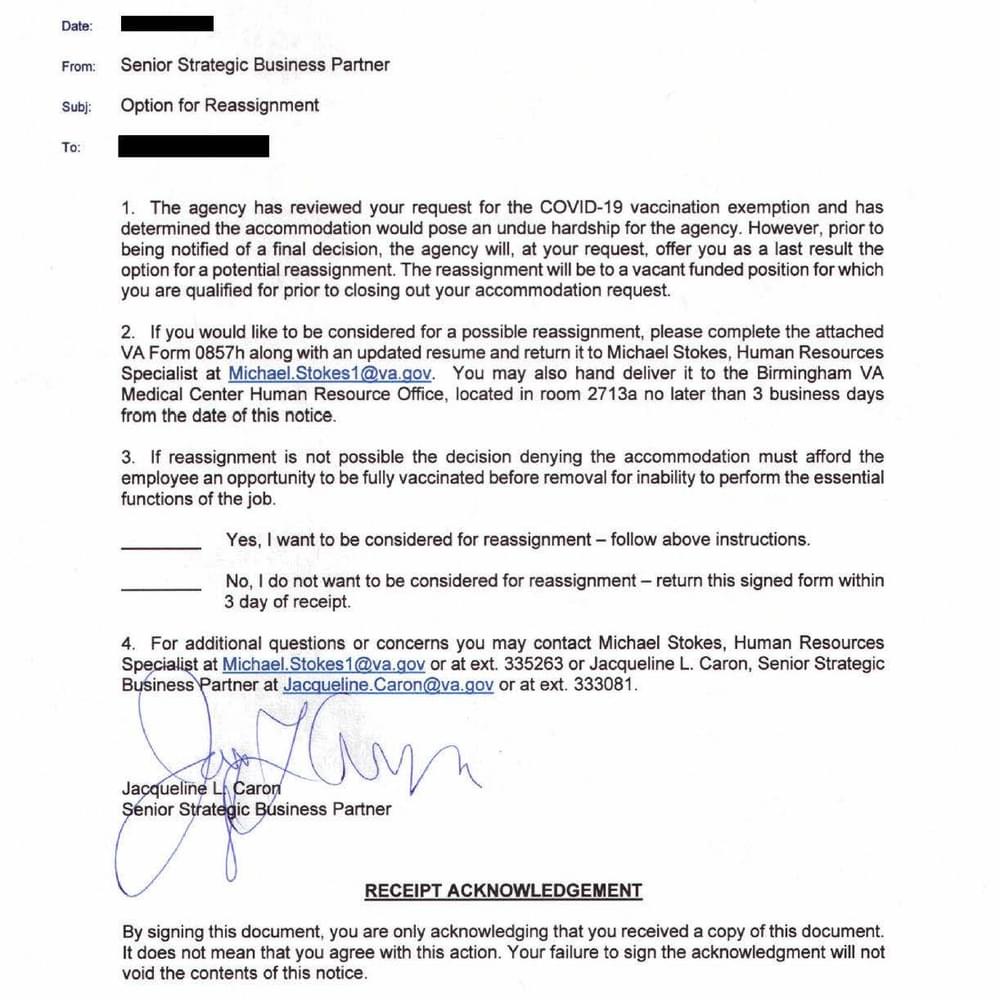 According to Nurse Three, "The paperwork says you are causing an undue hardship on the facility. How am I, as a healthcare worker on the frontlines, at the bedside, and have been for the last two years, causing an undue hardship for this facility when I have done nothing but provide the best care for my veteran patients?"
"The CDC came out recently that natural immunity is better than vaccination," said the VA doctor. "It's about compliance, not science. The safety profile on these vaccines is wildly unsafe; they're experimental."
"I can't think of any sane medical person who can look at the data coming out right now and think this is wise choice for the general population," said Nurse One. "I feel like I'm living in a bizarre alternate universe where people aren't using their brains, even medical professionals."
Charles Ellzey, an attorney based in Elba, described his experience representing servicemembers seeking exemptions from the vaccine requirement.
"Medical exemptions became near impossible as doctors were often unwilling to defend their statement that an exemption to the COVID vaccine was necessary, for fear of consequences they themselves or their practice might suffer," said Ellzey.
"I don't think it is ethical [or] moral to force people to do this," said a VA doctor. "Were we created with bodily autonomy or not?"
A common criticism was the inconsistent granting of exemptions by the hospital's management.
"It hasn't been consistent across the hospital," said Nurse Two. "Anybody who has any contact with patient care is under high risk, but it is not consistent on who it has come down on. We have [only had] one or two [COVID-19] cases in the hospital over the last few months on any given day, so this is the perfect time because nurses are more dispensable. Every single person in a 'high risk' area had their exemption denied."
The VA doctor said, "They were going to lose one of their doctors, they were in danger of losing a great teacher and five or six nurses in one department, so they just reclassified them as low risk [so] it's not a problem and they get an exemption."
"We're already facing a nursing shortage, and we're at a pretty high vacancy rate," Nurse Three said. "If they continue down this path and those nurses are reassigned or quit, there is serious speculation that they would have to close down most of the hospital."
"This is the only VA in the state where we do surgeries," said Nurse One.
"I imagine [the hospital] would be shutting down in-patient care services for lack of nurses. …We're down to about 20 ICU beds," Nurse Two claimed. "So already we are [short-staffed] and this is only going to make us shorter. It's going to be situations where a delay of care is going to happen because we don't have enough staff to care for the patients."
Potentially replacing the unvaccinated personnel would be a costly and lengthy ordeal.
"To onboard can be a lengthy process," said Nurse Three. "Even if you hired people right now to replace us, you're still looking at the end of the year before those people are physically in the door."
"We've got one ICU closed," said Nurse Four. "The floors are in such bad shape that they continually pull ICU nurses to staff the floors and if you take some of us out of staffing that's going to create a worse situation."
Attorney Daniel Flickinger, who represents members of the military also seeking vaccine exemptions, shared his thoughts on the issue.
"The VA's policy has no basis in logic or reality," Flickinger said. "Currently, employees are receiving paperwork informing them their requests for accommodation are likely to be denied because the employees purportedly present a risk to patients because of vaccination, yet they are being instructed by their supervisors to continue caring for patients (like they have throughout the entire pandemic) until the final decisions come through."
Personnel expressed frustration at the lack of medical evidence for continued vaccine mandates, particularly concern over the vaccines themselves. The release of Pfizer documents and the FDA recommendation change regarding the Johnson & Johnson vaccine have furthered these concerns. Others mentioned that they have had COVID-19 due to their work and wonder why the VA has not acknowledged natural immunity, as the CDC has.
Overall, the situation has raised tensions at the VA hospital.
"All my co-workers are furious about it and there are probably going to be a lot more people leave because of it," Nurse Four said. "At the end of the day, it's going to hurt the veterans. They say it's about 'protecting the veterans,' well you ain't protecting the veterans if you are going to run off a whole lot of people. Who is going to take care of them?"
Nurse Two said, "Needless to say, it's very stressful, very low morale at the VA.
"The first nine months it was, 'Health care workers are the greatest ever, thank you.' Now, it's 'F-you."
On Thursday, May 19, hospital leadership held a conference call to address concerns but did not offer any new solutions, according to nurses who were on the call.
Some acknowledged that the hospital management was in a tough position as well and still had praise for management despite their frustrations.
"Everybody I talked to about this has been supportive," said Nurse Four. "They're scared because they know how bad this is going to affect the hospital. This whole time they keep talking about the process, I think they're hoping it's going to go away."
"This is one of the biggest slaps in the face I could get from a management perspective," Nurse Two said. "Management relied on us for nine months before the vaccine was available, short-staffed, short-supplied, being asked to limit patient visits in an ICU, but none of the nurses wanted monetary compensation for putting themselves in dangerous situations, they just did it. We deal with it, that's just the risk."
Yet many of the personnel believed it was important to share their experience as a matter of principle.
"If we don't speak up and do something, it's all going to be different before long," Nurse Four said.
"It's the right thing to do," said a VA doctor.
"Sometimes, the someone who needs to do something is you - or in this case, me."
To connect with the author of this story, email sean.taylor@1819news.com or on Twitter @morninganthem.
Don't miss out! Subscribe to our newsletter and get our top stories every weekday morning.