The Jefferson County Sheriff's Office has been facing challenges, including a high crime rate, open deputy positions and low morale among some deputies. With the general election days away, some law enforcement officers are hoping for a change.
Two of those deputies spoke on the record with 1819 News to talk about problems they have seen over the past four years. Clint Bowden and Dawn Corbett said they hope new leadership will prevail in the upcoming general election because the issues impacting their daily work lives all started with the election of Sheriff Mark Pettway, and they said those problems are getting worse and affecting surrounding areas.
"This problem is like Filla Foam in a crack," said Bowden. "It's spreading out."
Bowden, a deputy in Pinson, said one of the main issues he faces is not having enough deputies on the street. However, he said that is just one issue he wants to see addressed.
"There's so many wrong things going on at this department that it's too much to name," Bowden said.
Because of fewer deputies in his area, Bowden said he is forced to be reactive in his job instead of proactive.
"I go to an alarm call, and then I turn around and go to a domestic, then I go over here, here, here, here," he said. "I'm chasing the tail."
Corbett has been looking at the number of deputies in certain places. She said the criminals know the communities are not being taken care of, and they take advantage of that.
"Our job is to protect the people of Jefferson County, and it hurts me that we can't do that," Corbett said … "I love my community, and it breaks my heart."
Jefferson County Commissioner Lashunda Scales said in a meeting this week that the county's violent crime rate is higher because of crime within the city limits of Birmingham, not in unincorporated areas of the county where the sheriff's office patrols.
The Jefferson County Sheriff's Office has not responded to media requests addressing the deputy complaint on shortages and morale. However, Lt. Joni Money said there are currently 26 open deputy positions.
When asked if Money could provide the number of employees the sheriff's office has had on the first fiscal day of each year for the past five years, she told 1819 News, "Ok. Don't think I'm going to be able to get numbers for the past five years. I don't think we keep cumulative numbers like that, But currently, there are 405 deputy positions, and 26 are vacant."
Jefferson County Commissioner Jimmie Stephens said the number of sheriff's office employees had been presented in the budget most years. He gathered the numbers since 2018. The 2020 numbers were not available.
"[T]he last report I had was from December 2020," Stephens told 1819 News. "Since November 2018 through December 2020, there had been 260 sworn personnel either leave or retire. I'm trying to get numbers since the last report, as well as the total number of positions. The number at the beginning of each year is a little misleading or doesn't have any statistical significance because even with a mass exodus of employees, they can hire or transfer in new personnel, so that will be a skewed number."
The sheriff's positions are divided between enforcement and jail employees, but in this context, they are presented together.
In 2018, the sheriff's office had 686 filled positions and 38 vacancies.
In 2019, the sheriff's office had 667 filled positions and 57 vacancies.
In 2021, the sheriff's office had 665 filled positions and 54 vacancies.
In 2022, the sheriff's office had 647 filled positions and 70 vacancies.
Stephens serves as a liaison to the sheriff's office.
"What I do hear is from the deputies, you know, having been liaison for 12 years for the sheriff's department, I hear from the deputies on a regular basis, and right after Sheriff Pettway was elected, of course, there's always discontent with change," said Stephens. "People are resistant to change, but I still hear a great deal of angst, I guess you would say. They're concerned that they're not being allowed to patrol in the areas where they feel they need to, but that's our elected sheriff ... that's his decision. They worry about these gambling [facilities] that's coming up in different areas and the sheriff's refusal to really enforce that."
Corbett is one of those concerned with bingo halls in Jefferson County. The number of bingo facilities has increased in several unincorporated parts of the county in the past several years.
"All it is a cover to sell drugs, prostitute, and the crime rate that comes out of those things is ridiculous," said Corbett. "The community suffers so much ... What those communities need is help, education, recreation, something that's positive. But no, you're going to act like you care about these people; no, you don't."
Some police chiefs in some municipalities within Jefferson County told 1819 News they are more than struggling with the sheriff's office.
Hueytown Police Chief Mike Yarbrough spent 30 years working for the Jefferson County Sheriff's Office. Yarbrough said he had seen issues bleeding into his city.
"When I worked there, there were close to 500-plus," said Yarbrough. "Now it's just a mess because nobody wants to work there."
Yarbrough said he had previously requested backup, and it took over an hour for anyone to show up.
Pleasant Grove Police Chief Robert Knight has expressed concern about the sheriff's office since an incident in his city where the county's SWAT team was called off a standoff in September. He said he could no longer rely on the sheriff's office for assistance.
Eric Rush, Trussville's Police Chief, told 1819 News he is concerned for the safety of his citizens due to crime coming out of Center Point. Rush also said he has heard from concerned firefighters from the Center Point Fire District who have asked for backup from Trussville because of the lack of deputies in the eastern part of the county.
"He [the firefighter] told me they had one deputy in Center Point," said Rush. "I was like, 'what?"
Rush said he is willing to assist neighboring municipalities and unincorporated areas in emergencies but doesn't depend on it from Jefferson County.
"I've gotten to where I don't call for backup," said Rush. "I don't use them for anything. They used to work my officer-involved accidents within my city, and I couldn't depend on them for that, so now I'm using Irondale PD to do that for me. So, we don't call them, period. And that's a huge change. We used to use them a lot."
"It's getting to the point now that us [Hueytown] and Pleasant Grove are getting together, and we're going to put together an entry team, so we don't have to rely on them anymore," Yarbrough added.
During the Magic City Classic, over 31 deputies were assigned to the area surrounding Legion Field. During that time, Clay City Manager Ronnie Dixon, who manages a contract city where deputies are paid specifically for the city, said his side of the county didn't have enough coverage.
"The Center Point substation only had one deputy," Dixon said. "There are supposed to be 13."
1819 News asked the sheriff's office how many deputies were used at the Magic City Classic and how many deputies left some surrounding areas, but no reply was received.
Bowden said he has had to order deputies in Pinson to only respond to domestic and emergency calls on a Saturday because of being short-staffed.
The contracts state that the sheriff's office is to provide emergency response and preventative patrol, Bowden pointed out.
"Pulling from patrol and putting them in other facets like the political stuff, but he's [Pettway] been doing it way before then, he's pulling from patrol to do specialized stuff that really puts, he's covering areas like the city of Birmingham, that's already got its police protection, and so rural Clay, Pinson, all of this, you've got all that going, you're not getting adequate services within unincorporated parts of Jefferson County," he said.
1819 News asked the sheriff's office what was being done to help the deputies feel safe but did not get a response.
Corbett, a military veteran, said the sheriff's office used to be like a family, similar to the military life, but explained that now everyone is against each other.
"It breaks my heart seeing what's happened," Corbett said. "The division that's happened, I don't understand it. Normally, division like this happens because some people that are in power, because of whatever reason, whatever happened in their life they, are miserable and they have grudges, that's why they behave the way they do, and that's why we are treated the way we are … It's like a cancer … It's almost like they don't like law enforcement, which how do you manage like that? How do you have people in power that don't like law enforcement, and you're a law enforcement agency? It makes no sense. They're nit-picking little things. It's almost like it's targeting against a certain genre of people."
Corbett said despite the fear of retaliation, somebody has to fall on the sword and say something, and she is willing to be that person. She has been employed with the sheriff's office since 2001 and said if changes aren't made, she will quit.
"I'm quitting, along with numerous others," she said. "I don't care what I lose. I don't care about any of it. … I cannot with my morals and my ethics. I cannot. I cannot do it. I don't care if I have to sack groceries."
Bowden said he plans to retire in five years and can handle whatever the future holds.
"Working with good, bad or evil, I can stick it out," said Bowden. "But there's younger people that are stuck."
1819 News requested an interview with Pettway about his campaign and what he hoped to see in the future for Jefferson County, but several requests were ignored.
In an 1819 News poll of 23 chiefs of police in Jefferson County, 15 responded. The question was, "Which candidate do you support for Jefferson County Sheriff? More than 90% of respondents said they supported Jared Hudson. Only one respondent said they supported current Sheriff Mark Pettway.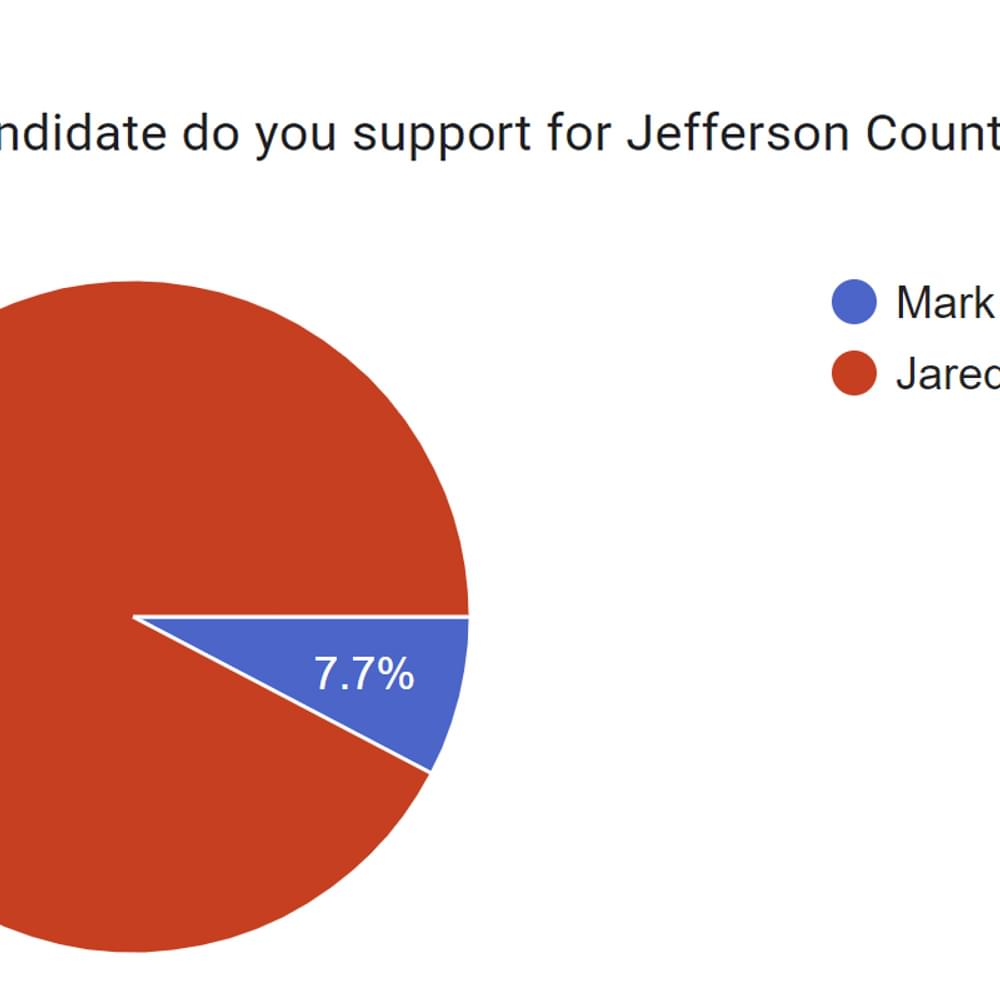 The general election is Tuesday, November 8. To view the sample ballot in your county, click here.
To connect with the author of this story, or to comment, email [email protected].
Don't miss out! Subscribe to our newsletter and get our top stories every weekday morning.