A warming trend is expected to continue this week and forecasters are warning about the possible impact across Alabama.
High temperatures Wednesday will be in the upper 90s with some locations seeing temps of 100 to 102 degrees, according to the National Weather Service. This means heat indices could be in the 104-to-107-degree range. In south Alabama, indices could be closer to 108 degrees.
We may sound like a broken record at this point... but the heat is here to stay. In fact, it will be even hotter by mid to late week!🥵🌡️Heat index values tomorrow will be in the 101-106 degree range, but on Wednesday values will likely reach between 105-110 degrees. #mobwx pic.twitter.com/VG3RDVIL94

— NWS Mobile (@NWSMobile) June 20, 2022
The heat index is the "feels-like" temperature, taking into account the actual temperature and humidity level.
A few summer showers are possible Wednesday afternoon, mostly in the western part of the state.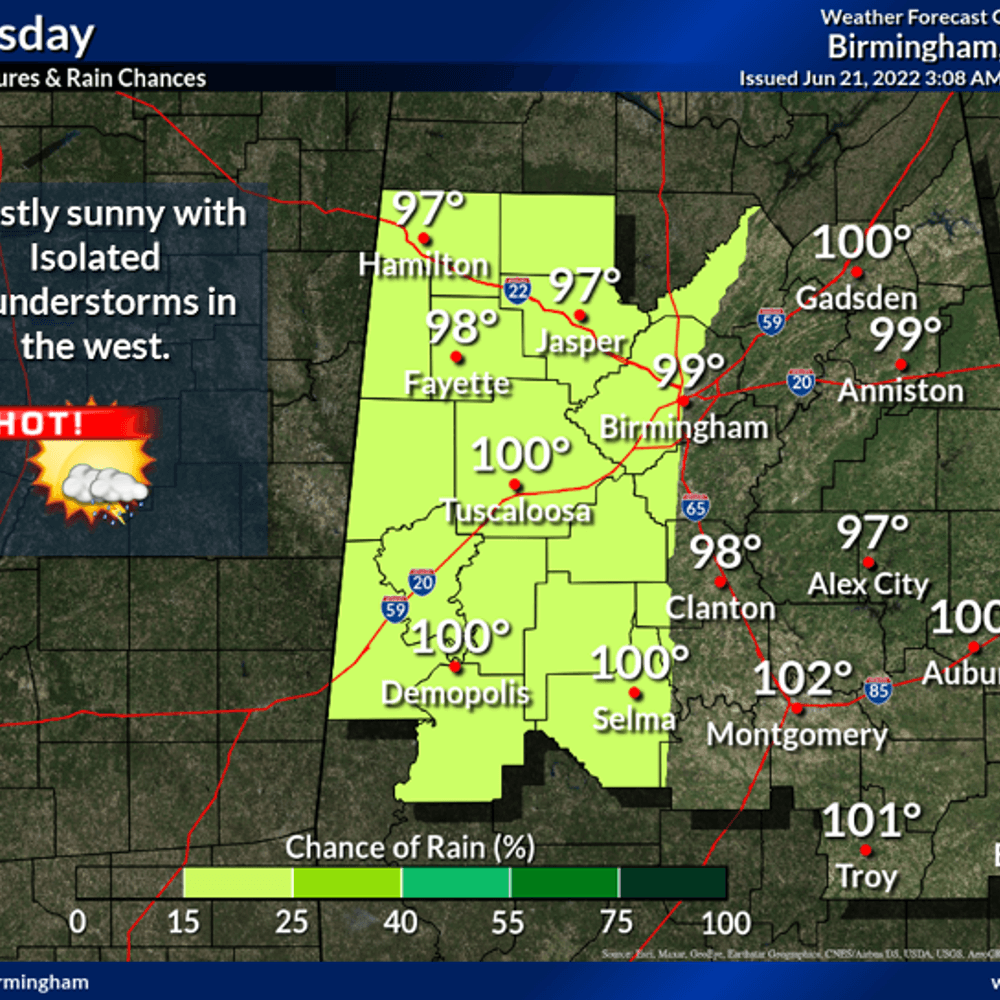 Meteorologists say it's very important to watch out for the vulnerable population, including the elderly, homeless and pets.
Thursday and Friday will be hot as well, with significant attention to the Black Belt. The NWS in Birmingham expects that area to see temperatures of 100 degrees and higher with "spotty occurrences elsewhere across central Alabama." In fact, 103-degree temperatures are forecasted in and around the Black Belt region.
Overnight temperatures will remain high, leaving more potential impact on the vulnerable population, due to little relief from the heat.
The Centers for Disease Control and Prevention (CDC) warns that prolonged exposure to extreme heat can cause numerous illnesses, including heat stroke.
The elderly, young children, pregnant women, outdoor workers, and those with chronic medical conditions are at a higher risk of heat-related illnesses and even death.
The CDC recommends the following:
Stay in an air-conditioned indoor location as much as you can.
Drink plenty of fluids even if you don't feel thirsty.
Schedule outdoor activities carefully.
Wear loose, lightweight, light-colored clothing and sunscreen.

Pace yourself.

Take cool showers or baths to cool down.

Check on a friend or neighbor and have someone do the same for you.

Never leave children or pets in cars.

Check the local news for health and safety updates.       
To connect with the author of this story, or to comment, email erica.thomas@1819news.com.
Don't miss out! Subscribe to our newsletter and get our top stories every weekday morning.