The Alabama Cooperate Extension Service said that Alabama's growing wild pig menace is causing millions of dollars in damage for Alabama farmers and landowners, while also harming Alabama's native wildlife, both plant and animal.
One south Alabama farmer has seen the impact firsthand. Eric Blankenship, who is also the Abbeville Police Chief and is currently running for sheriff, has had less time on his hands due to multiple wild hog incidents on his property.
"We've been dealing with them for years," Blankenship said.
In fact, he said over the past three years, his family has killed around 230 wild hogs. He even keeps a ledger to keep up with the growing problem.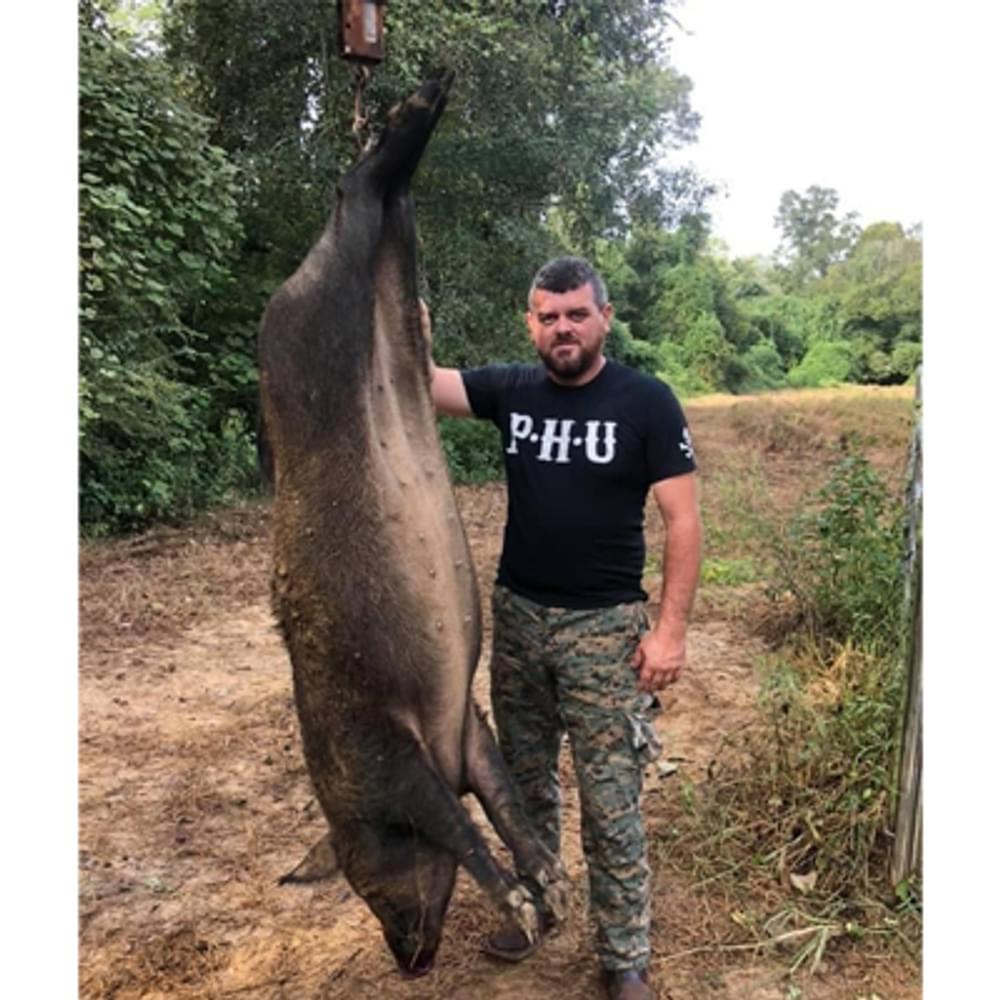 Wild pigs can impact both crop and livestock producers. Pigs will eat and trample many row crops. Their rooting and wallowing behaviors also cause damage to the field itself. Hogs are omnivores so they will also sometimes prey on livestock, especially newborn calves, lambs and goats.
Blankenship recently fertilized about 25 acres of oats. Before he could harvest his yield, the hogs ate about eight acres of the oats.
"I mean, they've cost me thousands of dollars in damage over the years," Blankenship said.
Blankenship said the hogs have even damaged equipment on his farm.
"I had my sprayer going across the field and spraying," Blankenship said. "Where the ruts were where they rooted up the field, when I hit that hole and the weight of my spray, my whole sprayer broke off... they're eating everything here. I have even had them up to the door of my house."
Mark Smith is an Alabama Cooperative Extension System forestry and wildlife specialist. Smith said that wild pig populations are found throughout most of Alabama.
"The greatest population numbers are in the southern half of the state," Smith said. "In the more northern counties of Alabama, wild pigs occur in smaller localized pockets all the way up to the Tennessee border."
The USDA Animal and Plant Health Inspection Service has produced several maps that show the progression of wild pig populations across the United States over the years.
Smith is also a professor at the Auburn University College of Forestry, Wildlife and Environment. He said that wild pig damage to agriculture likely exceeds $1 billion nationally each year.
Wild hogs also cause damage to the environment by simply being there. They use trees as scratching posts, consume tree seedlings and prey on young wildlife, especially ground-dwelling birds like quail and turkeys.
"Wild pigs compete for food and cover resources with some of the state's economically important game species such as white-tailed deer and wild turkeys," Smith said. "They can also have a significant impact on water quality in local watersheds."
While calculating their damage to natural resources and wildlife is much more difficult, damage estimates likely double those known for agriculture.
Wild pigs can also severely impact water quality through their rooting of creek and riverbanks, leading to erosion and defecating in waterways. Smith said that wild hogs have been known carriers of more than 30 bacterial and viral diseases and numerous internal and external parasites.
"Swine brucellosis, leptospirosis, toxoplasmosis and swine influenza are only a few of the common diseases that may be transmitted to humans, livestock or pets," Smith said. "Transmission may be through direct contact with the animal or its bodily fluids or indirectly through feeding and watering containers, ponds or streams that are contaminated."
Smith said the prevalence of these diseases will vary based on location and that it is important to wear latex gloves when handling or butchering wild pigs.
Smith said that landowners need to implement control and eradication measures immediately once wild pigs appear and that neighboring landowners work together so the removal operation covers more land.
"It's much easier to control wild pigs when they first invade and only a few individuals are present," he said. "Significantly reducing or eradicating them takes a lot of work if done properly."
There are a few methods of wild pig control that Alabama landowners can use. Smith said through systematic, premeditated and intensive removal efforts, people can substantially reduce, if not eradicate, populations from small acreages.
"In most cases, hunting or opportunistic shooting of wild pigs will rarely control a population," Smith said. "Live trapping using large, corral style traps and humanely euthanizing the pigs is the most cost- and time-effective means of removal."
Blankenship has built custom traps to capture the hogs. The trap is designed to lure the hogs around a fence, where a line is triggered to bring down a drop gate.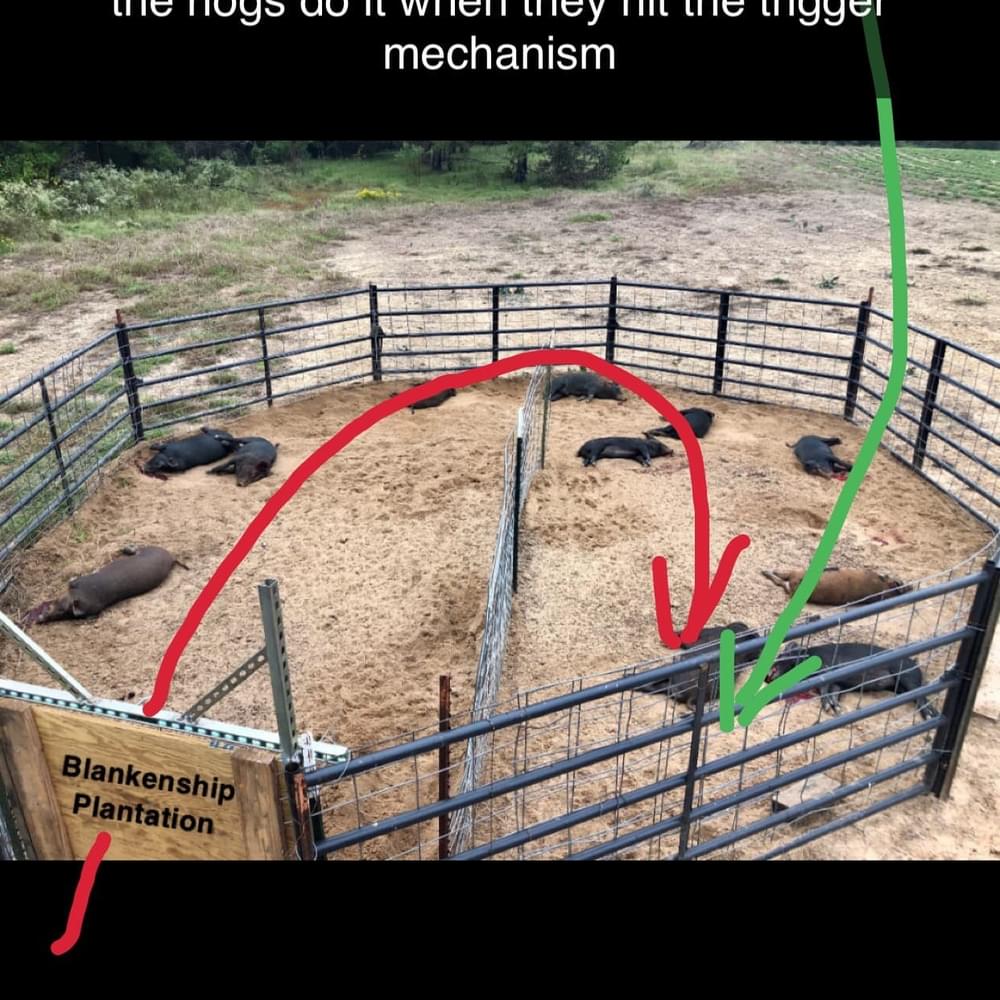 "That whole group of hogs will come in, and they'll feed themselves all the way into that upper corner," Blankenship explained. "By that time, you have the majority of the group in there. Without the fence in place, they won't have to work their way out like that and you might get just one or two."
Blankenship sets the trap at night and checks it the next morning. He said he has caught as many as 22 hogs at once.
The state has outlawed transporting wild hogs to new areas of the state. Per Alabama law, trappers and hunters must euthanize wild pigs caught in corral traps or bayed by dogs on site.
1819 News Managing Editor Erica Thomas contributed to this report.
To connect with the author of this story, or to comment, email brandon.moseley@1819News.com.
Don't miss out! Subscribe to our newsletter and get our top stories every weekday morning.