By Brandon Moseley
National and state officials gathered on Monday, Oct. 4, to celebrate a north Alabama facility that will make hypersonic missiles.
U.S. Senator Richard Shelby (R-Alabama) joined Alabama Governor Kay Ivey (R), Congressmen Robert Aderholt (R-AL04) and Mo Brooks (R-AL05), Huntsville Mayor Tommy Battle, Courtland Mayor Linda Peebles, U.S. Navy Vice Admiral Johnnie Wolfe, and officials from Lockheed Martin, for the formal ribbon cutting at the defense contractor's new missile assembly building (MAB4), in Courtland.
The new facility will make America's newest weapon system – hypersonic missiles. These are missiles with the ability to travel at speeds in excess of Mach 5 (3,705.5 miles per hour). Lockheed engineers explained that the new missiles have controlled flight and are able to read and react to anti-missile technologies. Where a ballistic missile goes up and comes down in a predictable arc, the Lockheed Martin hypersonic weapon will go up and come down even faster, and then go into a glide phase at lower altitude with controlled flight and the ability to respond to threats before hitting its target.
Sarah Hiza is the vice president and general manager of Strategic and Missile Defense Systems at Lockheed Martin Space.
"Lockheed Martin has manufactured defense systems in Courtland since 1994, providing increasingly sophisticated capabilities to protect our nation, allies, and security partners," Hiza said. "Our long-time partnerships with Alabama, the Department of Defense, and academic researchers have paved the way to develop the most advanced hypersonic strike capabilities using the best-of-the-best digital technologies from across our enterprise.
"We would like to thank our elected leaders for funding this. Hypersonics can undermine the global order that has maintained peace between the global powers for years.
"We are in the deterrence business,'' Hiza continued. "We are committed to moving the goal posts farther and farther away to deter them from even thinking of attacking. Even though this facility does strengthen our nation security it also strengthens the economy of North Alabama and creates 78 jobs."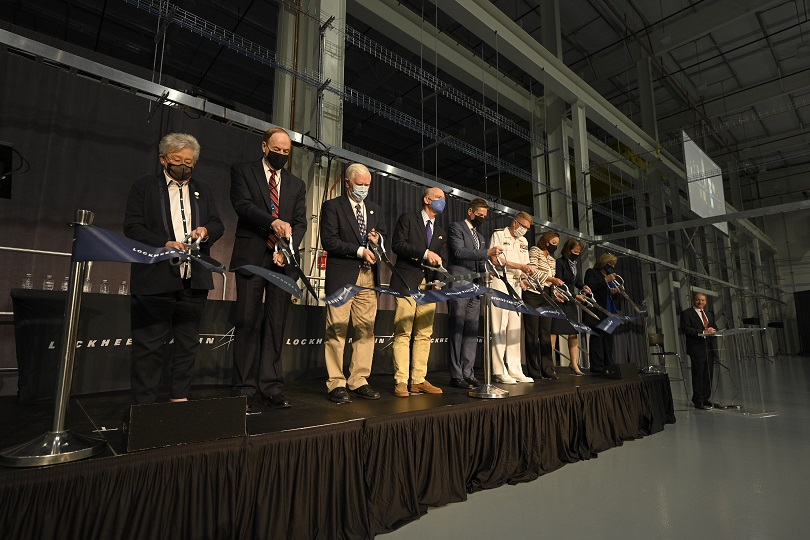 The 65,000-square-foot Hypersonic Missile Assembly Building 4 (MAB 4) is built on the digital foundation that Lockheed Martin has prioritized through mission-driven transformation efforts across the enterprise to meet customer needs with speed and agility while bolstering U.S. manufacturing capability. MAB3 was finished just two years ago. The new assembly plant was built in less than two years and will provide over 70 Alabamians with high-paying jobs.
Lockheed Martin's Steve Lang said, "This facility establishes Courtland as the home of hypersonic strike technology."
"I am here because I believe the number one priority of the Congress of the United States and the President is to defend the security of the nation," Sen. Shelby said. "Lockheed Martin is on the cutting edge of everything. They were chosen by the Department of Defense to run this program.
"We cannot afford to come in second or third in the race with China and Russia to be the first to build hypersonic weapons. We will win that battle."
Shelby said that the U.S. needs a hypersonic "offensive weapon as well as the defense against it."
"I support this program wholeheartedly," Shelby continued. "We are going to fight for this. This is a high, high priority for the American people."
Vice Admiral Wolfe is the Director of Strategic System Programs for the Navy.
"When I walked into the building this morning I saw the future," Admiral Wolfe said. "I also saw the future of this country with the four JROTC students who brought in the colors. One or more of them may use this system in the future.
"We are pursuing them (hypersonics) to make sure that we have military superiority on the battlefield. It has taken two years to build this building; but in that two years, we have not rested waiting for this building. We had a successful test of this missile in-flight experiment too. We understand the technology and have demonstrated this technology. There have been several successful tests of the boosters.
"We are all going to get benefit from this system," Wolfe said, but added, "We are not done yet."
"It is great to be with you this morning and be here for this great event," Rep. Aderholt said. "I am as impressed by what goes on here as everyone in the audience.
"The most important job we do in Congress is to provide for the national defense. Several of us, including Mike Rogers, got together to push for funding for the development of hypersonics and got an appropriation for $100 million. $100 million is not as much as you would think of how much we spend on defense. That has now grown to billions of dollars being spent on hypersonics. I was happy to be a part of that."
Aderholt said that they have completed "a new rocket motor that will power both Army and Navy hypersonic weapons."
"It will keep us strong and also keep the peace," Aderhold said of the new MAB4 building.
Aderholt said that he was committed to making sure the military stays strong.
Gov. Ivey said she is pleased to see the project underway.
"It has been a lot of work," Ivey said. "But in the last five years, $19 billion in capital has been invested in Alabama creating 44,000 jobs…Alabama is working again and the best is yet to come."
Wolfe said that the U.S. Army has already established a battalion to maintain and deploy the hypersonic missiles. The hypersonic missile team consists of a transfer truck-based launcher as well as a ground control command vehicle. Both can be deployed anywhere in the world rapidly onboard a C-17 Globemaster transport plane.
Wolfe said that the Army system will be deployed sometime in fiscal year 2023. The Navy will deploy the same missile on the three Zumwalt class guided missile destroyers beginning in fiscal year 2025 and on a Virginia class nuclear attack submarine in 2028.
The Air Force, which had their version on display at the event, can be launched from the B-52 Stratofortress bomber.
"I am confident that the contents of this building will make us safer and stronger as a nation as we move forward into the future," Hiza said.
1819 News asked a number of questions of the Lockheed Martin hypersonics team:
* There are two versions of the hypersonic a long-range and an intermediate-range. Could the intermediate-range version could hit Mexico City from here (north Alabama)? We were told that that is classified.
* Could the long-range version hit Moscow from here? We were told that that is classified.
* Is it intercontinental? We were told that that is classified.
* Do we have the ability to put either a conventional warhead or a nuclear warhead in this missile? "All information about the warhead is classified."
* When the missile is in controlled flight phase is it just working from remote control by the ground station or does it have autonomous read and react ability onboard the missiles itself? We were told that that is classified.
* If I were an enemy and I took out the satellites that the missile uses to communicate and orient itself, could I render the missile unable to perform its mission? 1819 News was told that the system is designed to be jam-proof so jamming would likely be ineffective. The missile uses four global positioning satellites to orient itself and navigate. If it loses contact with one it seeks out another. There are 10 GPS satellites in total; "But yes if you took down the whole GPS system; then yes we would be blind."
* There are nine bays for building as many as nine missiles at any given time. How fast is your turnaround time here? How fast can a missile be built from start to finish at this facility? The potential production output of the plant is classified.
* Will the airborne version of this also be deployed from the new B3 stealth bomber currently under development? That is classified.
Lockheed Martin said in a statement that it continues to make significant investments in the development and manufacturing of hypersonic systems to counter rapidly emerging threats from near-peer adversaries. The programs produced at this site support several U.S. military branches and Defense Advanced Research Projects Agency, including CPS, Long Range Hypersonic Weapon and the Air-Launched Rapid Response Weapon.
Lockheed Martin has had a presence in northern Alabama for over five decades. Within the last two years, Lockheed Martin has added a total of 117,000 square feet at the Courtland facility. Lockheed already has approximately 2,600 employees already based in the state of Alabama.
To support continued growth, Lockheed Martin is committed to developing a strong talent pipeline through initiatives like the Lockheed Martin-created AMTAP program, a training program that allows participants to develop manufacturing skills in electronic, mechanical, electromechanical and optical areas. Additionally, the company has actively engaged with the Aerospace States Association Alabama Chapter to host engagement opportunities with students and small businesses.
Additionally, the company is very active in the Alabama community. In 2020, the company donated more than $300,000 to Alabama charities, provided nearly 15,000 PPE items to frontline workers and delivered hundreds of meals to healthcare workers.
Lockheed Martin is headquartered in Bethesda, Maryland, and is a global security and aerospace company that employs approximately 114,000 people worldwide and is principally engaged in the research, design, development, manufacture, integration and sustainment of advanced technology systems, products and services.
Courtland was home to a very large U.S. Army Air Corps training base during World War II with two 4,994-foot airstrips built in 1931 and 1935. The pilots trained with the Vultee TB-13 and after 1944 with B-24 Liberators. The facility was deactivated in June 1945 and deemed surplus in 1946. Lockheed purchased part of that facility in 1993 and has since made several significant investments on the site, the most recent being MAB4.