Tuesday, Lynda "Lindy" Blanchard announced she will run for governor of Alabama. Blanchard held an event at the Jeanette Barrett Civic Room in Wetumpka to make the announcement.
The event was attended by a large gathering of children bearing various signs. "Lindy will drain the Montgomery Swamp," read one sign. "Lindy won't close our Churches," "Lindy Loves Alabama," and "Pro-life, pro-adoption, pro kids" were some others.
Dr. Brian Christine, a surgeon from Birmingham, introduced Blanchard. "We need a new face in the governor's office," Christine said. Not a career politician, not an incumbent, and not someone who is tied to politics by his family name, we need a true public servant.
Blanchard took the stage to give a short introduction and by giving credit to the incumbent Governor Kay Ivey.
"I do want to thank the governor for steadying the ship," Blanchard said. "But now is the time to put the ship in gear, moving the State of Alabama forward."
Blanchard explained her experience in attending Alabama public schools, as well as her children's experience with public, private, and homeschooling.
"As your governor, I will make education one of my biggest priorities," Blanchard said. "Our children deserve the best regardless of your zip code. It should not matter where you live. We deserve that for our children they deserve the best."
Blanchard said she will apply the lessons she learned while attending Auburn University, where she earned a degree in mathematics.
"I am a mathematician not a politician," she said.
Blanchard described her and her husband's struggles in starting a business. She believes that her experience in the world of business will make her a more effective governor.
"Our people in this great state of Alabama are our greatest resource," Blanchard said. "That is why I'm running for governor."
She added that she will be a voice for Alabamians by running the state with common sense.
"As your governor, I'm going to work not just for big businesses, though I'll be courting them as well," said Blanchard, "but [also] for small businesses, for family-owned businesses, which certainly include our farmers and their families."

Blanchard announced her candidacy for the United States Senate in February. She intended to replace Richard Shelby, who is retiring at the end of his current term. Blanchard will now suspend her senate campaign to pursue the office of governor.
To begin her speech, Blanchard held a moment of silence to remember those killed in the Pearl Harbor attack 80 years ago.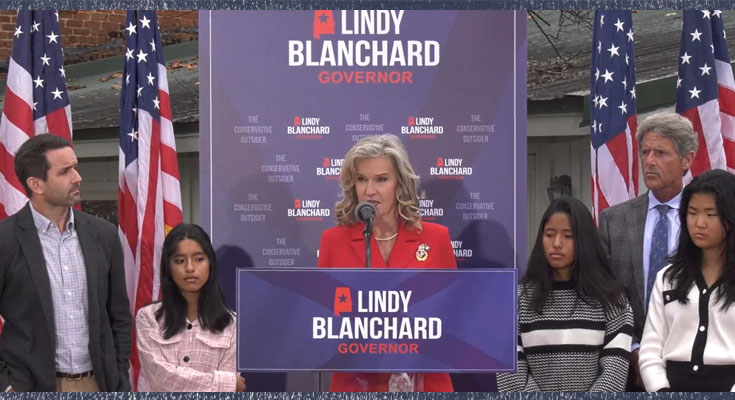 Blanchard's campaign material bears the name 'Lindy' instead of her official name on previous campaign material. Friends of Blanchard said that "Lindy" is used by those close to her.
Blanchard, a native of Montgomery and a graduate of Auburn University has been successful in sundry business enterprises in the river region. In 2004, Blanchard started the 100X Development Foundation, a non-profit organization based in Montgomery. She also founded the real estate investment firm B&M Management Company. She was appointed as ambassador to Slovenia by President Donald Trump in 2018, a post which she resigned after Trump was unseated by Joe Biden.
There are media reports that former President Donald J. Trump (R) will endorse Blanchard's bid for governor.
Greenville businessman and former gubernatorial candidate Tim James (R) filed papers with the Secretary of State's office on Tuesday to enter the gubernatorial race. Lee County Pastor Dean Odle and former Morgan County Commissioner Stacy George are also opposing Ivey in the Republican primary. State Auditor Jim Zeigler (R) has been campaigning for months but has not yet made a formal announcement whether he will run. King's Home President Robert Lew Burdette, like James and Zeigler, has filed papers with the Secretary of State's office in the governor's race, but reportedly has not made a final decision whether to run for the state's highest office. LGBTQ activist Chris Countryman is the only Democratic candidate for governor who has announced his candidacy to this point.
The Republican Primary is May 24, 2022.
To connect with the author of this story, or to comment, email craig.monger@1819News.com.