By Brandon Moseley
Former Vice President Mike Pence (R) was in Montgomery on Thursday, Oct. 7, addressing the supporters of Faulkner University as the keynote speaker for their annual fundraising dinner. Pence praised the Montgomery-based Christian University and said that America needs its graduates to be the future leaders of the state of Alabama and the nation.
"Thank you for pouring a foundation in these young people of faith and freedom," Pence said. "A foundation that will serve Alabama and this nation for generations to come.
"The foundation of America is freedom, and the foundation of freedom is faith. Now more than ever we need institutions of Christian learning, institutions, like Faulkner University."
Pence was vice president of the United States from 2017 to 2021. Prior to his service as President Donald J. Trump's running mate and Vice President, Pence served the state of Indiana as Governor and in the U.S. House of Representatives.
"It was the greatest honor of my life to be Vice President with President Donald Trump," Pence reflected. "I could not be more proud. In just 48 months we achieved the highest household income in history and the highest energy production in the world. We secured our border and cut illegal immigration by 90%."
Pence said that when the COVID-19 global pandemic struck the United States in 2020, "We sought the development of therapeutics," and through Operation Warp Speed, developed two effective vaccines for the virus. We were vaccinating one million people a day, by the time we left office.
"We took out the ISIS caliphate and killed their leader without one American casualty," Pence added. "We moved the U.S. embassy in Israel to the nation's capital – Jerusalem."
"We stood up for religious freedom every day," Pence continued. "We appointed over 300 conservative justices. I could not be more proud to be Vice President for the most pro-life presidency in American history."
On the January 6 riot at the Capitol, Pence said, "I did my constitutional duty."
Pence chastised the national media and the Democrats for trying to use the events of one sad day to demean the character of 72 million Americans who voted for Trump.
Pence contrasted the successes of the Trump administration with what he perceived to be the failures of the Biden administration.
"This is the worst border crisis in the history of our country," Pence said. "This is the worst inflation in 30 years. They can't break this nation in just two years, but they can break the bank."
The former Vice President denounced efforts to federalize elections and mandates on individual Americans.
In the 1990s, Pence was a talk radio host, "It was like Rush Limbaugh – decaffeinated."
Pence now has a podcast and is writing a book.
He and his wife have three children.
"My son is a Captain in the Marine Corps," Pence said. "He and his wife have recently gave us our first grandchild."
One of Pence's daughters is a published author, who has written a book and writes for the Daily Wire. The other daughter is an attorney in Washington.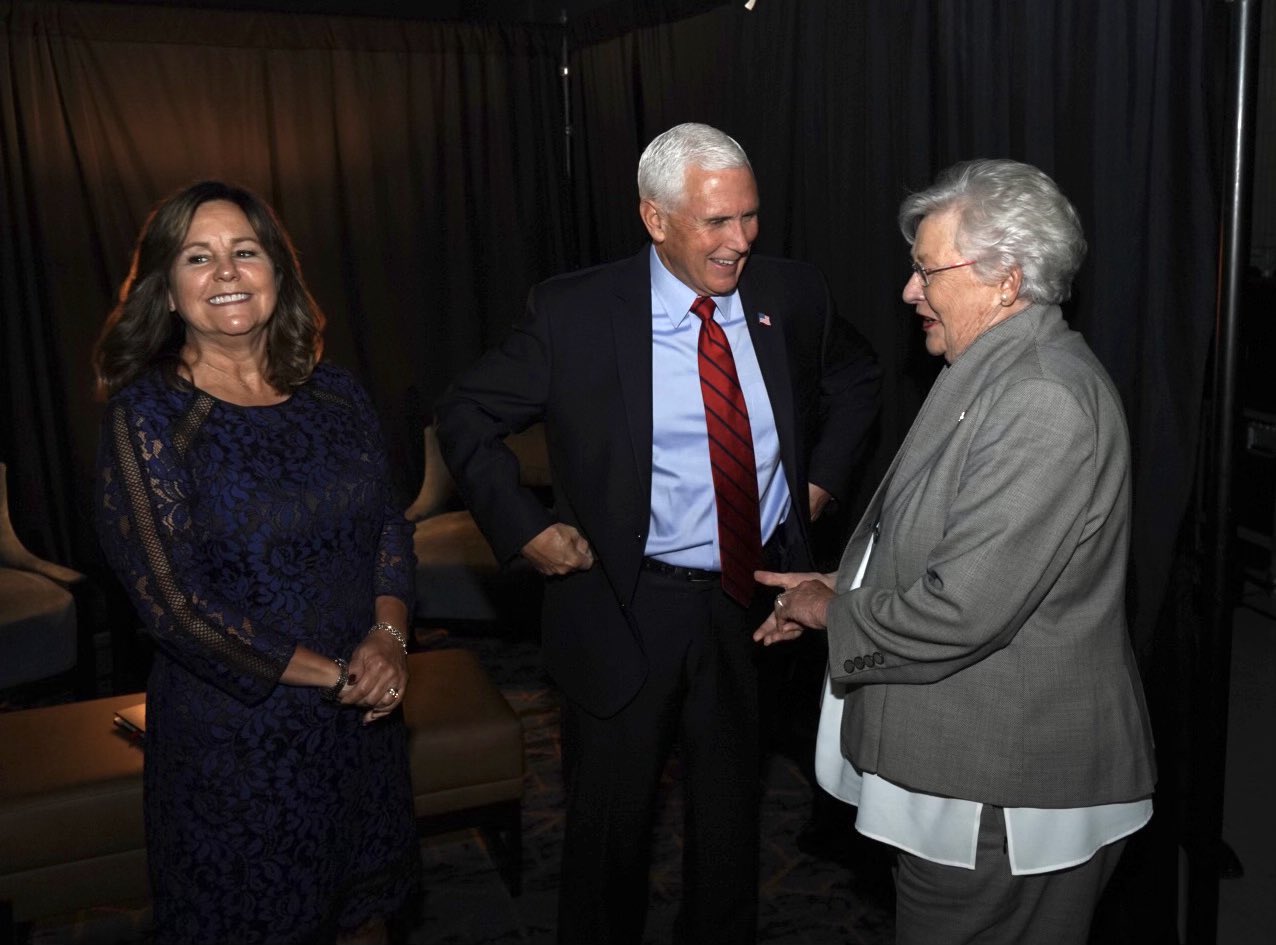 Pence praised many of the dignitaries in the room Thursday including Alabama Governor Kay Ivey (R), Congressman Gary Palmer (R-AL06), Congressman Robert Aderholt (R-AL04), and Alabama Attorney General Steve Marshall (R).
Pence thanked Ivey for her leadership.
"Thank you for standing in the way of federal overreach in Washington DC," Pence said. "Ronald Reagan used to say that 'It was the states who created the federal government. The federal government did not create the states.' Every governor knows that, but some of them wimp out on standing up to D.C. Unfortunately, not every Governor is as strong as Gov. Ivey."
Pence also praised the life of the late Circuit Judge Bobby Aderholt.
Despite all the bad news nationwide, Pence said, "I have never been more confident in the future because I have faith."
Faulkner University is a private, Christian liberal arts university based in Montgomery, Alabama. With a mission to provide an education anchored not only by intellect but also character and service. The Faulkner experience aims to educate the whole person and serves both traditional and non-traditional students. The university is home to six colleges: the Alabama Christian College of Arts and Sciences, the Harris College of Business and Executive Education, the V.P. Black College of Biblical Studies, the College of Education, Faulkner Law and the new College of Health Sciences. In addition to its main campus in Montgomery, Faulkner operates extension campuses in Birmingham, Huntsville and Mobile along with online degree programs.
Positive reaction to Pence's visit
Alabama Governor Kay Ivey (R) said on Twitter, "It was a pleasure to welcome former Vice President @Mike_Pence and Second Lady @KarenPence back to the great state of Alabama! We enjoyed a wonderful evening together at @FaulknerEdu 's annual Benefit Dinner."
Economic developer Dr. Nicole Jones told the 1819 News, "Vice President Mike Pence outlined the Trump Administration's significant achievements including a robust economy, re-igniting American manufacturing, cracking down on the trade war with China, the appointment of over 300 federal judges (including three United States Supreme Court justices), Operation Warp Speed – vaccine development during an unprecedented pandemic, moving the capital of Israel to Jerusalem as well as the establishment of a United States Embassy in Jerusalem, border security, and the defeat of ISIS. As astonishing it has been to witness a regression of many of these accomplishments since January 2021, it motivates Republicans to work diligently and win the 2024 election because the Biden administration's poor economic policy decisions have hurt all Americans (from all parties). We appreciate Vice President Pence's willingness to visit Alabama and serve as the keynote speaker for Faulkner University's annual benefit dinner."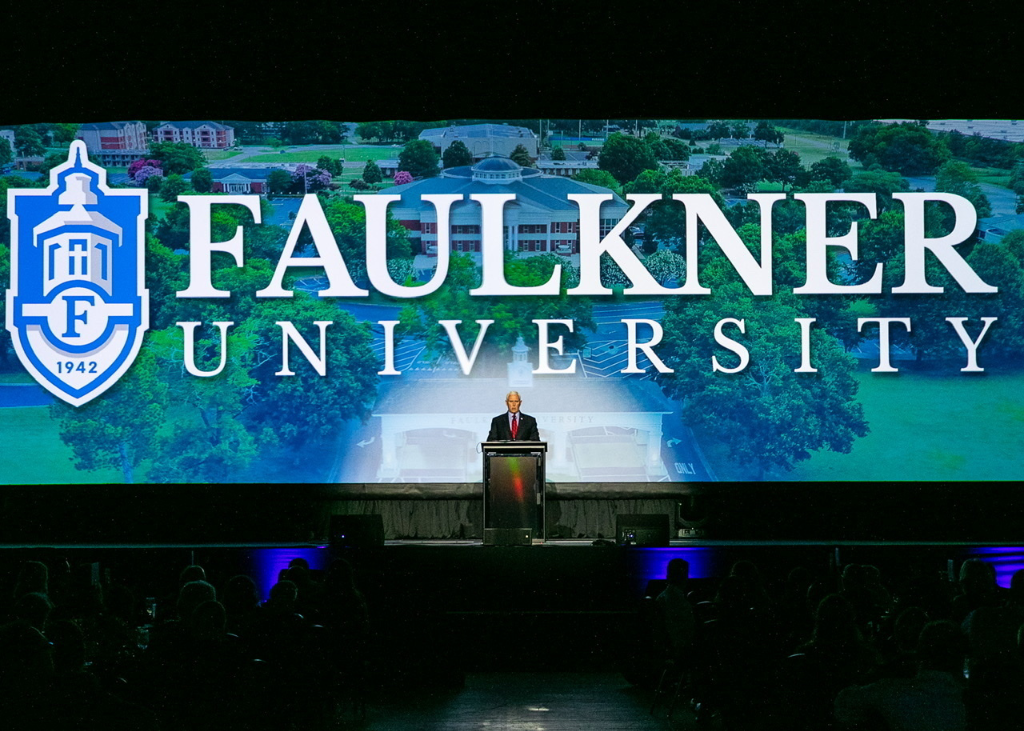 Republican State Supreme Court Justice candidate Greg Cook said on social media, "Really appreciated the Faulkner University dinner last night. What a great force for good in our state. Enjoyed seeing many friends. 2015-2021 Alabama Republican Party Chairman Terry Lathan Judge Chris McCool Justice Sarah Stewart, Scott Speagle, Gina Speagle, Steve Wells and many others."
Former Chairman Lathan said, "Great evening in Montgomery at Faulkner University's annual dinner with special guest VP Mike Pence (great walkout music). A great patriot. Loud ovations for Gov. Kay Ivey as well. Wonderful seeing my friend Gregory C. Cook running for AL Supreme Court. Faulkner is a solid school for patriotism, biblical principles and stewardship."
Republican State Executive Committee Member former State Rep. Perry O. Hooper Jr. (R-Montgomery) told the 1819 News, "Vice President Mike Pence reminded everyone in attendance what it means to have your priorities right as they were in the Trump-Pence Administration: strong military and national defense, energy independence and supporting our allies like Israel by moving our embassy where it belongs to Jerusalem and a booming economy with record employment.
"Vice President Pence spoke openly about his Christian faith, something that is becoming way too rare in public life. He made one outstanding comment that we all need to remember "The Foundation of freedom is faith. He is sorely missed in Washington and the national spotlight."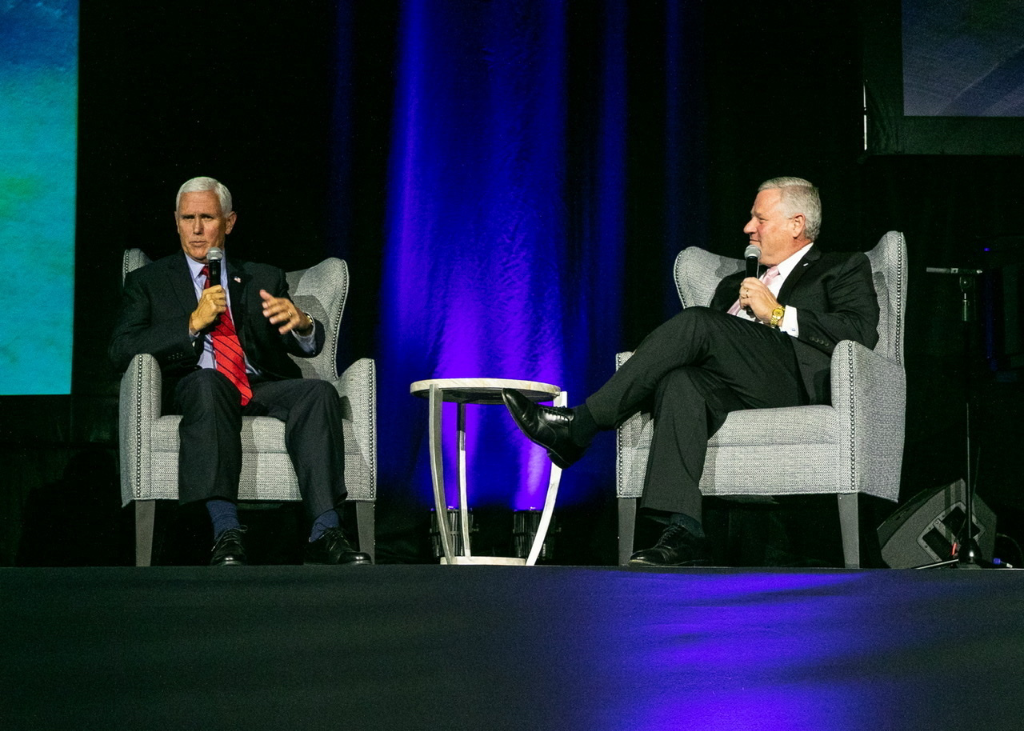 Pence's comments were preceded by a tribute to nearly 100 breast cancer survivors.
"What an evening we had last night celebrating our Honored Breast Cancer Survivors and their caregivers and guests!" Faulkner University said pm their social media. "It was truly an honor as we recognized their strength, reflected on their courage and admired their faith. You are truly a blessing to us and we love you all!"
Pence served as Vice President of the United States from 2017 to 2021. Prior to that, he served the people of the State of Indiana as Governor and as a member of the U.S. House of Representatives.
Faulkner University is a private Christian liberal arts university that was founded in 1942.