By Erica Thomas, Managing Editor
To look at her now, you can see Miss USA 2020 has it all together. Glance past her beautiful smile and striking look, and you notice a strong, smart and loving young woman. Asya Branch has it all, but it wasn't easy. Now, this poised powerhouse is committed to helping others who have experienced similar struggles to the ones that almost made her lose her faith and much more.
Branch grew up in Booneville, Miss., and was only 10 years old when her father was incarcerated. For 10 very important years of her life, she didn't have her father there to wipe her tears, cheer her on and encourage her at home. No late-night daddy-daughter talks and no Saturday night date interviews to make sure she was in good hands. However, Branch's father's experience has shaped her mission in her young adult years. As Miss USA, Branch is using her platform to travel the country and to talk to young people with parents who are in prison.
Jeremy Miller, the Field Director for Prison Fellowship Alabama, made it possible for Branch to share her story with children in Alabama. Miller has been in prison ministry for nearly 11 years and once served as Chaplain for St. Clair County Correctional Facility.
Prison Fellowship Alabama, along with Branch, visited Julia Tutwiler Prison for Women, in Wetumpka, then The Church at Brook Hills, in Birmingham.
"At one point I was questioning God and wondering why He would do this to our family, why this was happening to our family. I didn't understand it." Branch told the children of incarcerated parents in her appearance at the church. "But I came back around, and I realized like, this is the only way I'm going to get through this, is to lean on my faith. I know that God has a plan for my life. He's got a plan for my dad's life and when we may not be able to see the bigger picture now, you know, if I just stay on the right path and continue trusting in Him, it'll all work out for the good, and it has."
Branch said she has focused on trying to be a better version of herself and on spreading her testimony to help others. She knows the trauma being a child of a prison inmate can bring. She knows that the impact can include difficulty in school, with relationships and with success later in life.
"I could be down a completely different path today, but I trusted in God and let Him guide me and I tried to make the best decision at least every day," Branch added.
The National Institute of Corrections estimated that the parents of one in every 50 children in the United States are in prison. With the majority of these children being raised in single-parent households, chronic childhood poverty is a widespread problem among these families.
Prison Fellowship Alabama assists children and families of people in prison and that is its mission. Along with focusing on children, there are in-prison programs, educational events and the organization works on justice reform.
The faith-based organization partners with churches on programs and during the holidays, the national Angel Tree program is its focus. The incarcerated parent signs up their child or children for Angel Tree, the organization distributes those applications to churches and each church purchases Christmas presents for the child. But the best part isn't that the child gets the cool coat or gaming system they asked for Christmas. The best part is that the gifts are tagged to be from the parent. The church doesn't take credit and neither does Prison Fellowship. The child knows their parent did all they could to get them a gift for Christmas.
"It's rewarding for the church," said Miller. "Families that have incarcerated moms and dads walk through a lot of struggles and difficulties that people don't think about…these children didn't do anything to have their parents incarcerated."
It's important to note that the Angel Tree program began in Montgomery in 1982 by a woman who was once on the FBI's Most Wanted list. Mary Kay Beard was arrested in 1972 for bank robbery and was later convicted. While serving her time at the Tutwiler Prison for Women in Wetumpka, Beard found the Lord while reading the book of Ezekiel:
"And I will give you a new heart, and a new spirit I will put within you. And I will remove the heart of stone from your flesh and give you a heart of flesh. And I will put my Spirit within you, and cause you to walk in my statutes and be careful to obey my rules." (Ezekiel 36:26-27)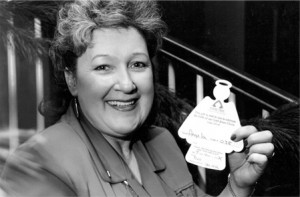 Beard clung to the words she read in the Bible and her life was forever changed. She promised God that if He would help her, she would give the rest of her life to Him, and that is exactly what happened.
It wasn't long after Beard's early release that she came up with the idea for the Angel Tree program. She said she remembered seeing moms wrapping up toiletries for their children at Christmas and she thought it would be a blessing if they could give more than soap and shampoo to their kids. As a new member of Prison Fellowship's staff, Beard made that dream come true, and now the program has served over six million children with more than just gifts. The program also offers spiritual and emotional support.

Christmas isn't the only time that Angel Tree helps children.

"We also have sports camps, summer camps and stuff that happens throughout the year," Miller said.

At the event in Montgomery this week, over 150 women were ministered to, and in Birmingham, around 60 children were registered for the event.

Jefferson County District Attorney Danny Carr was awarded the Charles Colson Hope Award, an award given by Prison Fellowship. Miller said Carr assists Prison Fellowship often by participating in another program, Second Chances.

"I'm excited that he is receiving the (Colson) award," said Miller. "He (also) does a lot with Second Chances.

The Colson award recognizes those who work to restore those affected by crime and incarceration.

If not for organizations like Prison Fellowship, many children of incarcerated parents, like Miss USA Asya Branch, may not have the opportunity to make their dreams a reality.

For more information on Prison Fellowship Alabama or to get involved, click here.