By Brandon Moseley
Prior to Mercedes's shocking 1993 decision to locate its manufacturing plants in Vance, very few cars were made in the state of Alabama. Now, Alabama is one of the leading states in the automobile manufacturing industry.
The booming economic sector met in Birmingham for the 14th installment of the Southern Automotive Conference, held Wednesday through Friday.
Alabama Gov. Kay Ivey (R) addressed SAC on Thursday.
"We just kicked off the Southern Automotive Conference!" Ivey said on social media. "As the No. 5 auto-producing state in the nation, I'm proud to welcome friends from across the South to the Magic City to discuss the latest innovations & issues related to this industry. #SAC2021 #MadeInTheSouth @MadeinAL"
The governor also posted about the event on Friday, which was her birthday.
"Thank you to everyone for the birthday wishes!" Ivey said. "My day started off with a sweet birthday song from the facility operation crew at the mansion before an unforgettable 'Happy Birthday' song performance by Gov. Henry McMaster and Gov. Tate Reeves, alongside a room full of auto manufacturing partners. It's been a great day touting Alabama's thriving auto industry at the Southern Automotive Conference in Birmingham and announcing new GOMESA grants for 17 projects to help our coastal areas. I'm grateful for another year, and I appreciate all the calls, texts, posts and surprises today."
Greg Canfield is the Secretary of the Alabama Department of Commerce.
"The U.S. auto industry's center of gravity has clearly shifted to the South, and Alabama's rapidly accelerating auto sector is positioned to continue benefiting from this seismic transition," Canfield said.
Economic developer Dr. Nicole Jones told 1819 News, "Held this year in Birmingham, the Southern Automotive Conference gave our state an opportunity to showcase why we are a national and global leader in the automotive industry. Decades of collaboration in this dynamic field have led to vehicles becoming Alabama's chief export, with annual shipments to 90 nations around the world. The automotive sector accounts for over 40,000 jobs in our state, and we now have manufacturing plants and suppliers in every corner. A business-friendly climate with reduced red tape, a quality and skilled workforce, an emphasis on research and development, low taxes, competitive incentives, and an excellent quality of life all facilitate an environment conducive for success in this industry.
SAC 2021 drew more than 1,000 attendees and 200 exhibitors to the Birmingham-Jefferson Convention Complex. The conference has a special focus on original equipment manufacturers, suppliers and service providers operating in Alabama, Georgia, Kentucky, Mississippi, South Carolina, Tennessee and Texas.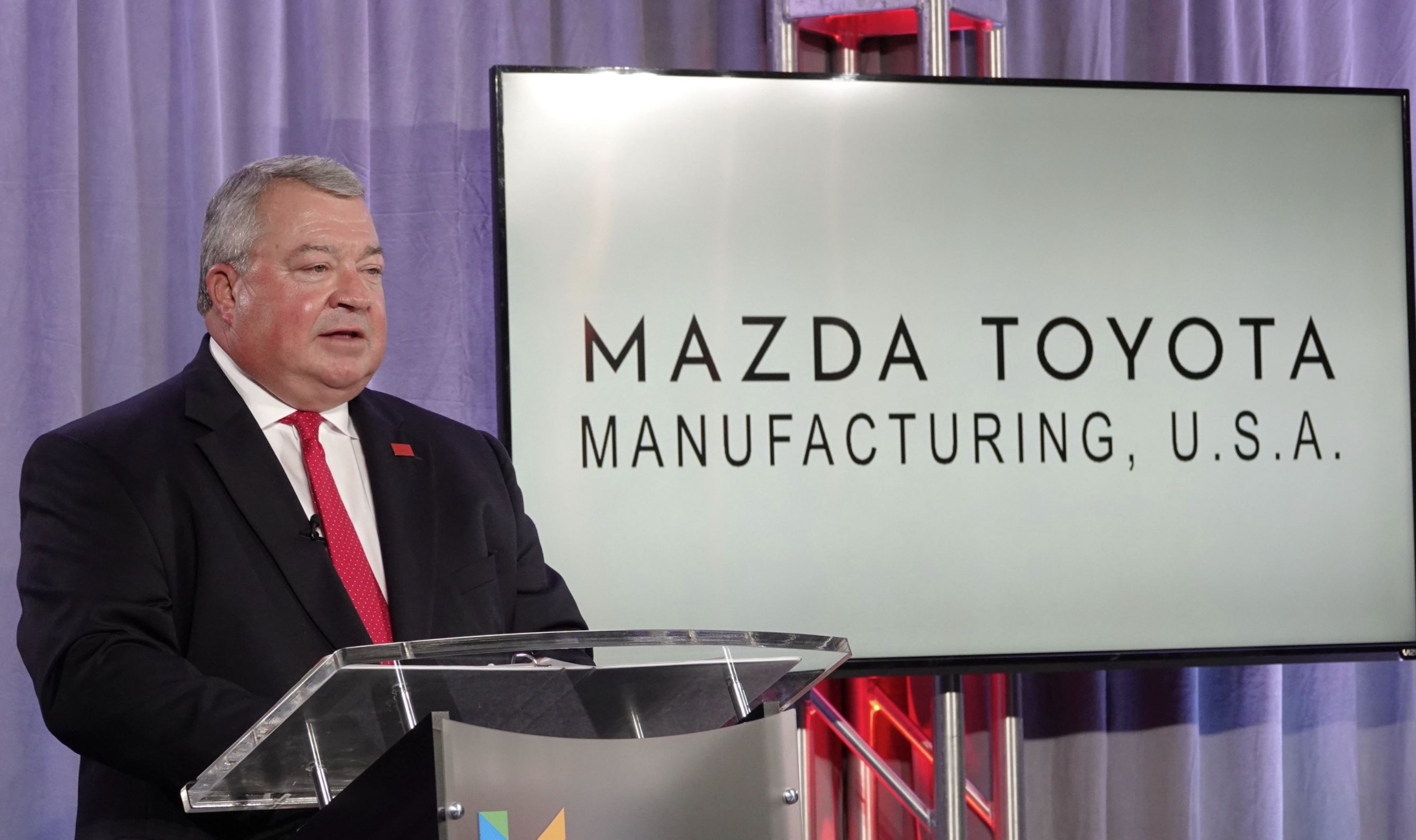 During this year's event, the Southern Automotive Manufacturers Alliance (SAMA) announced that Canfield has been named to the SAMA Hall of Fame.
Canfield has been a key figure in the expansion of Alabama's auto industry over the past decade,
Ron Davis is the President of the Alabama Automotive Manufacturers Association.
"Greg won this award because of his tremendous support of the Southern automotive industry," said Davis. "Greg's leadership has advanced not only the automotive industry in Alabama, but also that in the entire Southern region, and the country.  He is regarded as a thought leader in the automotive manufacturing industry, both domestically and internationally."
Canfield has been Alabama Commerce Secretary since 2011, under both Gov. Ivey and Gov. Robert Bentley.
"I am very honored to be named to the SAMA Hall of Fame because I have seen first-hand the transformative impacts the auto industry has spread throughout the south, both on families and on communities," Canfield said. "For over two decades, the auto industry has been a main driver of economic growth in Alabama and the region, and it's important we keep that momentum rolling."
"There's no one more deserving. Congrats, @gregcanfield!@MadeinAL," Gov. Ivey said on social media.
"Greg is clearly seen as a guy who is at the table," said SAMA President Rick Walker, who represents the Georgia Automotive Manufacturers Association. "His engagement in the automotive sector has helped drive innovation and growth throughout the Southern corridor, producing a top-ranked workforce and world-class business environment."
Canfield is the second inductee in the SAMA Hall of Fame, following Don Stoegbauer, a top executive with Nissan North America in Canton, Mississippi, and past president of the Mississippi Automotive Manufacturers Association.
Premier sponsors of SAC 2021 are AIDT, Alabama's primary workforce development agency, and a unique training center it funds, the Alabama Robotics Technology Park, along with the Alabama Works initiative.
Ed Castile is the director of AIDT and the Deputy Director of the Alabama Department of Commerce.
"As a premier sponsor, we want to demonstrate the commitment AIDT and the Alabama Department of Commerce have to our automotive partners and to the very important work they do in providing a solid economic foundation for the state," said Director Castile. "We are especially pleased to work with the world's best car companies in Alabama, and we welcome our sister states as we come together to celebrate many successes in developing the southern automotive corridor."
Hyundai Motor Manufacturing Alabama earlier this year added two models, the Tucson SUV and the all-new Santa Cruz crossover, to the production lineup at its Montgomery factory, pushing its vehicle total to a record five simultaneously.
Last month, the $2.3 billion Mazda Toyota Manufacturing plant in Huntsville produced its first dealer-ready vehicle, a 2022 Toyota Corolla Cross, and announced it would begin assembling the all-new Mazda CX-50 in January 2022.
"We are full partners with all of our auto OEMs and almost all their suppliers in the workforce space, having recruited, assessed and trained workers for many years and through all their expansions," Castile said of the need for more workers. "We are currently working with the Alabama operations of Hyundai and Mercedes-Benz on fairly large expansions, with Honda on a series of smaller expansions and with Mazda Toyota Manufacturing as it starts up."
"With the introduction of the new EV technologies all of AIDT programs are laser-focused on our rapidly expanding automotive business," Castile said. "We are proud to work shoulder to shoulder with all as we assist them in developing their respective workforces."
Mercedes-Benz will begin assembling two electric SUVs at its Tuscaloosa County plant next year, and Hyundai's facility in Montgomery is also expected to launch EV production.
Over the past decade, employment within the automobile manufacturing sector has increased almost 70% to nearly 40,000 people, with thousands of new positions currently being filled.