Recently uncovered information shows Smiths Station Mayor F.L. "Bubba" Copeland wrote erotic fiction about murdering a real-life local business owner to steal her life, as well as posting pictures of other locals with explicit commentary without their consent.
Copeland posted at least four pieces of fiction to a website over time. After 1819 News spoke with Copeland, the profile responsible for publishing the stories was deleted. However, former posts can still be viewed using online software.
In one short story, Copeland, who owns a local grocery store, wrote about watching women in-store security cameras and saving the videos for this "private collection."
In another long-form fictional story posted under Copeland's pseudonym, Brittini Blaire, the narrator becomes obsessed with a real-life local business owner, who he ultimately murders to assume her identity. For the sake of the woman's privacy, 1819 News has provided a copy of the fictional story with names and other identifying information redacted.
Warning: The content in the fictional story is explicit.
"In my cubicle I scanned her page," the story reads. "'She posted a new picture!' Excited I screenshot it to add to my ever-growing collection. To say I was a stalker would be a bit of an understatement. Every post she made I studied it, analyzing and taking notes of her daily routine. What she ate, what she drank, from her favorite coffee to her favorite alcoholic drink. Her life had become my obsession."
The story details the narrator installing tracking malware to spy on the business owner. The narrator also begins a hormone treatment regimen, buying similar clothes, and training in the woman's profession to assume her identity.
"After a quick Internet search and studying several Reddit messages, I found out how to purchase a feminization hormone regiment," the story continues. "Opening a secret file on my computer, I gazed at my enormous picture collection of her, and begin to take detailed notes on the girl I was about to become."
The story then goes into a graphic description of the narrator seducing the woman's husband after fully assuming his female identity. It concludes with the narrator assailing the woman on a cruise ship, taking her wedding and engagement rings, and finally throwing her to her death.
"This life is all I have ever wanted, and finally, it was all mine!" the author writes.
The character in the story is a real person, local to the area. Copeland's story names her and her local business in the fictional story.
1819 News spoke with the woman, who was distraught by the information. She said she was unaware of the story's existence but was close with the family.
Copeland frequently used pictures and details from local residents in his online life. On his Reddit page and elsewhere, he would often post fictional memes featuring young boys and girls with the illusion that the young people in the memes were one person who had undergone a gender transition.
One meme featured a local brother and sister, at least one of which is a minor, with the caption, "Take the shots, get implants, become the whore." The meme was designed to give the impression that the young boy had transitioned into a young girl.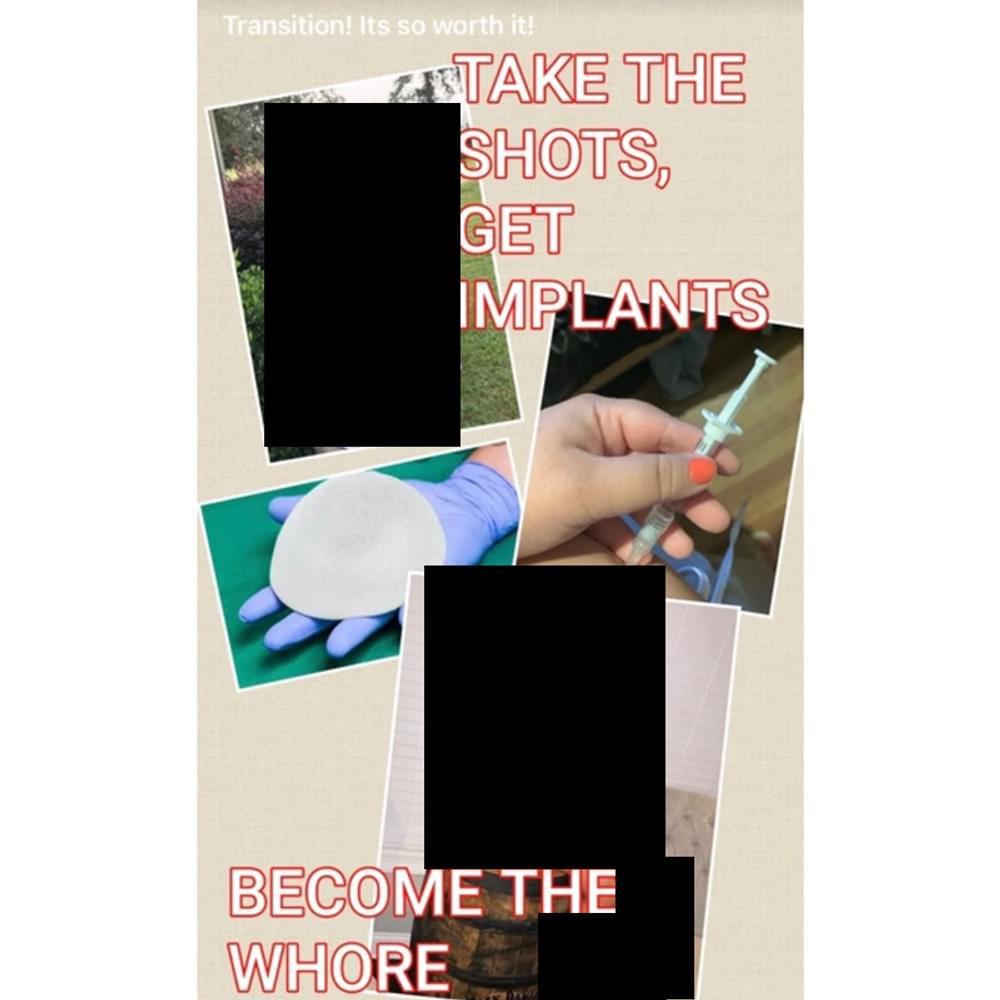 After the initial story ran, the father of the two children contacted 1819 News, asking the picture to be removed to protect the children's privacy. The image of the minor boy appears to have been taken from the father's social media, as it is currently featured there.
One featured picture is a meme, once again created with the illusion that the two people in the picture are one and the same, having undergone a gender change.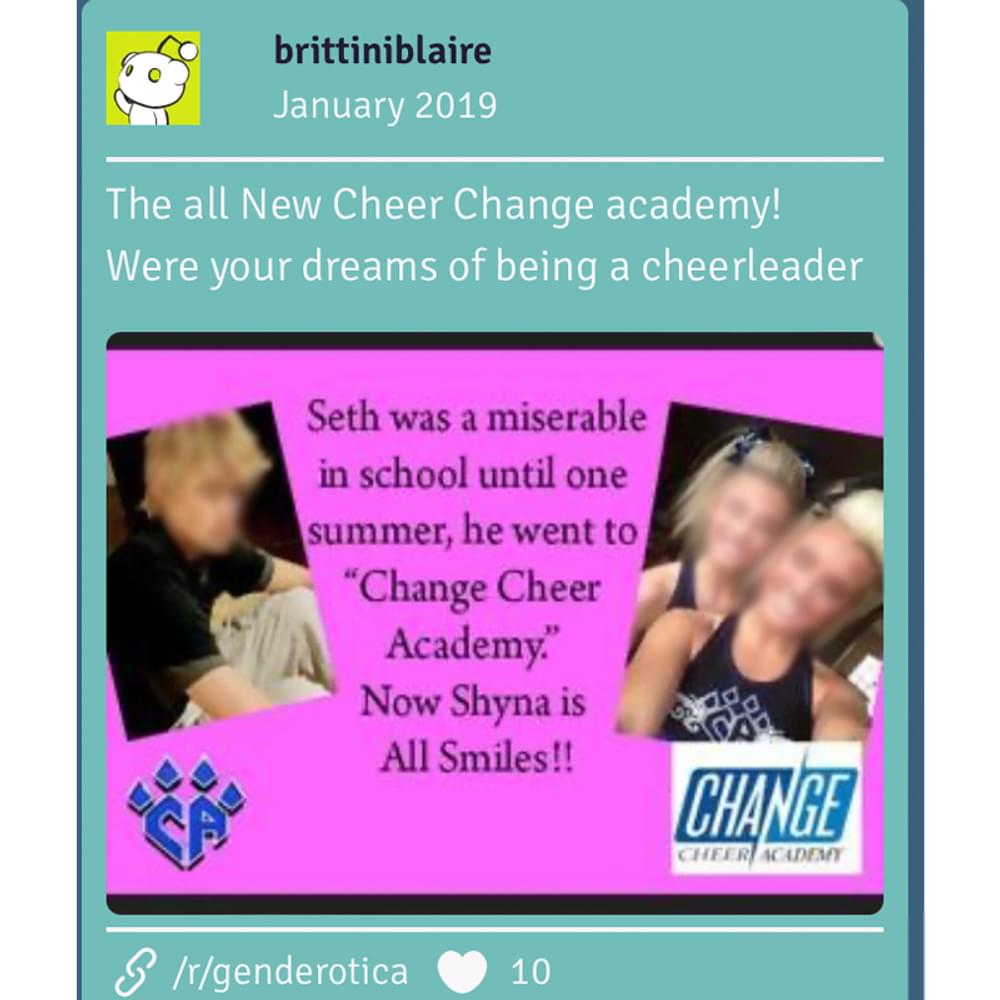 In reality, the two pictures are of English actor Alex Pettyfer when he was very young and a popular social media personality and Jamie Andries, who was a 15-year-old cheerleader when the picture featured in the meme was taken.
One woman contacted 1819 News saying she had discovered her social media postings on one such porn site. The woman, whose name is being withheld for privacy, said that she knew Copeland from when she was young and living in the area but had not seen him in years.
"[S]omeone came across one of his sites that he posts on, and he's posted photos of myself! Now my photos (from Facebook) are on all of these nude/porn sites," she said.
1819 News was able to verify the existence of the photographs on the porn websites.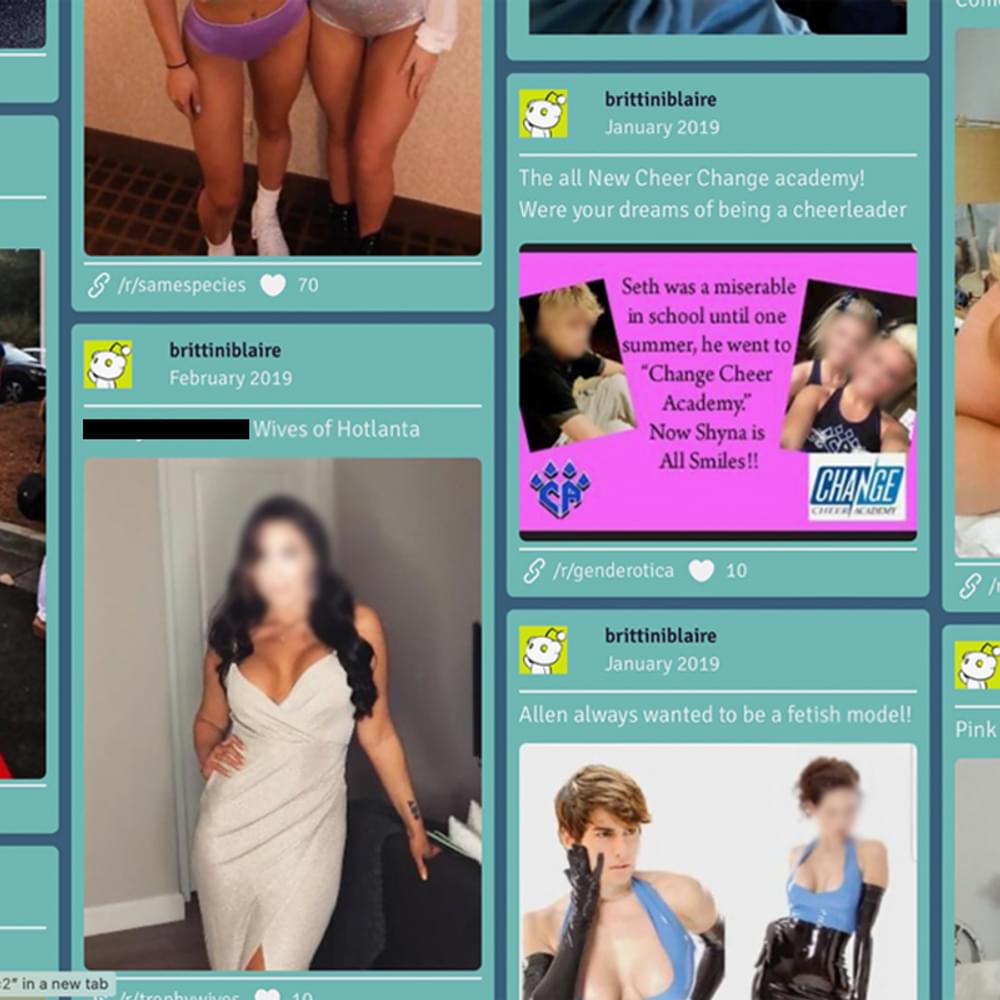 Additionally, accounts bearing Copeland's pseudonym posted pictures of Copeland in various stages of undress on several pornography websites. Other sites included one of the memes featuring a minor. Some of the porn websites use content from Copeland's now-deleted Reddit account, but it's unclear if they were shared to the website willingly or aggregated from his public account.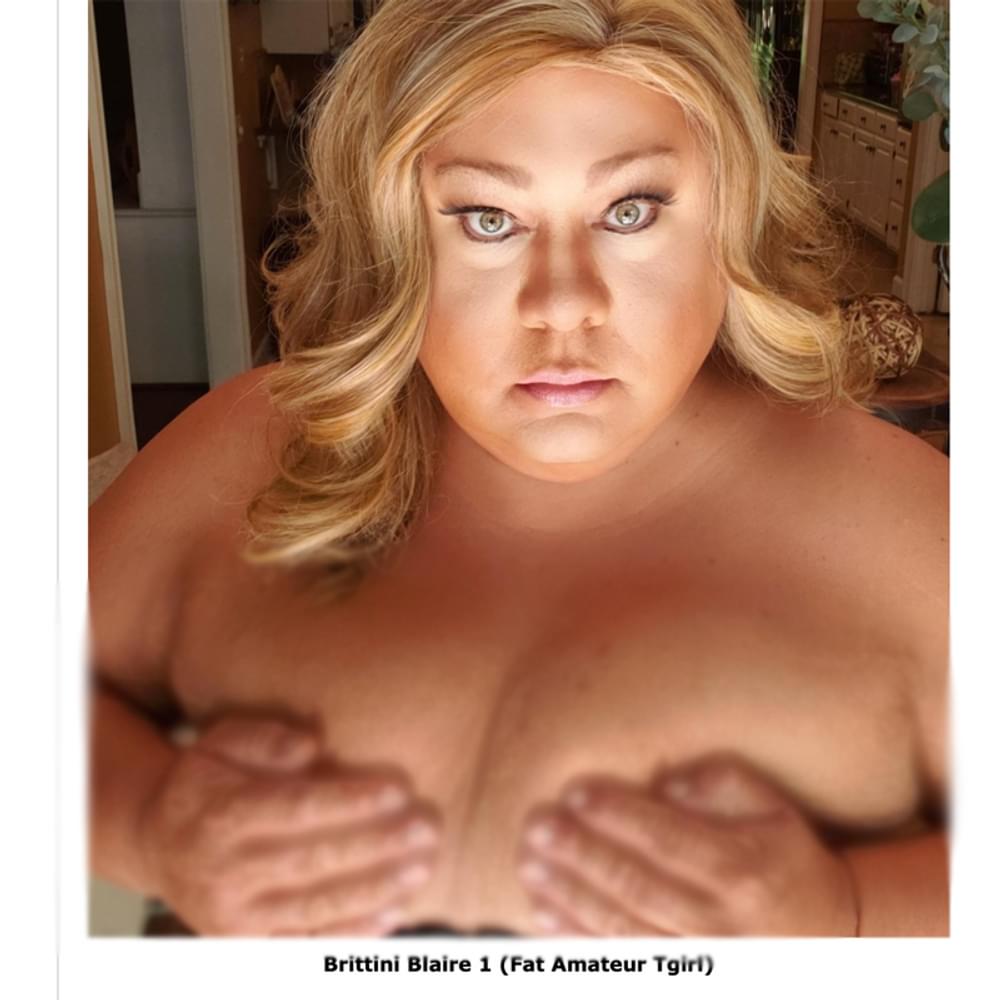 The sites contain other images posted from Brittini Blair's Reddit account, but 1819 News could not ascertain the age or identity of those featured.
To connect with the author of this story or to comment, email [email protected].
Don't miss out! Subscribe to our newsletter and get our top stories every weekday morning.