By Craig Monger
Some people might say that Tom Bradford has the touch of King Midas, because it seems as if everything he has put his hand on has turned to gold.
But if that's true, Bradford seems bereft of that mythical king's avarice and flippancy.
The 84 year old Bradford has lived a life not just of success, but of significance, having built and sold a lucrative business but also demonstrated a gift of encouragement and servant leadership. He has worked for organizations as diverse as SouthTrust Bank, Mrs. Stratton's Salads, The Red Cross, The Boy Scouts of America, Salvation Army, United Way, The Scott Dawson Evangelistic Association, Briarwood Christian School, Asian Access … It has been said that Bradford has served on more boards than an Olympic diver.
"I'm always raising money for something," Bradford said. "I headed up the capital funds drive to build Briarwood Church and co-chaired the annual United Way campaign. I'm one of these crazy guys that just likes to raise money. Most people hate to raise money but I kind of enjoy doing it."
Bradford was honored last night by the Alabama Policy Institute with its annual "Policy Warrior Award,'' given to individuals who have made a difference in working to improve the direction of the state of Alabama. The event was held at the Barber Motorsports Museum, and was API's annual stakeholder celebration.
Previous awardees include Attorney General Steve Marshall, State Rep. Andrew Sorrel, and State Sen. Dan Roberts.
Bradford was born in Selma, but the family moved to Birmingham where he graduated from Ramsey High School. He would go on to obtain his B.S. from Washington and Lee University in Lexington, Va., a Phi Beta Kappa who graduated summa cum laude. Following graduation, he worked for his family's food brokerage business as one of seven employees. When the company sold in 2007, it had 160 employees, and clients in six states.
But more important to Bradford than his business success has been his ability to impact thousands of lives through his service to his community and to his God.
In 1989, Bradford agreed to become the founding board chairman of the newly formed Alabama Family Alliance, founded by now U.S. Congressman Gary Palmer and now Alabama Supreme Court Chief Justice Tom Parker. In 2000, the Alabama Family Alliance was renamed the Alabama Policy Institute (API).
"My first job in Birmingham was at Bradford and Co, so I knew Tom and Tom's faith, and I just knew that if God was in API, Tom Bradford would be in it," Palmer said. "He was always a tremendous source of advice and counsel. He was like another dad to me. I honestly believe that I wouldn't be in congress if it weren't for Tom."
Palmer has repeatedly expressed his respect and love for Bradford, never failing to give honor where it is due.
"A lot of people are measured by the world's definition of success: how much material goods you can accumulate," Palmer said. "The real measure of a man is shown in the success he has in building the character of other men. Tom personifies what really makes a man a man. He always blew me away with his trust in God's providence, his faith that we were doing something special, and his willingness to put his time into it.
In the 30 years since its inception, API has become a staple in state policy, championing school choice, addressing pension issues, fighting tax increases, and much more.
"The Lord had his hand on API," Bradford said. "We saw some amazing things happen, some amazing votes in the legislature that were going the wrong way, and then, all of a sudden, when the vote was cast, it went the right way just miraculously"
When Palmer decided to run for Congress, Bradford recruited the new CEO, Caleb Crosby.
"Tom recruited me for the API," Crosby said. "I wouldn't be here if it wasn't for Tom. He has always been the greatest mentor, friend, and confidant."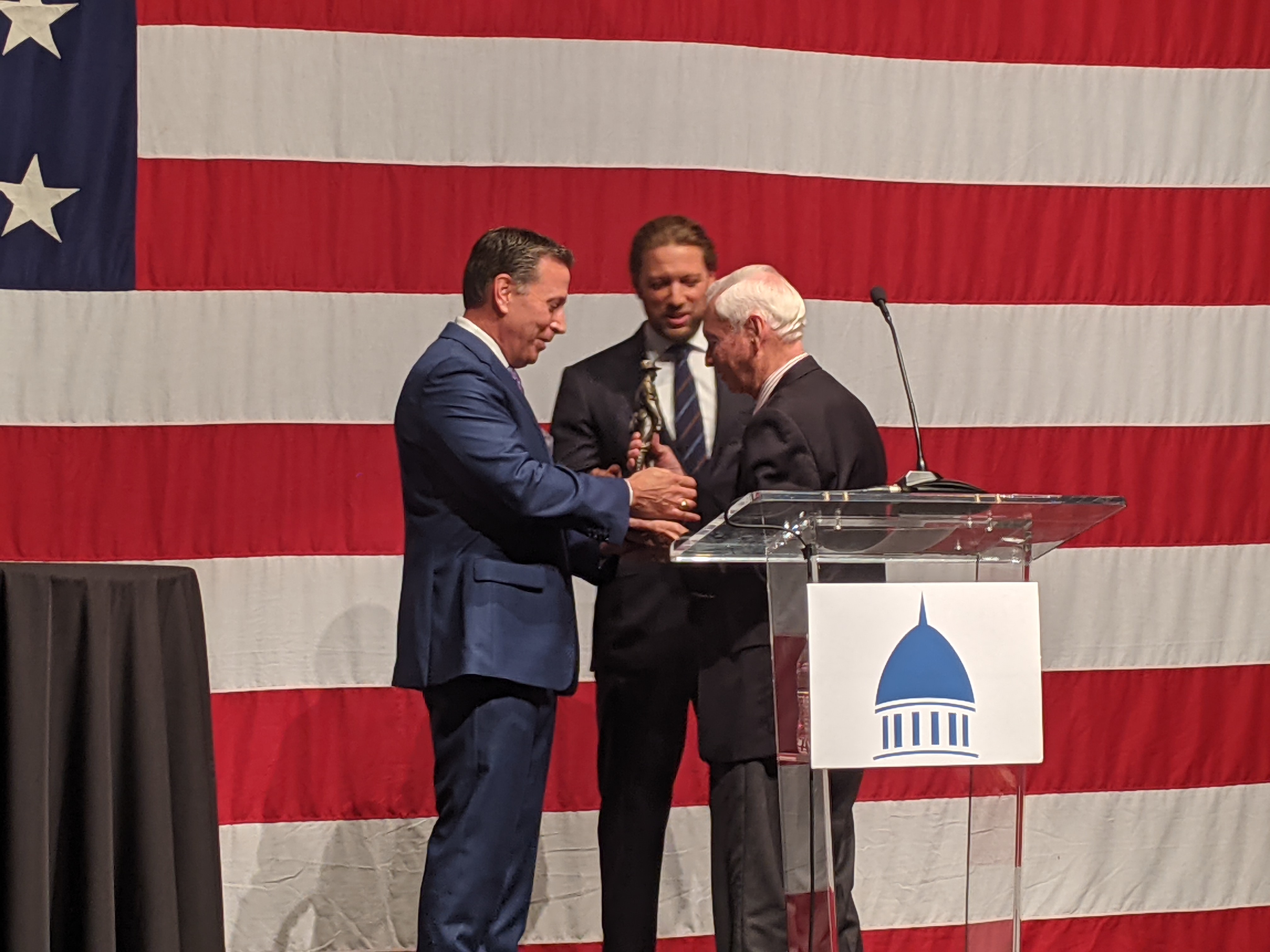 According to Crosby, one would have to exhaust themselves to find a more respected and influential man in the state than Bradford.
"If there is any ministry, Christian foundation, or any successful organization in the state, I would be surprised if Tom didn't have a hand in it," Crosby said.
"It's always amazed me that, of all the things that he could be doing – he could be on a beach right now – but the fact that he remains so available, it's always just blown me away"
While in the process of selling his company in 2007, Bradford was approached with a request to assist in starting an Alabama affiliate of the National Christian Foundation (NCF). NCF is a donor-advised fund, which allows for individuals to receive tax deductions for charitable contributions without having to limit contributions to one fiscal year. Bradford was trepidatious to accept the offer, but he couldn't help but feel that God was leading him in this direction.
"My contract was up (with his former company) Dec. 31,'' Bradford said. "I was retired one day, and on Jan. 2, I started The National Christian Foundation of Alabama.
"I was in business, but my passion was Christian work."
In his eyes, his experience in the business world gave him the appropriate skill set for success in the new foundation.
"I kind of felt like God was tapping me on the shoulder saying, 'Okay I'm presenting you with an opportunity here. You don't need to be on the board, you need to run that thing,'" Bradford said.
He was offered a position on the board of directors, but after three weeks of prayer, consultation, and contemplation, Bradford accepted the position of president. The fledgling foundation had an appropriation of $100,000 set aside for the president's salary, but Bradford declined the salary and had it put in a giving fund associated with NCF.
"I have to say, it's the most rewarding thing I've ever done," Bradford said.
The foundation started with 12 families donating funds, and now has 950 families that have given out over $280 million in donor-advised funds.
Bradford said he grew up in a "nominal" Christian home, where he sporadically attended Sunday School but never attended church with any sort of regularity.
"When I was young, I came to know that Jesus was the Son of God, that He died for my sins and He was raised from the dead and I accepted all that, but it didn't make any difference to me," Bradford said.
After graduating from Washington and Lee, Bradford married his wife, Mary Anne, who forced him to attend church. But while Bradford would assist in Sunday School activities, he did not attend regular church services because he thought it was boring.
However, in one Sunday School class in 1966, the teacher taught through "The Four Spiritual Laws," a tract published by Campus Crusade. In the tract, the fourth spiritual law states that a person must individually receive Jesus as personal Lord and Savior.
"When I saw that, it just hit me for the first time that I believed intellectually all these things to be true about Jesus Christ, but I never made a personal commitment," Bradford said.
The Bradfords were invited to attend a Bible study held at the home of Frank Barker, the founding pastor of Briarwood Presbyterian Church. Barker taught Bradford about the necessity of saving faith in the Christian's life and led him to receive the gift of salvation. After attending the first Bible study, Bradford insisted that it be hosted at his house, and for the following two-and-a-half years, the study would meet in Tom and Mary Anne's home, where he says he became 'grounded' in the faith. Bradford would go on to develop a life-long relationship with Barker and eventually became an Elder at Briarwood Presbyterian.
In April of 2021, when going into the hospital for an operation, doctors discovered a baseball-sized mass next to Bradford's liver. The mass was determined to be malignant and inoperable. Without treatment, Bradford was given four to six months to live, but doctors suggested that aggressively treating him with chemotherapy could possibly add an additional 12 months to his life.
Bradford declined, having watched his own brother suffer through the pain and sickness associated with chemotherapy.
"Why would I want to spend the last few months of my life sick?" Bradford said.
And so, Tom and Mary Anne have continued on with their lives "…leaving it in the Lord's hands."
While Bradford admits to occasional pain and swelling, that hasn't stopped him from playing tennis with Frank Barker, the man who led the Bible study in which Bradford came to faith.
As far as the future, Bradford has a simple solution.
"I plan to just keep right on doing what I'm doing," Bradford said. "So long as the Lord gives me strength to drive into the office, I'm going to keep working, I'm going to keep playing tennis, and I'm going to keep living life to the fullest"