The National Weather Service (NWS) in Birmingham received several storm damage reports Tuesday afternoon and evening, across the mid section of the state and more storms and extreme temps are expected Wednesday.
The storms, which developed in Georgia and traveled westwardly into Alabama, caused downed trees and powerlines in several counties. Hail was reported in east Alabama counties, including Chambers and Clay Counties. Winds of up to 60 mph caused damage in Elmore County and flooding was reported in Lee County.
ABC 33/40 Chief Meteorologist James Spann said storms traveling from east to west are not uncommon this time of year.
The record daily high minimum temperature was set Tuesday for Birmingham. The low temperature was 77 degrees, beating out the old record high minimum temp of 75 degrees, which was recorded in 1958.
More storms are possible Wednesday from 2 p.m. - 10 p.m.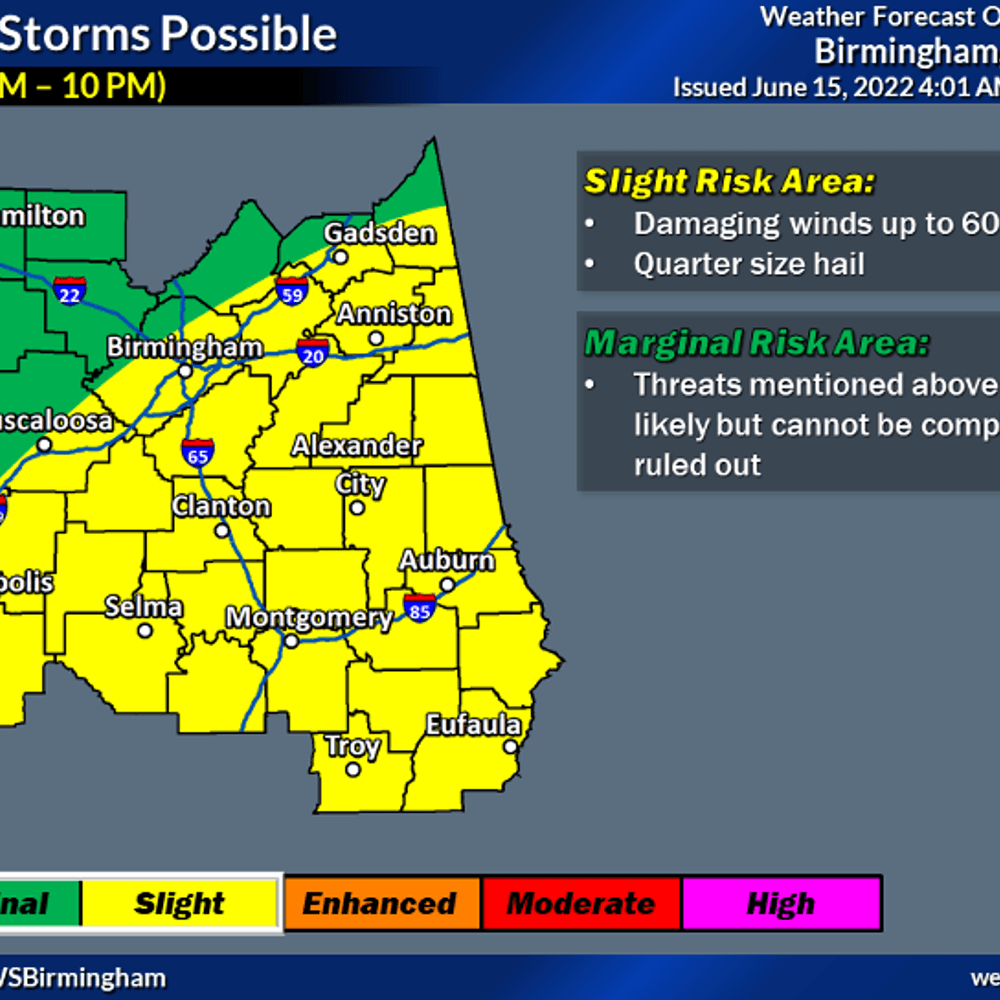 A heat advisory has also been issued for most counties in the state, as heat indices could reach 109 degrees. Heat index values take into account the temperature and relative humidity and indicate how hot it feels outdoors. The heat advisory is in effect until 7 p.m. Thursday.
Stay hydrated and stay indoors when possible. The NWS suggests people check on relatives and neighbors and keep pets inside and never leave children and pets in a vehicle.
Much of the south and the midwest are experiencing these extreme temperatures this week, with many seeing triple-digit temps.
More than 100 million people were expected to be affected by midweek. Strong storms also brought heavy rain and damaging wind to many of the affected areas on Monday, and more than 500,000 customers remained without power early Tuesday evening, including more than 350,000 in Ohio, according to https://poweroutage.us/.
At one Ohio utility, American Electric Power, heavy storms and strong winds over the past several days, combined with extreme heat, left some lines stressed and needing to be turned offline to prevent further extensive power line damage, spokesman Scott Blake said.
In Chicago, where a ferocious storm Monday night heralded temperatures that were expected to exceed 90 degrees on Tuesday and Wednesday, the May deaths of three women when temperatures climbed into the 90s served as a fresh reminder of the dangers of such heat — particularly for people who live alone or are dealing with certain health issues.
Pat Clemmons, an 81-year-old resident of the apartment complex where the women died, said everything was working well Tuesday morning as the temperatures climbed. She said she has lived in the building for about 20 years and that she never experienced issues before "that one horrible Saturday" in May.
"They have every kind of air conditioner, air blower, fan jets and everything else … . I'm fine right now," Clemmons said. "The air's on. You know they're gonna have everything working perfectly right now 'cause all the chaos that happened."
By midafternoon, the temperature at Chicago Midway National Airport reached 100 degrees for the first time since July of 2012, the area's weather service office reported.
Meanwhile, a water main break in west Texas could leave the 165,000 residents in and around Odessa with little or no water for 48 hours, NBC News reported.
The Detroit suburb of Westland opened many of its public buildings as cooling stations Tuesday, including its city hall, fire and police stations, a library and a community center. Residents can get out of the heat, charge cell phones and get bottled water there, the city said.
With a noontime temperature at 95 degrees and the heat index pushing 110 degrees on Tuesday in Birmingham, Alabama, Cindy Hanger sat outside the food truck where she works. Her face was red and her green T-shirt was soaked with sweat.
"I am worn out and I'm hot, and I'm ready to go home and have a cold drink," said Hanger.
Hanger works outside the small rig taking and filling orders while two relatives work inside cooking. The arrangement is just fine with her on such days.
"You think it's hot out here? Imagine in there," she said.
The heat was also stressing certain power grids.
The Tennessee Valley Authority, which serves 10 million people in Tennessee and parts of six surrounding Southern states, said that on Monday, it experienced record power demand for a single day in June. It said it provided 31,311 megawatts of energy at an average temperature of 94 degrees in its region, which broke the previous June high of 31,098 megawatts that was set on June 29, 2012.
The power provider said similar demand could continue through the end of the week due to more expected hot and humid weather.
The Associated Press contributed to this report.
To connect with the author of this story, or to comment, email erica.thomas@1819news.com.
Don't miss out! Subscribe to our newsletter and get our top stories every weekday morning.