The 19th annual MotherWalk will take place on Saturday, May 14, in Homewood Park. The event is hosted by the Norma Livingston Ovarian Cancer Foundation (NLOCF).
MotherWalk is one of three events hosted by the NLOCF, whose mission is to raise funds for ovarian cancer research, increase awareness, and offer support programs.
The NLOCF was founded in 2004 by Lori Livingston, who lost her mother, Norma, to ovarian cancer. Since then, they have raised approximately $1.6 million for research and supported many ovarian cancer patients and their families through difficult times.
MotherWalk is the oldest event the NLOCF has. Typically, the event is on Mother's Day weekend, but it's been delayed a week this year because Homewood Park was already booked.
Research Grants
The NLOCF is the nonprofit attached to the "Drive Out Ovarian Cancer" car tags sold throughout Alabama. For every car tag purchased, the organization receives about $50, which they use primarily to fund research conducted by the University of Alabama at Birmingham (UAB).
According to Ashley Thompson, the executive director of the NLOCF, they will be presenting an award to UAB at this year's MotherWalk from the car tag sales for research. It will be the largest check presented to date.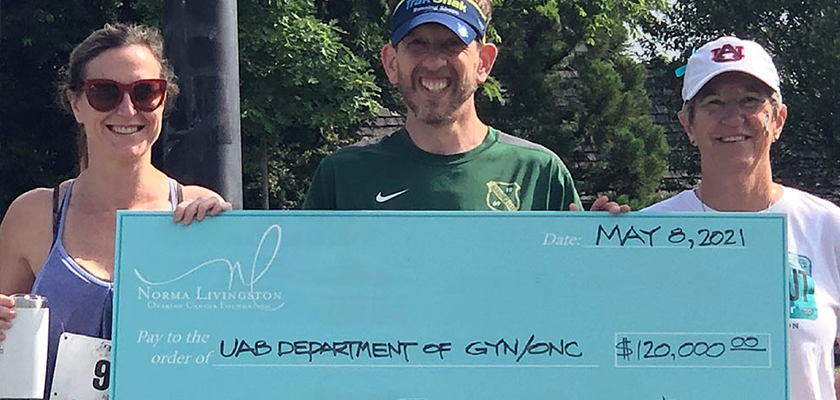 Just a Need
It costs $30 to participate in MotherWalk, whether running or walking. Participants can either do one mile or five kilometers. They also have the option to participate virtually.
Thompson said last year, MotherWalk brought in over $38,000. "
We would love to top that number this year," said Thompson.
This money goes to a program called Just a Need, which was started by 1819 News' own Managing Editor Erica Thomas and her mother, Bonny Huddleston.
Just a Need is a patient support program that provides ovarian cancer patients with various products to make their fight against the disease easier. At the same time, it provides support for patients' families.
"A lot of times, when a patient has surgery, they're in the hospital for up to a week, and their family members are in the hospital, so we wanted to give them snacks or entertainment during their stay just to help calm them and help them to become better caregivers during the time of need for their loved one," said Thomas.
Thomas and Huddleston were inspired to create Just a Need when Huddleston's mother, Janice Bower, passed away from ovarian cancer at the age of 62. Shortly after, Huddleston was diagnosed with breast cancer, which she, fortunately, was able to beat. She had another battle with colorectal cancer 10 years later.
"Cancer went down the family line," Thomas said. "…That made me and my mother extremely aware of the struggles and just the physical exhaustion that you can go through while you're taking care of a family member. That's why we wanted to do something to help not only patients but their families."
When getting tested due to the history of cancer in her family, Thomas's genetic counselor encouraged her to get involved with the NLOCF. She is now on the board of directors.
Other board members voted to adopt Just a Need after Thomas became involved.
"Before it was just me going to the store, filling up a basket and taking it to the hospital and my mom giving me half the money out of her own pocket," said Thomas. "Now I am so blessed and thankful to have this wonderful organization behind our effort."
Neuropathy and Post-Surgery Kits
Among other things, Just a Need provides patients with kits to reduce the risk of neuropathy when receiving chemotherapy.
Neuropathy is damage or dysfunction of nerves, typically in the hands or feet. It can result in numbness, tingling, muscle weakness and pain in the affected area.
"After people go through chemotherapy, a lot of times they suffer from neuropathy," said Thomas. "...And these side effects from chemo are not always something that goes away… Those side effects can actually impair you on a daily basis for the rest of your life."
Thomas said items in the kit help construct vessels, minimizing blood flow to areas most susceptible to the nerve damage, thereby steering the chemical from chemotherapy away from the area.
According to Thompson, a neuropathy kit costs around $100 if you go out and buy everything individually.
"We provide at no charge to these women, and they can use it the first day of treatment to try to ward off having neuropathy in their hands and feet," said Thompson.
"This neuropathy kit solution is an example of our partnership with UAB's Gynecologic Oncology Department," Thomas said. "They deal with these patients every day, so they know exactly what they need and they have them on hand."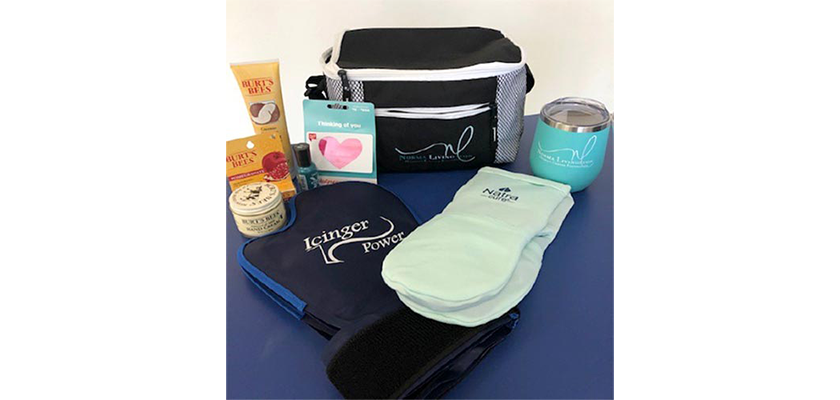 Thompson said they also provide post-surgery kits, which gift patients with items that might be hard to find at the store and difficult to afford.
"It would be kind of hard to find a bath and a wash bottle and feminine hygiene things that guys don't want to go to the drug store [for] after their wife had surgery," Thompson said.
More help
Just a Need has also made an effort to offer spiritual help. Thomas said she has contacted leaders from various faith groups around Alabama.
"A lot of times, we find that faith is what gets us through the most difficult times in life, and dealing with cancer and going through that treatment is often someone's most difficult time in their life," said Thomas. "That's why we made it a point to offer faith-based connections to those who request it."
Some women have to travel long distances to get treatment, so Just a Need offers gas cards, gift cards to restaurants, and help with lodging.
"Anyone can get what their need is," Thomas said. "They just have to apply for it, and as long as there's a connection with ovarian cancer, we will address those needs to the best of our ability."
Awareness
MotherWalk is not just a fundraising event for Just a Need, though. It's also an awareness event, according to Thompson.
The UAB genetics department will be there with information, and someone from the UAB Breast Health Center will speak about breast health.
"It's just really an event where people can come out and hear more about what's going on with ovarian cancer," Thompson said.
Thompson said many women don't get diagnosed with ovarian cancer until it's already in stage three or four.
This is because ovarian cancer comes with many "silent symptoms" similar to those women typically experience every month.
These include vaginal bleeding, particularly past menopause, and discharge, pain or pressure in the pelvic area, abdominal or back pain, bloating, feeling full too quickly, difficulty eating and changes in restroom habits, such as frequently increased urgency to urinate and constipation.
How to Help
Thompson said MotherWalk is a family event.
They'll have local mascots, a bounce house and face painting for kids.
Registration for MotherWalk begins at 6:30 a.m. The chipped timed five-kilometer run starts at 8 a.m., whereas the one-mile fun run starts at 9 a.m.
You can learn more about MotherWalk on their website. You can also learn how to help in a different way here.
"[MotherWalk is an event] to celebrate the mothers and the grandmothers and the aunts and the sisters and daughters… to raise awareness for women and this horrible disease that impacts women," Thompson said.
To connect with the author of this story, or to comment, email[email protected].