We all have our dreams.
Steve Skipper had some mighty big ones, starting when he was a youngster growing up in the Rosedale community near Birmingham. But everybody who mattered to him kept telling him his aspirations of becoming an artist were impossible. That included his mother, who assured him no African American could ever make a living painting pictures. She had evidence. Very few had.
Only one person encouraged Steve to pursue that impossible dream. That was a teacher at Rosedale Elementary School who immediately recognized his remarkable talent. There was little more she could do, though, but offer encouragement.
Soon there were other obstacles thrown in Steve's path, including family trouble at home and the trauma of being bused across town from his all-black elementary school to a mostly white school in Homewood as part of that era's integration efforts. By the time he grew into a frustrated and unhappy teenager, he was attracted to a new "family," a new group of "brothers," but ones who had chosen a very dark lifestyle.
He became a member of the Crips street gang, one associated with members in California and the Mexican drug cartel. Before he was old enough to drive, Steve was the drug-debt enforcer for the gang. He even sold drugs to fellow students and members of his high school football team. That long-held dream of using his talent to become a successful artist was soon forgotten.
Then one day, after he and his "brothers" had robbed a store and were loudly celebrating in a city park, they spotted someone coming their way. Every one of them reached for his weapon, assuming this was someone who posed a threat to them. But it was only a casual acquaintance of Steve's, "Big Mike" Mitchell, bravely approaching the gang members.
Mitchell had often shared his message of the redemptive powers of Jesus with Steve even though he knew Skipper was one dangerous individual. So far, all that witnessing had seemingly fallen on deaf ears yet Big Mike was relentless.
This time, he finally got through. Steve pulled Mike away from the other Crips to warn him he was treading on dangerous ground. He knew they were on the verge of attacking his friend. But Mitchell still shared his message. And this time, his words hit home. He had come to the park that day and risked his life to invite Steve to a special upcoming church service, one to be hosted by a powerful traveling evangelist. Mostly to keep his gang mates from going after Big Mike, Steve reluctantly agreed to attend the service. Providing, that is, if he did that Mike would quit bothering him about Jesus.
Steve kept his end of the bargain though it meant postponing for an hour or so a scheduled meet-up that night to sample some new drugs the Crips were about to start selling. He showed up at the church just as the service started. His intent was to duck out shortly and try the new product. At that service, though, something far more powerful than his Crip "brothers" and the street life took control of him.
When the preacher started, Steve Skipper felt the evangelist was talking directly to him. The congregation and choir seemed to melt away and it was only Steve and the preacher in those pews. The words made sense and Steve knew it was the very advice he needed to turn his life around. And to once again pursue that long-dormant dream of using his God-given talent for painting beautiful and moving pictures.
Only later did he learn that the drugs he was supposed to sample at the Crips meeting that night were cut wrong and would have likely killed him. "The Lord saved me twice that night," Steve likes to say.
He also had to tell his Crip brothers that he was leaving the gang. That was usually a death sentence. Members did not quit the gang. But those tough guys appeared to be frightened by the ferocity of Steve's conviction. They never bothered him.
It still was not easy. His mother continued to push him to "get a real job" and forget about hoping to earn a living with his art. Her words seemed even more true when he finished high school, married, and soon had children to feed. He had gone to work at Birmingham's American Cast Iron Pipe Company, doing dangerous and dirty chores that left him almost too tired each night to draw or paint.
But as he could, he picked up money doing pencil-sketch portraits of baseball players at Vestavia Hills High School. He also began painting powerful and unique Christian artworks that soon began to attract attention.
Then, on the job one night, his right hand was brutally crushed between two pieces of hot steel pipe. The doctor told him he would likely never be able to use that hand again. Not to work. Certainly not to paint. And Steve heard Satan whispering in his ear, telling him that he had won, that Steve would no longer be creating inspirational pieces to honor his God.
But he also heard the Lord in the other ear, telling him he must pick up the brush and try. Though he saw no way he could make meaningful brushstrokes with the mangled hand, he stuffed the paintbrush into the bandages and gave it a try.
At first, it did not work. But then, Steve maintains, he could feel the hand of God guiding his own, and he ultimately finished the work he had been doing. To this day, Steve says he does not do all that impressive artwork on his own. He is convinced that God moves the hand that holds the brush.
As he was finding success with his Christian art, he also realized he had a special talent for painting athletes and sports action. He started with members of the 1980s version of the Birmingham Stallions United States Football League team. When the league folded after three years, some of the players for whom he had done portraits moved on to play for teams in the National Football League.
They told teammates about Steve. He was commissioned to do works for many top athletes and, as his reputation spread not only to the NFL but other sports. His paintings would one day show up in various team headquarters as well as the Pro Football Hall of Fame, the International Motorsports Hall of Fame, NCAA Headquarters, and in museums and homes of collectors worldwide.
Next, Skipper says, God told him to visit — without an appointment — Ray Perkins, then the famously cantankerous head football coach at the University of Alabama. When the coach atypically agreed to see him, Steve left the meeting with a commission to paint small portraits of all the seniors on the team for their end-of-year banquet, an event fast approaching.
He had no idea how he would get that much work done in the short time he had to do it, but he managed it. And, once having proved himself to Perkins and the athletic staff at Bama, he became the only artist officially licensed to do artwork of the Crimson Tide and its games.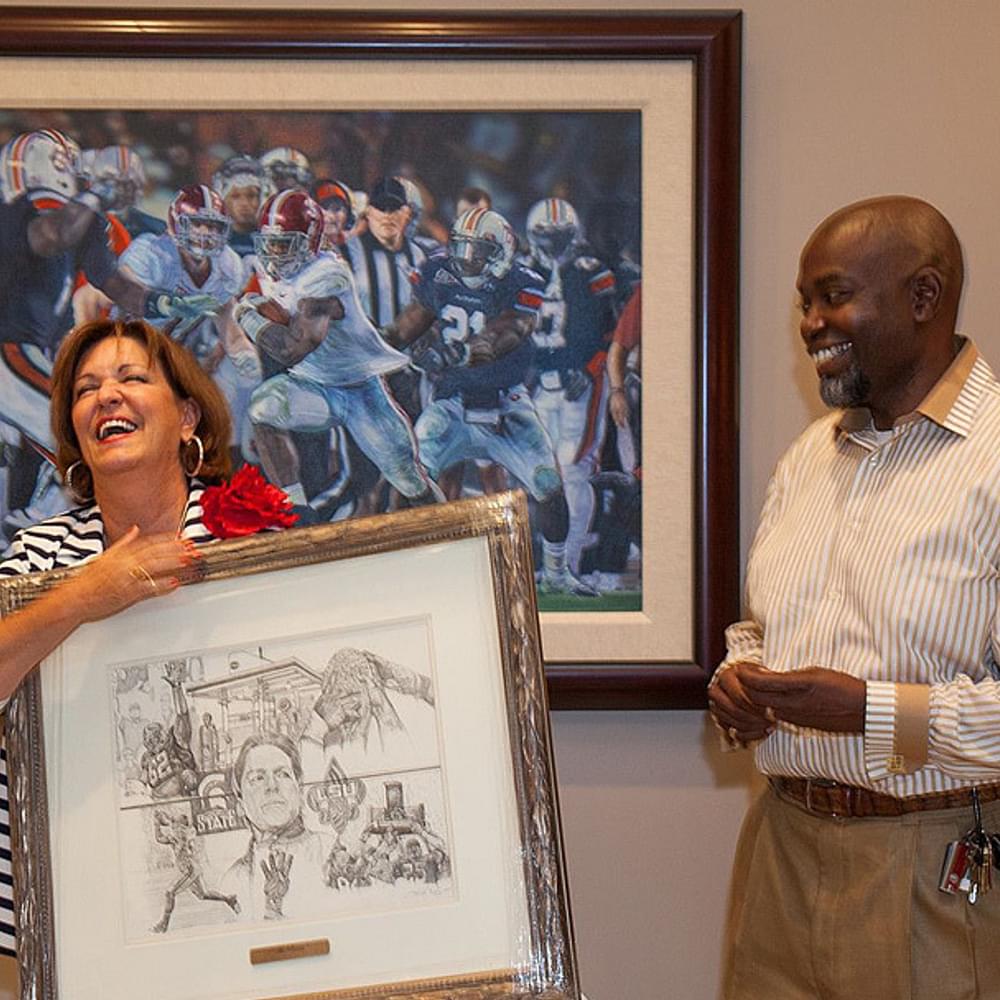 God had another nudge for Steve Skipper. Just as he was becoming successful and gaining a following with his Christian paintings and sports art, he says the Lord told him to put all that aside for a while and do paintings honoring the Civil Rights movement. No one had successfully done that yet and he was not optimistic at all. But Steve was soon commissioned to do the commemoration painting portraying the Birmingham Civil Rights struggle.
That painting would eventually hang in the rotunda of the U.S. Capitol in Washington. He also did works portraying "Bloody Sunday" in Selma and Dr. Martin Luther King's sojourn to the Bahamian island of Bimini to write his famous Nobel Prize acceptance speech. That one was commissioned by the government of The Bahamas.
Today, Steve continues to do art in all areas of interest, including works for the late Bart Starr, the late Bobby Bowden, and for Ambassador Andrew Young. Another painting celebrated the return of the UAB Blazer football program. He most recently completed a commemorative piece honoring John Mitchell and Wilbur Jackson, the first two African American players for the Crimson Tide.
It was unveiled both at the Paul "Bear" Bryant Museum in Tuscaloosa and at the Alabama Sports Hall of Fame in Birmingham. His Christian art and Civil Rights commemoratives continue to document Steve's strong faith as well as important people and events in history and athletics.
But Steve still tells the story of the day he showed his mother a check for $12,000 he had just received, an advance payment for a painting he was doing of an NFL superstar.
When she saw the amount on the check, she looked up and proudly told her son, "Steve, you finally got yourself a real job!"
Indeed, with divine help, Steve Skipper had done just that.
Don Keith, an Alabama native, is an award-winning and best-selling author, filmmaker, journalist, and broadcaster, and a regular contributor to 1819 News. He has more than 35 books in print. His biography of artist Steve Skipper is titled Dream On and is available from Amazon and other booksellers.
Don also wrote and produced a theatrical documentary film, Colors of Character, based on Skipper's inspiring story. It is available on DVD from Amazon and is currently streaming on Fandango and Apple TV. Don's website is www.donkeith.com.