Headed into this year's legislative session, some speculated the Alabama Education Association (AEA), which functions as the labor union for Alabama's public K-12 school teachers, would take a different conservative-friendly approach in 2023.
With a Republican supermajority and a renewed push for school choice, political watchers suggested the AEA may work with Republicans.
It was not meant to be in 2023.
The so-called PRICE Act (SB202), sponsored by State Sen. Larry Stutts (R-Tuscumbia) and State Rep. Ernie Yarbrough (R-Trinity), did not get consideration on the floor by either chamber of the legislature.
SEE ALSO: AEA drops $1.5 million on state politics this election cycle – Republicans beneficiaries over Democrats by a 2-to-1 margin
Also, tax relief faced opposition near the end of the session because of the perceived threat to the Education Trust Fund (ETF), which has had surpluses in the past few years.
In the June 9 issue of the AEA's "The Capital Pulse," a newsletter for its members, the organization took credit for both the defeat of the PRICE Act and the watering down of tax cut measures.
"The Alabama Legislature convened Tuesday, June 6th, for the final day of the 2023 Regular Session," The Capital Pulse read. "This year's session was unlike any session Alabama has seen in the past. With over one-third of the legislative body, House and Senate, starting their very first session, new leadership in the House of Representatives, and a surplus in both state budgets, the only thing resembling sessions of the past was the longstanding procedural process of sine die."
"AEA brought several dangerous school choice bills to a halt, fought until the end to amend charter and grocery tax bills until they were not harmful to our community schools, and successfully advocated for unprecedented pay raises for our School Nurses and Education Support Professionals throughout the state of Alabama," it added.
The organization specifically took credit for the PRICE Act's demise.
"SB202, the School Voucher Bill, also known as the PRICE Act, by Sen. Larry Stutts, is officially DEAD! With your help, AEA worked tirelessly to defeat this legislation, as it would have been detrimental to the ETF and students in Alabama," the newsletter stated.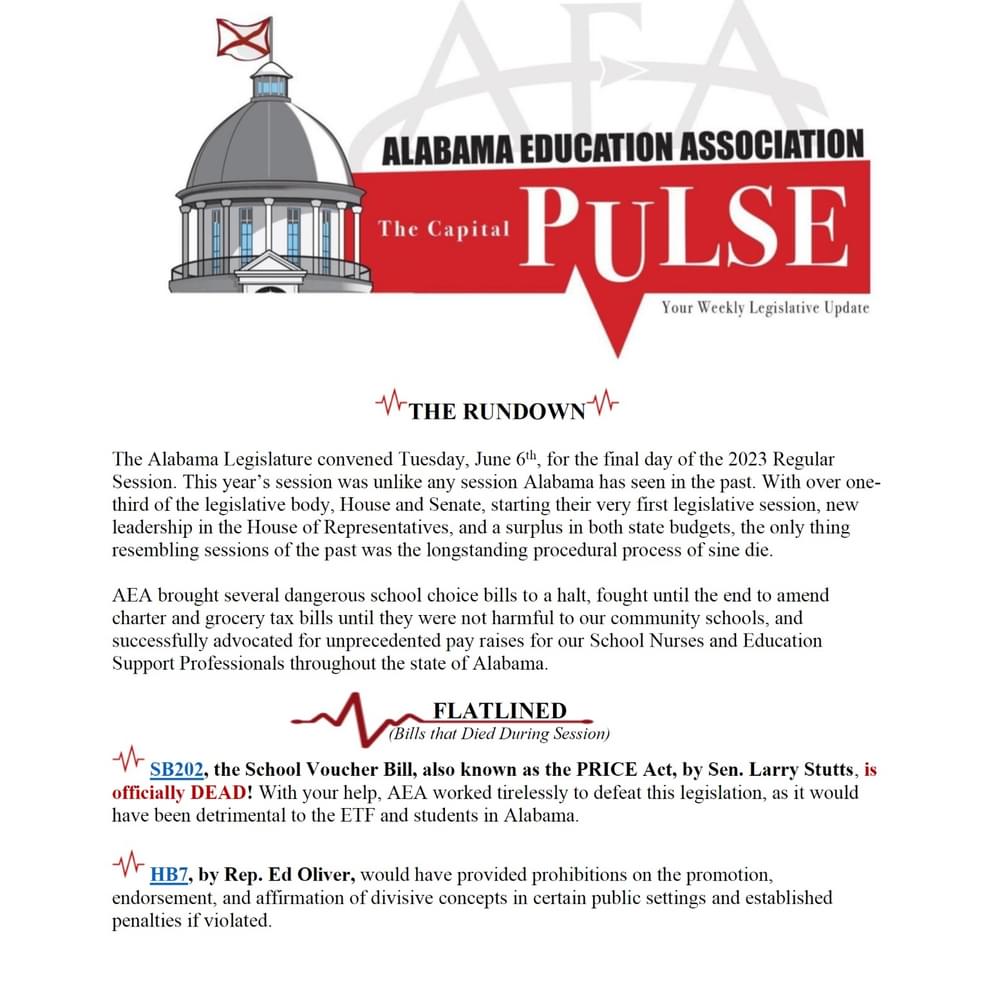 Jeff Poor is the editor in chief of 1819 News and host of "The Jeff Poor Show," heard Monday-Friday, 9 a.m.-noon on Mobile's FM Talk 106.5. To connect or comment, email jeff.poor@1819News.com or follow him on Twitter @jeff_poor.
Don't miss out! Subscribe to our newsletter and get our top stories every weekday morning.