Jefferson County Commission members have not been on the same page regarding allowing the bingo halls to operate, but Alabama Attorney General Steve Marshall said the Supreme Court has made it clear the bingo halls are illegal.
"We just obtained an order from the Supreme Court that makes it absolutely clear that these are illegal, and we need local law enforcement to be able to do their jobs on that front," Marshall said.
For years, attorneys general in Alabama have been fighting against illegal gambling. But charging those involved in illegal gaming is up to local law enforcement, and Jefferson County Sheriff Mark Pettway has previously said he has larger concerns to deal with. In 2019, Pettway released a statement saying it wasn't worth the time, effort, and money thrown into confiscating machines and tracking down misdemeanor offenders when he has serious violent crime to address.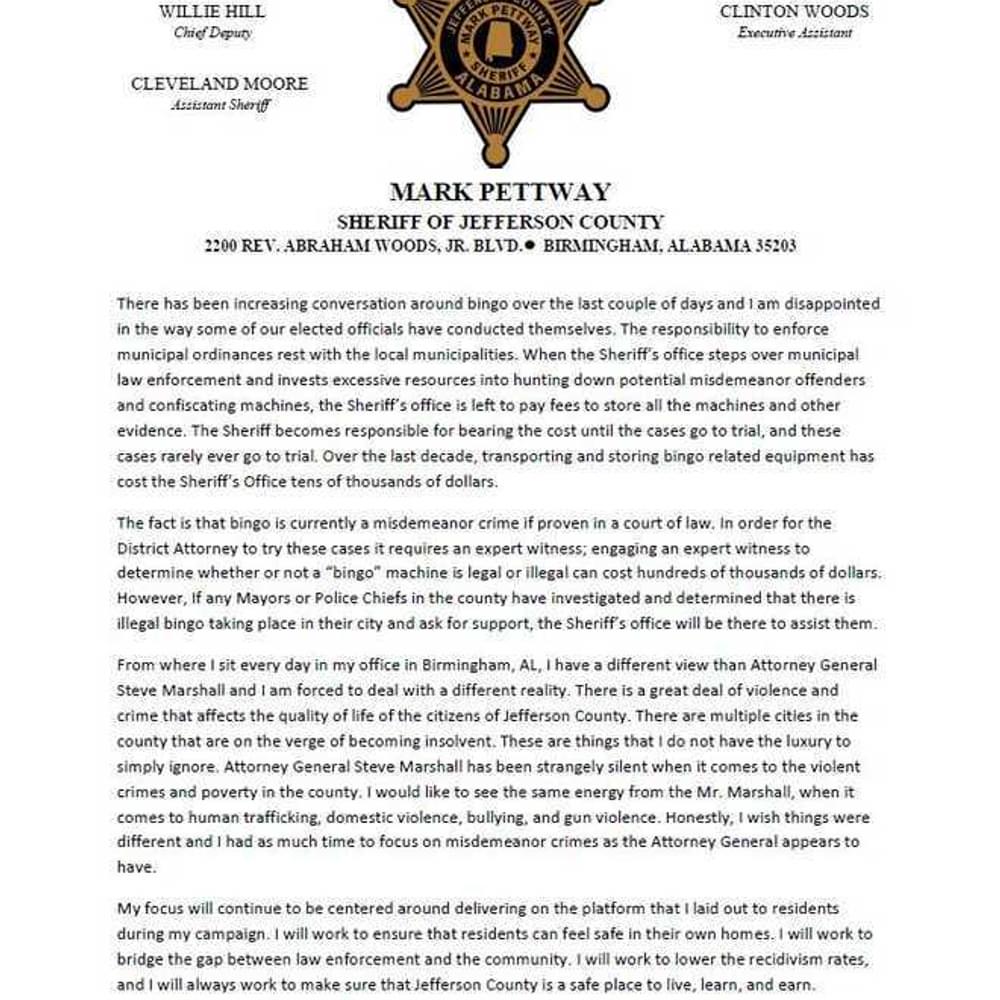 Marshall said his office had seen evidence that the operations are "ground zero" for more serious crimes, including money laundering.
"Despite the fact that gambling is a misdemeanor, it can be a repository of other wrongdoing," Marshall added. "And if we allow them to continue, in violation of the law: Number one, what does that mean about the rule of law? But also, we are, in essence, condoning illegal activity, and that's not where law enforcement needs to be."
Jefferson County Commission President Jimmie Stephens said he thinks bingo halls operating illegally need to be shut down.
"I think they need to be closed, and the commission is doing what it can to address these issues," he told 1819 News.
"We're trying to work within our zoning ordinances to help alleviate this problem," Stephens added. "The sheriff has shown no willingness or desire to act on any of these illegal electronic bingos in unincorporated Jefferson County."
Stephens said while the county is working within its ability to try to bring everyone into compliance with the law, most of the businesses apply for a vendor license, which must be issued.
"But when it turns out to be bingo, it's illegal," said Stephens. "The enforcement powers deal with our sheriff, and so it's created a bottleneck and lack of continuity in enforcing our zoning ordinances."
Some commissioners have been working with legislators and the Attorney General's office to come up with a plan.
"I believe it's a systemic problem. I don't believe it's just a Jefferson County problem," Stephens added. "But the problem is causing our citizens to not have a peaceful environment in our neighborhoods. So, we will continue to work with the sheriff and hopefully through the sheriff to make these things go away … It's not making anything look any better, and it's not there to improve the quality of life of our citizens, and that's what we were elected to do," Stephens continued. "We have done everything we can do as a commission, but it's up to law enforcement to do their jobs."
Marshall said sheriffs and district attorneys do not work for him, so he cannot compel them to follow the law. However, he said the people can make a difference.
"I appreciate conversations I've had with Commissioner Jimmie Stephens and his leadership, but I think the citizens need to make it clear that that's something they think should be done as well," said Marshall. "We have voices, right?"
Marshall encouraged citizens to voice their concerns to local leaders.
"The biggest thing we can do is to not only highlight why it's important for them to enforce the law but also for those in this community to contact the sheriff, contact from the prosecution side, and explain why this is something that's important," said Marshall.
1819 News reached out to Pettway for comment and got the following statement from Deputy Chief David Agee:
"No business can operate without being issued a license. Any city or county government that does not want a Bingo operation in their jurisdiction has the authority to revoke their license, not issue a new license, or not renew a license. This is the best way to close a business. The Attorney General has allowed Bingo operations in certain parts of the state, such as Dothan, many of these businesses are operating the same way. We have investigated many of these businesses and will continue to do so. Our primary efforts are trying to reduce violent crime."
To connect with the author of this story, or to comment, email [email protected].
Don't miss out! Subscribe to our newsletter and get our top stories every weekday morning.