It took 32 minutes on the game clock for the Spring Garden girls' basketball team to add another Blue Map to their trophy case. The work toward the 62-39 victory over Marion County in the AHSAA Class 1A title began long ago.
"Right before the game, I told the kids we'd been walking in the same shoes since the very first game of the season," said Spring Garden head coach Ricky Austin. "They just kind of looked at me. After the very first game of the season, we immediately started thinking about this game. We felt it every day in practice, and we felt it every game leading up to this. It's been an honor to walk in the same shoes, the same path with these young ladies this year."
That path led Spring Garden to Legacy Arena at the BJCC with hopes of winning a state title for the first time since capturing the Class 1A title in 2020. In the two games in Birmingham, Spring Garden won by a combined 124-73.
In both games, Ace Austin, the coach's daughter, was sensational. On Thursday, the 5-foot-7 sophomore point guard, already a four-year starter, had 33 points, seven rebounds, five assists and two steals in 31 minutes. She was 10 of 21 from the field, 2 of 9 on 3-pointers and 11 of 14 on free throws. Put the two games in Birmingham together and Austin had 53 points, 18 rebounds and 14 assists.
It took nearly two minutes for Spring Garden to score with back-to-back 3-pointers by Libby Brown and Austin finally lifting the cover on the basket. By the end of the first quarter, the Panthers' lead was 14-5.
For the second consecutive game, the Panthers finished with nine 3-pointers. Kayley Kirk had 14 points, and Brown added nine points. Only two other players – Maggie Jarrett and Chloe Rule – scored for Spring Garden.
The win improved Spring Garden's record to 36-1 with the lone loss coming to Oxford on Feb. 3. Kirk is the lone senior on a team that includes six sophomores and freshmen.
For Marion County, it was a difficult ending for a team making its third consecutive Final Four and trying to add another championship map to the one that the Red Raiders won a year ago. The Red Raiders shot just 25% from the field and committed 24 turnovers. Spring Garden, which had 16 steals, scored 28 points off those turnovers.
Jasmine Wilson had 13 points and five rebounds, and Porshia Lipsey had 12 points and four rebounds.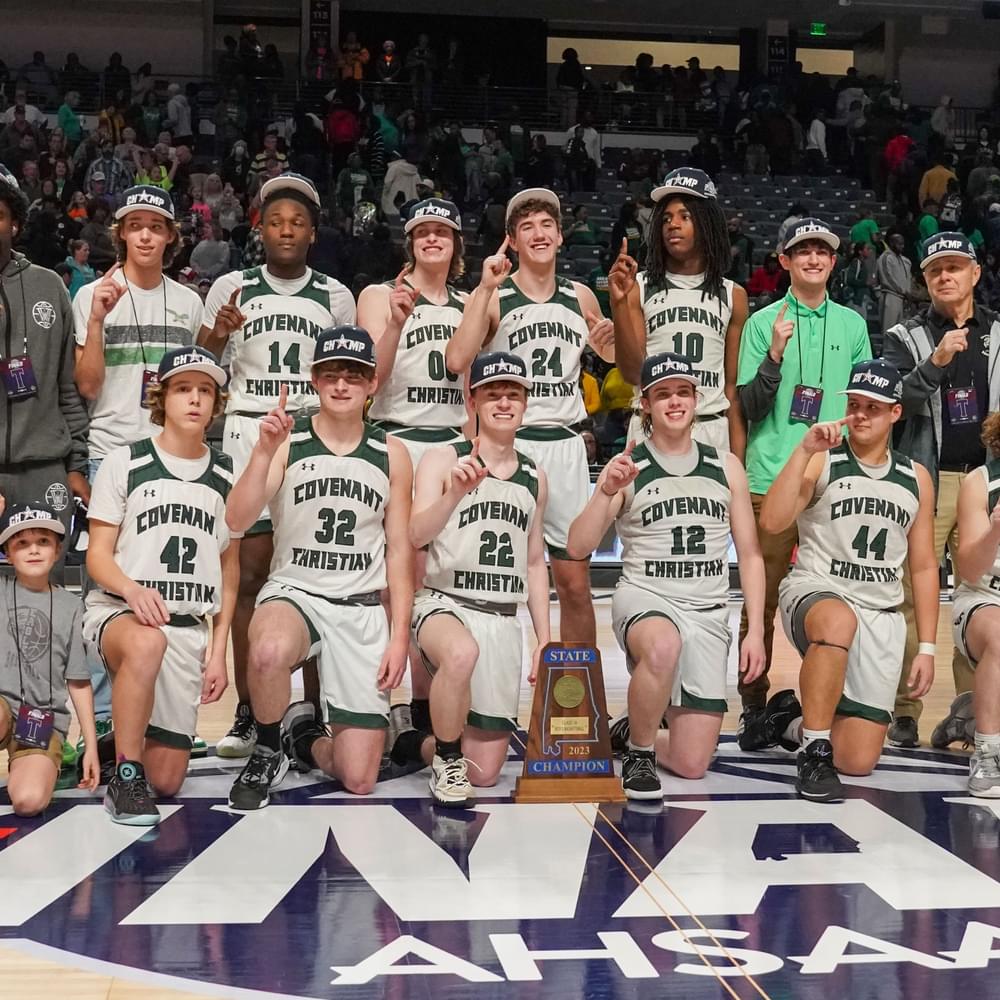 Covenant Christian Academy boys 50, Oakwood Adventist Academy 46: The two top teams in Class 1A put on a show on Thursday night, with Covenant Christian winning the state championship for the second successive season.
Oakwood Academy came within a split second of tying the game and possibly winning it in the final seconds. The Mustangs were trailing 49-46 and had possession. Johnathan Walden threw up a successful 3-pointer. However, a foul was correctly called before the shot, sending Walden to the free throw line. He missed the front end of the 1-and-1 situation, and Covenant Christian's Trey Kellogg iced it at the other end.
"I really hate cliches. I hate coaching cliches," said Covenant Christian head coach Bret Waldrep. "Now, I understand why they exist because I'm so proud of them for all the work they put in to win this game. That was such a good basketball game."
Oakwood Academy looked like a team playing in its first state championship game in the early minutes. Covenant Christian led 13-1 at the midway point of the first quarter and 20-6 heading into the second quarter. Oakwood Academy settled in during the second quarter, and the deficit was down to 29-24 at halftime.
"Oakwood is such a tough time team," Waldrep said. "They just do things right. They're so well-coached. They're so athletic. They got shooters. They got a big guy. They got it all. We knew it was going to be a tough game. We just kept battling."
It was certainly a battle in the second half, but Covenant Christian never relinquished the lead. Class 1A MVP Jalen Chandler had 16 points and seven rebounds for Covenant Christian but fouled out with 3:34 left in the game, with the Eagles holding a 44-36 lead.
"We were worried about rebounds, obviously, with him out of the game," Waldrep said. "(Kellogg) had some huge rebounds down at the end of the game. This team has been so good at killing games off. This is probably the best team I've ever had, to be honest with you, at doing that. Figuring out ways to kill games off when they get a lead and make it hard for teams to come back."
Oakwood cut the deficit to 46-44 with 41 seconds left on a 3-pointer by Micah Andrews. The deficit was one with 20 seconds left after a layup by Jayden Nesbitt (17 points, 13 rebounds, four blocked shots, two steals and two assists. But the Eagles found a way to win.
Don't miss out! Subscribe to our newsletter and get our top stories every weekday morning.