Alabama colleges and universities should not increase tuition "for a long time," and President Joe Biden's student loan forgiveness makes people think "Santa Claus will come along often," according to Dr. James Purcell, executive director of the Alabama Commission on Higher Education (ACHE).
At an ACHE meeting on Friday, Purcell said that "generally across the board that loan forgiveness is bad public policy, but it is what it is."
"That bridge has occurred basically, but there are some benefits for the individuals that are out there and for the state," Purcell outlined. "It's very good news for Alabama because 630,000 Alabama residents have debt of $37,000 which exceeds the national average in debt, and we rank tenth nationally in college debt. Possibly 500,000 of those people will actually have some debt relief. It will be beneficial for them. There's some benefits for the state. Like I said, I don't think it's good policy. It sort of sets people up to think that could happen … Santa Claus will come along often, and unless you have parents who are Santa Claus, it doesn't happen often."
According to the Tax Foundation, most student loan borrowers will be exempt from paying federal income taxes on the forgiven amount of up to $20,000 under Biden's plan announced a couple of weeks ago.
Borrowers will also likely be exempt from paying state income taxes, according to the Department of Revenue last week.
"There are some states that tax this, but Alabama is not one," Purcell said. "I did hear from some legislators that they may want to tax this. I think generally speaking, they shouldn't. Let's just collect the money and help our economy build. Instead of sending money to Washington D.C., they'll be spending money here in the state with that revenue."
Estimates on how much student loan forgiveness will cost taxpayers differ depending on who is asked. The White House initially estimated the plan would cost taxpayers $240 billion over 10 years.
However, an analysis by the Penn Wharton Budget Model estimates the plan could cost anywhere from $469 billion to as much as $1 trillion over the same time period. The National Taxpayers Union Foundation estimates the average debt burden per taxpayer under the plan will be about $2,500.
Purcell said at the ACHE meeting that "the cost of higher education is still a big issue" in Alabama, citing an AL.com report about in-state tuition and fees at the University of Alabama and Auburn University increasing by about 50% since 1998 after adjusting for inflation.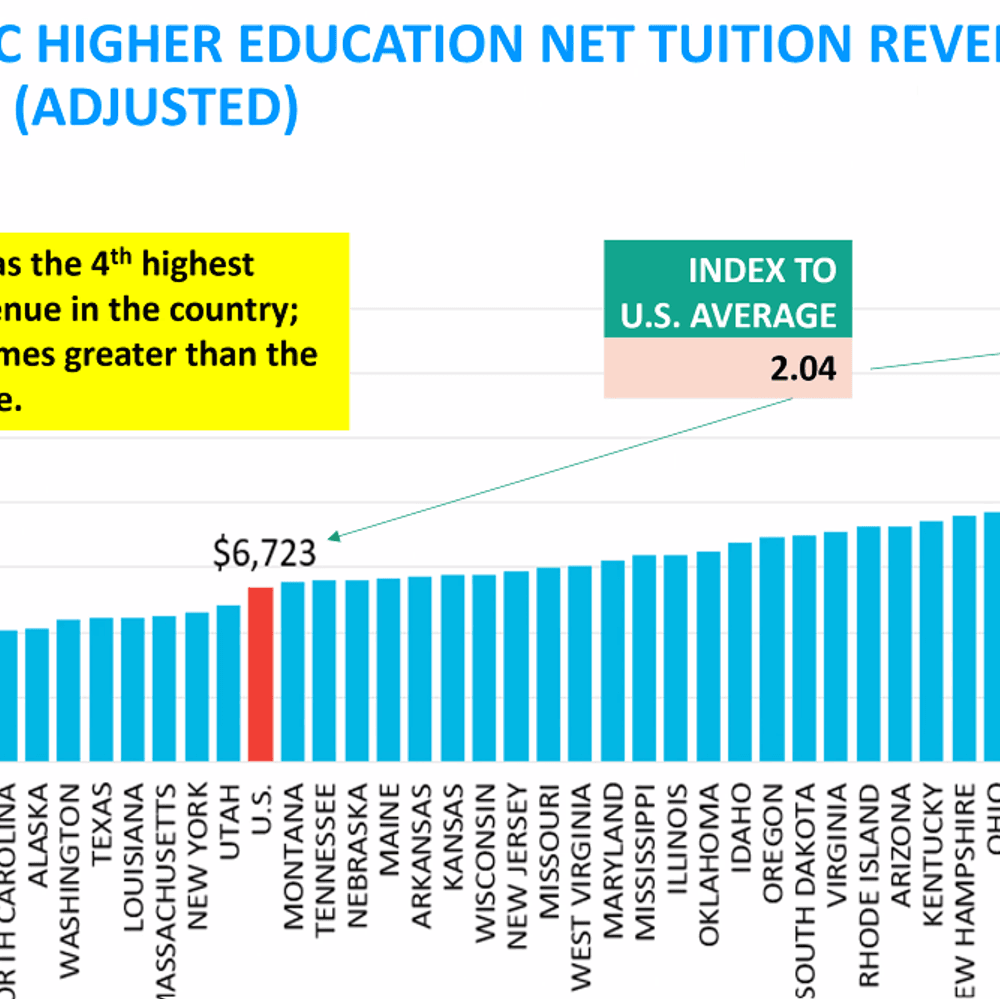 Purcell explained that "the whole thing about our student debt is we have ended up becoming so reliant on tuition in this state that it has become an issue for us, especially us being a low-income state."
"Our tuition is twice as high as the national average in other states," he added. "For those of you in the audience who say, 'Well, it doesn't feel that way.' I'll show you in the states that actually had to make budget decisions by closing programs, revising their business model…they did it in those other states, and they're leaner and meaner coming out of the recession. In Alabama, the decision was we'll just increase tuition, and we did it on the backs of the students, and it is going to really interfere with our ability to get people to go to college in the state."
According to Purcell, the cost of college based on tuition, fees and state support in Alabama is 28% higher than the national average.
"We need to address this as institutions," Purcell said. "I'd say we should not increase tuition for a long time. The Legislature is going to give you six percent or so probably this year (and) gave you six percent last year. I'd suggest that the Legislature actually say the state money is contingent on the fact that you stabilize the cost so that college can be affordable for every Alabamian … not just those that have a 3.5 G.P.A."
To connect with the author of this story, or to comment, email caleb.taylor@1819News.com.
Don't miss out! Subscribe to our newsletter and get our top stories every weekday morning.