In a meeting earlier this week, sources claim the Alabama Association of School Boards (AASB) made disparaging comments regarding a parent organization seeking to restore constitutional values in education.
While the AASB released a statement in response to this claim, they refused to answer direct questions concerning the comments.
The fall district meeting for District 5 was held on Tuesday, August 30, at Hoover High School. The purpose of the meeting was to offer training for board members to help them "balance their ever-evolving relationships at the board table with the demands of social media, employee complaints, community pressure and blurred lines between board-superintendent roles."
Sources said that during a presentation, the comment was made that "LOCAL Alabama is responsible for disinformation that is leading to a low view of public schools in Alabama."
LOCAL consists of concerned parents who seek to preserve constitutional values in schools. LOCAL founder Allison Sinclair said without knowing exactly what was stated, it is hard to respond, but she is very concerned that anything negative would have been considered.
"What they did by pointing out a grassroots parent organization is very reminiscent of what the National Association of School Boards did when they labeled parents being involved and coming to school board meetings as domestic terrorists," said Sinclair. "Parents shouldn't be seen as the enemy or as a threat. If you want to have good schools, you need to have parents involved."
In a photo obtained by 1819 News, a slide that was presented during the meeting appears to show a form from LOCAL Alabama's website.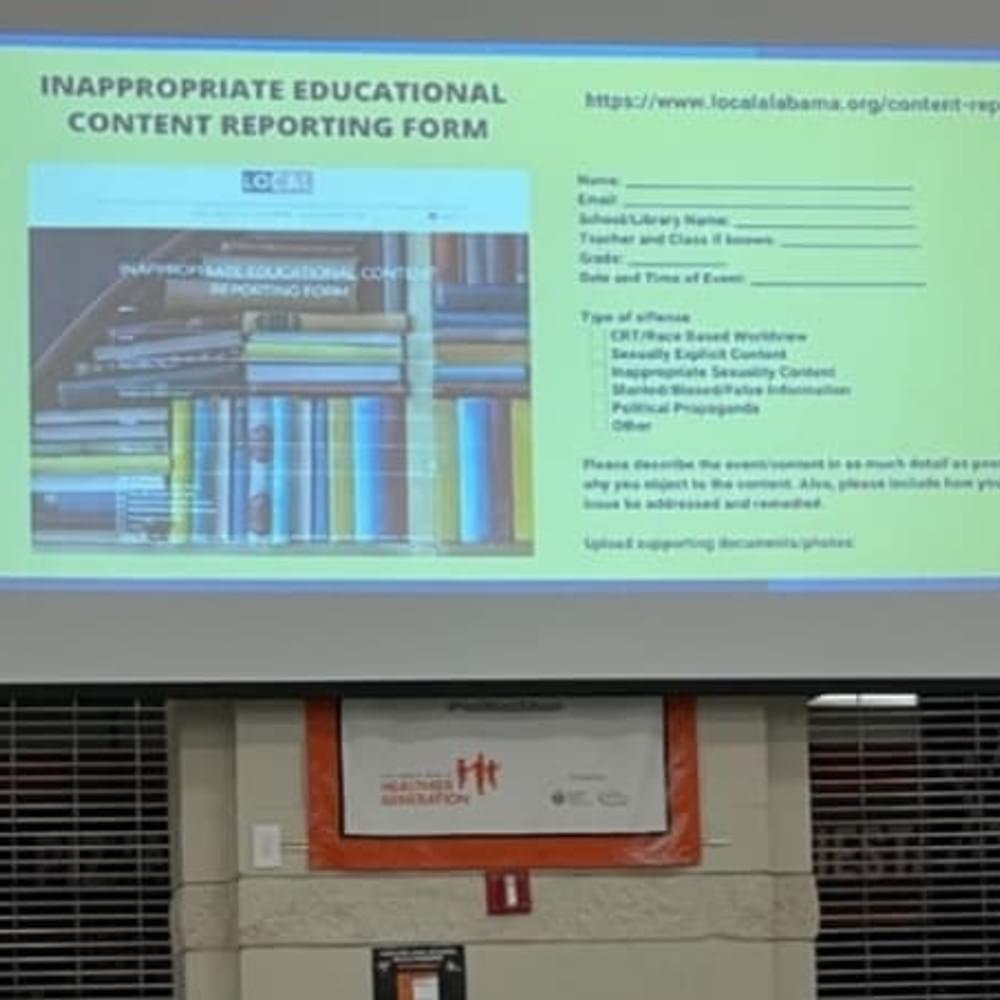 The Content Reporting Form is a place for parents to submit information about things they believe are inappropriate in schools.
"[The form] originally started when concerned parents were sending these examples of things when they were afraid to go to their administrator or their local school board or their teachers," Sinclair said.
Sinclair said the purpose of the online form was for LOCAL Alabama to gather information and take it to state and school officials that could do something about it. So when Sinclair heard about comments made during the AASB meeting, she was shocked.
"My understanding is that it wasn't in a positive light," Sinclair said. "It was maybe that we were spreading misinformation or we were making it harder to teachers to teach or that we were a threat to the school systems, but that really couldn't be more opposite of the truth. We are advocating for these children and concerned parents that are afraid to speak up."
When asked about the comment, AASB executive director Sally Smith would not take a phone call and had the AASB's director of Public Relations, Dana Vandiver, respond to 1819 News. Vandiver asked for specific questions in an email.
After receiving the questions, which included asking if these comments were made and requesting examples of "disinformation that is leading to a low view of public schools in Alabama," Smith released the following statement:
"We believe parent involvement is essential to public schools. There is an unfortunate and untrue narrative that school boards don't listen to parents and don't want to listen to parents. AASB always advocates for parents and school boards working closely together as partners in the education of our schoolchildren.  

"School boards are in the best position to respond to concerns about inappropriate educational content or other matters because school boards reflect community standards and already have systems in place to quickly address complaints.  

"Our concern is instead of reporting these issues, should they occur, at the local school board level where they can be addressed quickly, it appears some groups want to collect this information from parents and take it to the AG or the State Board of Education, which feels more like a political move than an effort to actually resolve a problem. 

"AASB is a non-partisan organization, and our goal is to make sure school boards understand how the current political and cultural landscape is impacting education. We know that attempting to use a broad brush through legislation or other guidelines to deal with some of these concerns is not as effective as reporting them at the local level where they can address them right away."
Sinclair said Sally Smith has never reached out to her.
"I think it's interesting that we were brought up during an Alabama Association of School Boards meeting," said Sinclair. "We're just a grassroots parents organization made up of moms and dads and grandparents that care about our kids and care about our schools. We're trying to get involved with what is happening in our public school system.
"[T]he fact that she has LOCAL Alabama behind her in front of District 5 school board members, she definitely wasn't building us up. She was calling us out. That's a problem."
School systems in District 5 include Alabaster, Bessemer, Birmingham, Fairfield, Gardendale, Homewood, Hoover, Jefferson, Leeds, Midfield, Mountain Brook, Pelham, Shelby, Tarrant, Trussville, Vestavia Hills and the Alabama School of Fine Arts.
District 2 has already had its fall meeting, and all other districts will have meetings this month.
To connect with the author of this story, or to comment, email erica.thomas@1819news.com.
Don't miss out! Subscribe to our newsletter and get our top stories every weekday morning.