By Brandon Moseley
The U.S. Labor Department announced that the consumer price index jumped 0.9% last month after climbing 0.4% in September. This is the largest gain in inflation in four months and helped raise the Consumer Price Index (CPI) to 6.2%. That's the highest one-year rise in consumer prices since November 1990, during the height of the Desert Shield military buildup following Saddam Hussein's invasion of Kuwait.
Alabama's GOP Congressmen blame the Biden administration and Congressman Robert Aderholt (R-AL04) said he believes the proposed infrastructure plan could make things worse.
"This will only get worse if the Build Back Broke plan becomes law," Aderholt said. "Inflation is a tax on everyone. President Biden's policies are directly leading to this hyperinflation."
Congressman Mike Rogers (R-AL03) said, "Inflation brought on by Biden's socialist agenda is harming our nation's most vulnerable. Meanwhile, the Biden administration could not seem to care less about the damage inflation is causing."
Congressman Gary Palmer (R-AL06) provided a chart showing how much more expensive Thanksgiving dinner will be this year. He called the prices an example of "an unfortunate real-world result of his [Biden's] failed economic policies."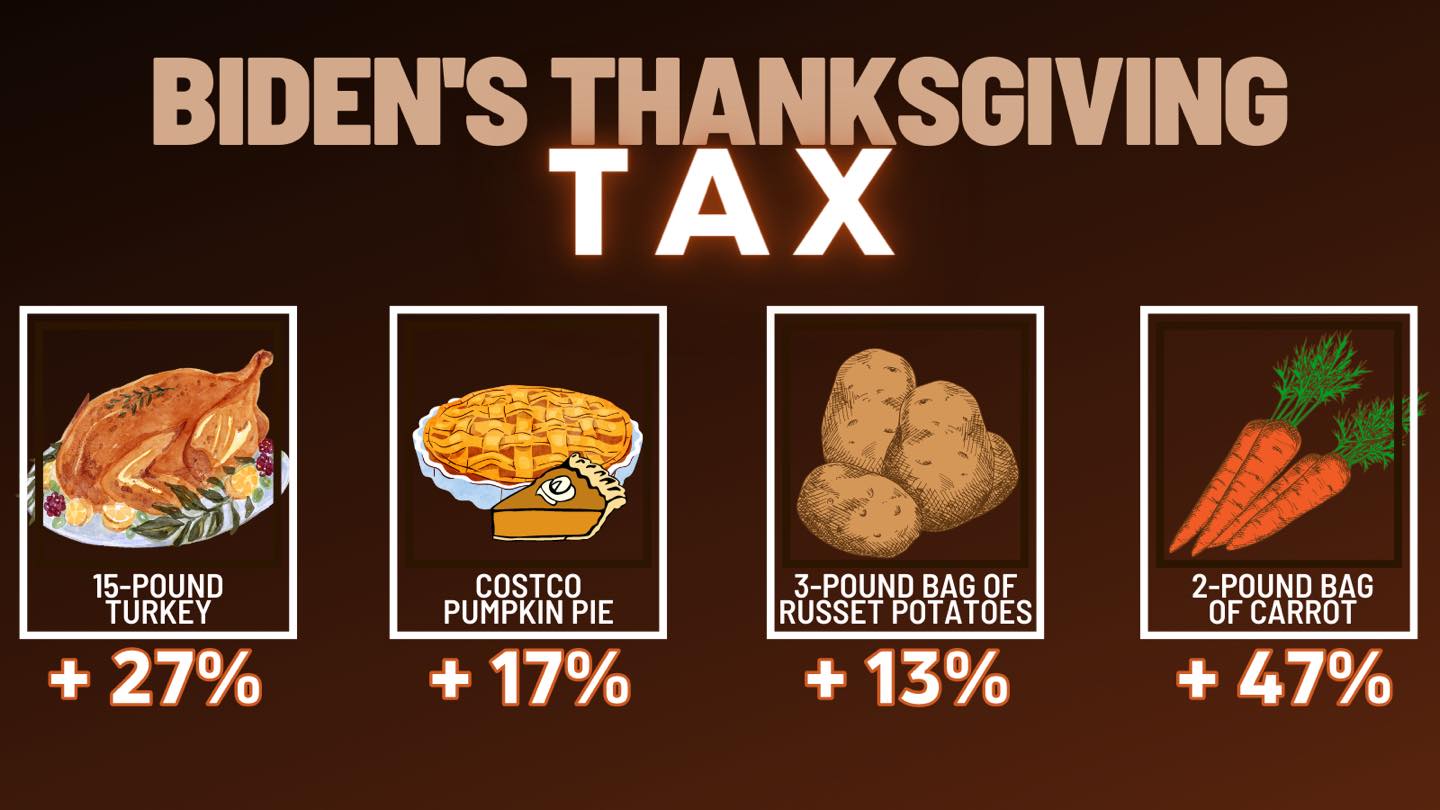 U.S. Sen. Tommy Tuberville (R-Alabama) said, "Right now, our economy is overheating, and what do Democrats want to do? Add more fuel to the fire with a trillion-dollar tax and spend spree."
The broad-based increase in prices last month was led by gasoline prices, which increased 6.1% in October after rising 1.2% in September. Republicans blame Biden's energy policies, particularly his war on domestic oil production. Brent crude oil has gained over 60% this year. A recovering global economy is also heating up demand.
Backed-up global supply chains and an acute shortage of workers are also driving up prices as employers are in a bidding war for workers that's driving wages higher. The number of Americans filing claims for unemployment benefits fell to a 20-month low last week.
While Congressional Republicans are raising alarm bells at the latest Consumer Price Index numbers, both the White House and the Federal Reserve Board have maintained that prices will fall once supply bottlenecks start easing, though that is unlikely to happen before Christmas. Biden said he and his team are looking for ways to reduce energy costs.
Friday, Press Secretary Jen Psaki said higher gas prices are an example of why the country needs to move to alternative energy sources.
"Look, our view is that the rise in gas prices over the long term makes an even stronger case for doubling down on our investment and our focus on clean energy options so we are not relying on the fluctuations and OPEC and their willingness to put more supply and meet the demand in the market," Psaki said.
.@PressSec: "Our view is that the rise in gas prices over the long term makes an even stronger case for doubling down our investment and focus on clean energy options." pic.twitter.com/rdDIm2spwY

— Townhall.com (@townhallcom) November 12, 2021
Psaki said inflation talk has become a "political cudgel" and said experts are expecting inflation to ease in 2022.
(Original reporting by Reuters' Lucia Mutikani contributed to this report.)