This month is National Preparedness Month, and the Alabama Emergency Management Agency (EMA), along with local EMA services, are taking the opportunity to spread the word about how to be prepared for emergency situations.
The message from the Alabama EMA is to have a plan.
The emergency situations in Alabama that people should have a plan for include active shooting, cyber-attack, extreme heat or cold, flood, hurricane or tropical weather, a pandemic, power outages, thunderstorms, lightning, hail, tornadoes, wildfires, winter storms and even earthquakes.
Jefferson County EMA is offering tips and information each day of the month. Its "30 Days 30 Ways" is meant to offer advice on how to respond to emergencies and disasters.
The "30 Days 30 Ways" calendar shows the different topics. Jefferson County EMA is sharing tips on each topic every day on Facebook and Twitter.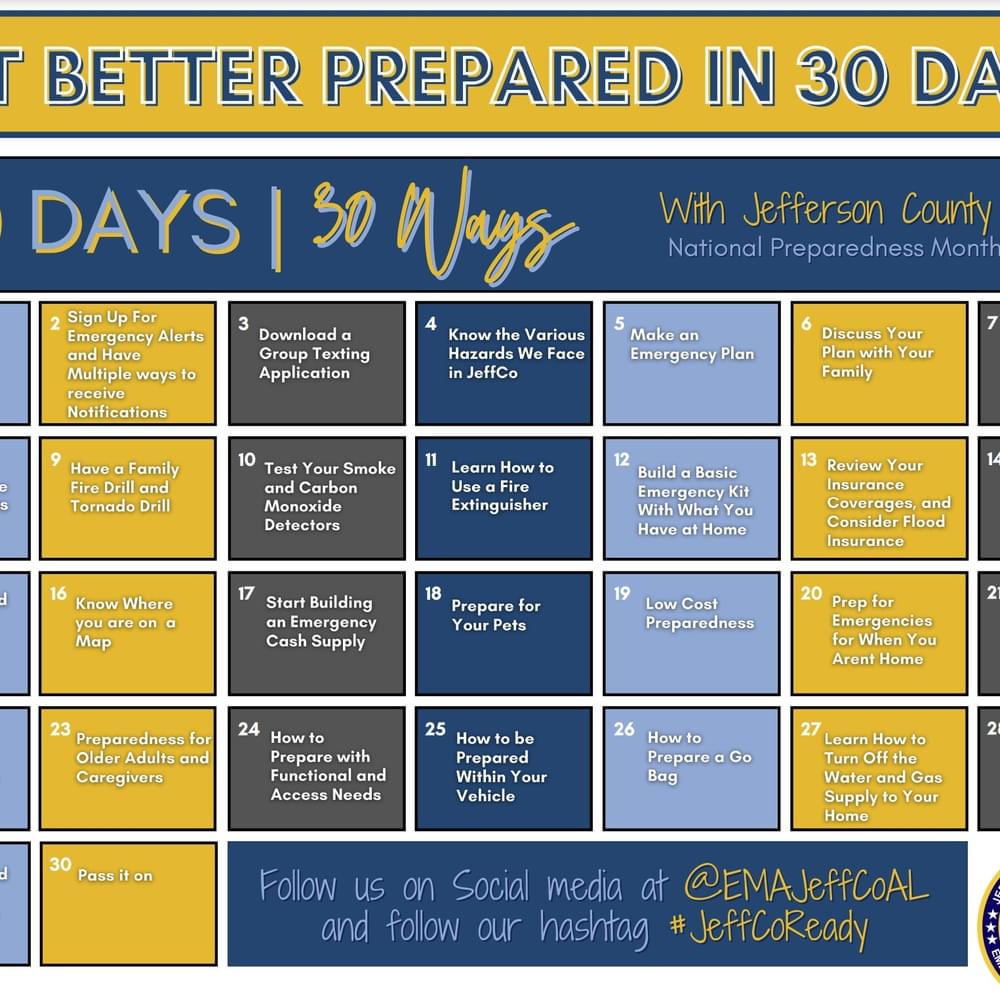 "Really, the purpose is to spread the culture of preparedness and cover several different topics in order to prepare people for the disasters they may be impacted by," said Emergency Management Officer Melissa Sizemore.
There are multiple ways for people to be alerted to various disasters.
"We encourage people to have a NOAA weather radio," said Sizemore. "Those have a battery backup and do not require internet to receive alerts, so those are a great tool. They work, they're loud, and they wake you up in the middle of the night. You can program them to the county that you live in, and we have the ability to coordinate with the National Weather Service; if something really bad does happen and we need to send an alert out, we can utilize them to send out alerts on top of weather alerts."
Many cell phones have the capability to send alerts with the use of a weather app or the FEMA app.
Jefferson County has 255 outdoor warning sirens, but Sizemore said because they are mechanical and not always heard from everywhere in the county, people should not depend on those alone.
"But if you do hear a siren, our sirens are polygon-enabled, so the only sirens that activate and sound are the sirens located within that warning polygon that the weather service issues, so if you hear a siren, you're in the path of danger, and you need to take immediate action because we are under a warning," Sizemore added.
There is also the Everbridge mass notification system. Residents can sign up and get notified by phone calls and text messages. Click here for more information on Everbridge.
Other tips include having an ongoing family text thread, having a physical copy of important contacts available and discussing plans ahead of time with each family member, including those who live out of state.
To connect with the author of this story, or to comment, email [email protected].
Don't miss out! Subscribe to our newsletter and get our top stories every weekday morning.