We think about you always, We talk about you still, You have never been forgotten, And you never will. We hold you close within our hearts And there you will remain, To walk and guide us through our lives Until we meet again.
- Robert Bruce Rowe
For five and a half years, one east Alabama mother has occasionally texted her son's number.
She never hears back. She knows she won't get a response because her son is unable to pick up the phone. Still, Alicia Morgan texts and Snapchat messages her boy, in hopes of feeling at least a tiny bit of comfort.
Jordan Morgan was only 22 years old when he took his own life on Christmas Eve of 2016. That was the last day Alicia Morgan heard her son's voice. He called her that morning, but by that evening, she knew something was wrong.
In fact, she knew something had been wrong for a while. Her son was struggling with addiction and depression, but she never knew it would come to this.
"Any death of a kid is hard, but suicide is probably one of the most questionable ways," Alicia Morgan said. "It's hard to understand how your own blood saw no way out... For a long time, I couldn't even speak his name without completely losing my whole everything."
Being a paramedic herself, Alicia Morgan is used to helping others and saving lives. But the pain she realized from being unable to save her own son was too much to bear.
"I missed it in my own child," she said. "I totally missed it. That makes it hurt a little more, but it also shows it can happen to anyone... But it just came to me one day that I can't let his death be in vain."
For months after her son's death, Alicia Morgan focused on work and keeping her mind off things. But that didn't help so she decided to seek help from a professional. To this day, she credits a photo one of her sons framed for saving her life. 
Throughout the years, she has asked God for a sign. A sign from her son. She frequently texts Jordan, and this week she had a dream about him. When she woke up, she texted him.
Something happened: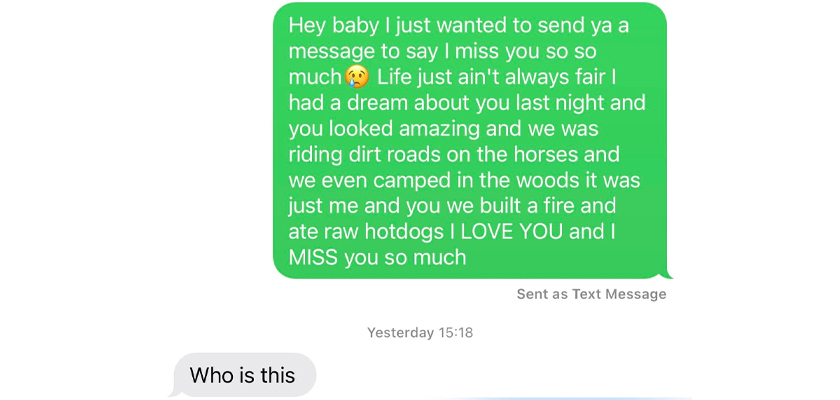 That's right! This time, Alicia Morgan got a response from Jordan's phone.
The response was, "Who is this?" but Alicia Morgan would soon find out the person typing back was nothing short of a miracle.
She explained to the person who she was and why she was texting the number.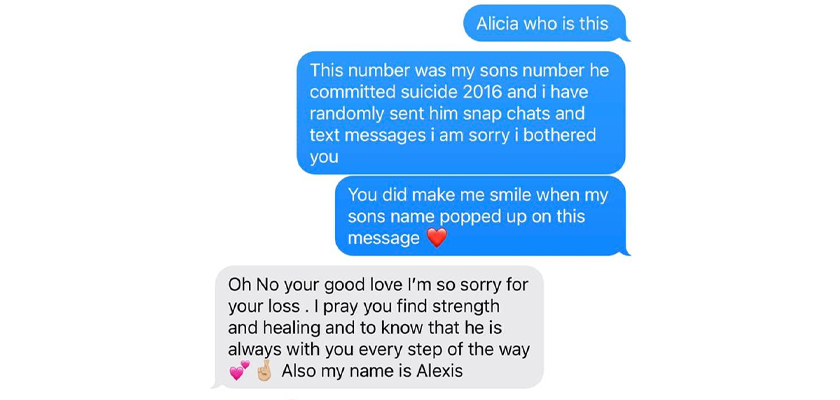 The two chatted back and forth for a bit and that was that... until later.
Alicia Morgan received another message later that evening.
Alexis Sankey was the person texting from Jordan's phone number. It was her phone number now. She has had the number since January. At first, she thought it was a spam message. But after thinking about it all day, she knew she had to reply.
"It was on my mind the whole day," said Sankey. "Literally all day, I kept thinking about it and kept thinking about it."
Sankey posted the message to Facebook, and it wasn't long before she put two and two together. But could it be?
So, she replied and asked if the woman texting was who she thought it might be.
The woman's son was named Jordan and Sankey knew that name and knew of a boy named Jordan that died of suicide.
It was Jordan Morgan, from Lafayette High School.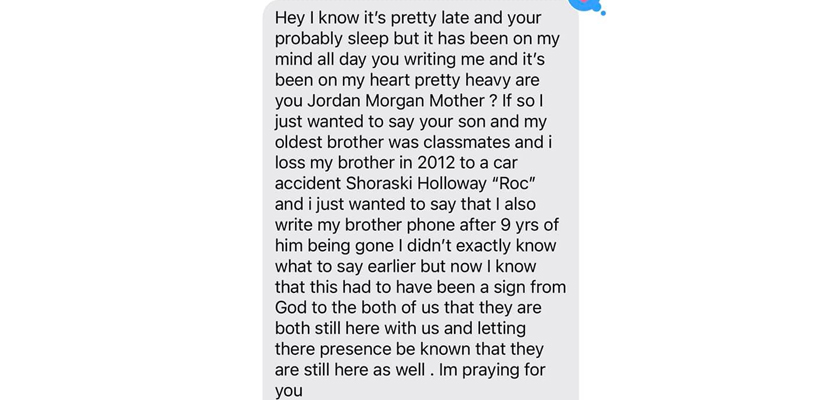 Sankey remembered Jordan Morgan because her brother went to school with him and they were really good friends. In fact, her brother's photo had been put on a shirt with Jordan's photo because he was in the same class and he also died at a young age.
Shoraski "Roc" Holloway was killed in a car crash in 2012.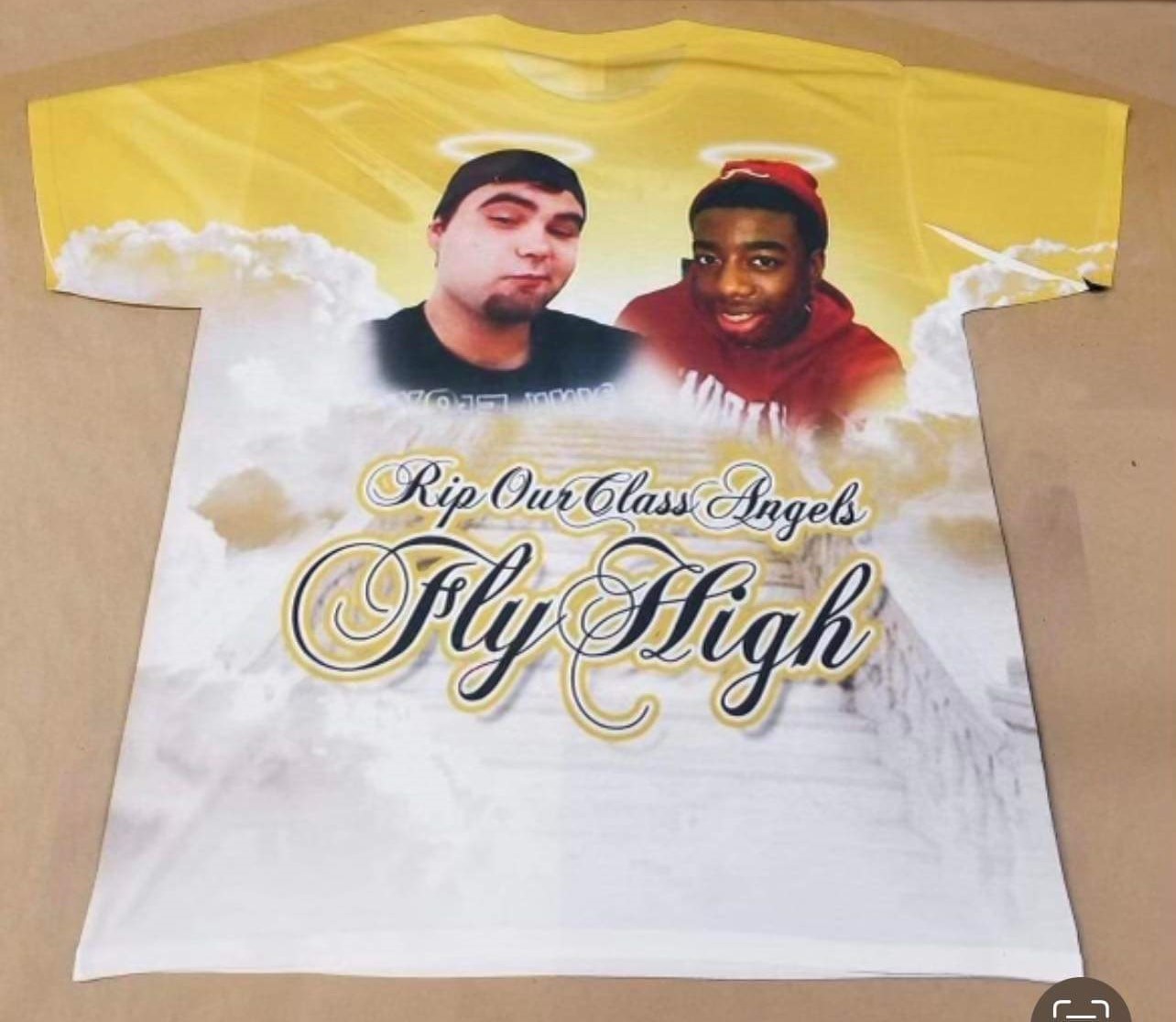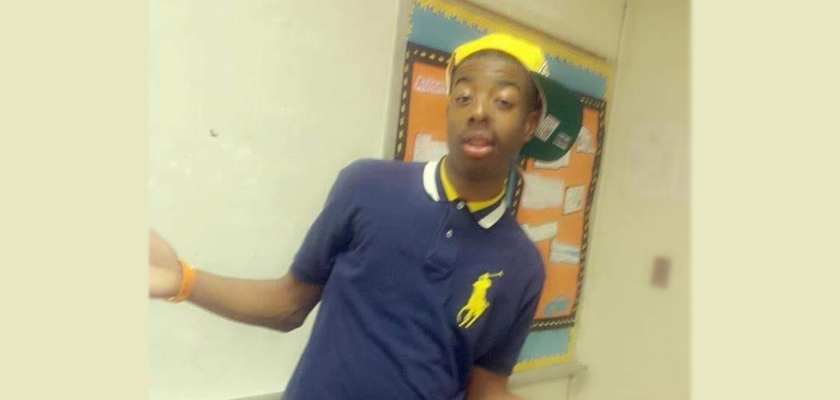 This text message incident had to be a message from Heaven. Both Alicia Morgan and Sankey were sure of it.
"I think God allows things to happen that a lot of people just consider to be a coincidence," said Alicia Morgan. "But I believe that God puts things in place to be where they need to be when we need them."
Alicia Morgan remembered that car crash where Roc's life was taken. She told Sankey she remembered how heartbroken Jordan was over the loss of his friend. She even remembered him crying after the accident.
But what are the chances that the sister of Roc would get the same phone number that Jordan Morgan had before his death? Of all the numbers available, the two were at a loss of words for any explanation other than Divine intervention.
"They were actually friends to the point that Roc taught Jordan how to play this card game called Tunk," Alicia Morgan remembered. 
They finally got what they had both been asking for: A sign.
"The two of them want us to be okay and they want us to know that they're okay, but we're in the human body and they're in the spirit form, therefore, we can't communicate because we are on different planes," said Alicia Morgan. "You can't have that many stars lined up and it just be happenstance, so I feel like it was a message from the boys."
Sankey agrees. As a lifelong, dedicated Christian, she said now her faith is even stronger.
"It really has opened my eyes to know that God is really there," said Sankey. "Like, whatever He wants you to know, it's coming to you."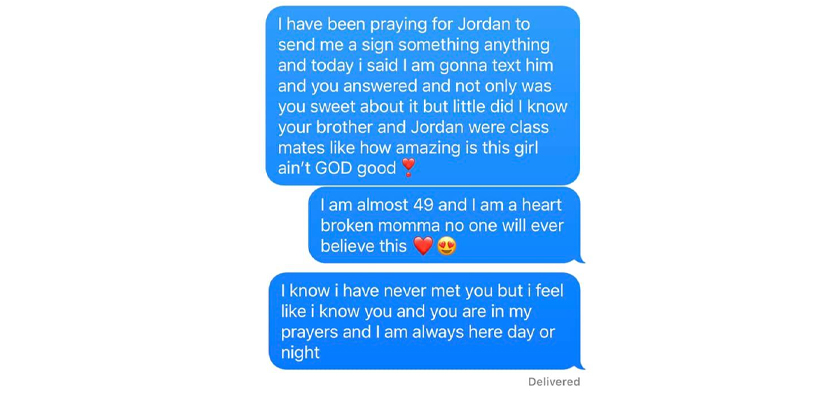 Sankey said she wants her family to know that Roc is okay.
"We needed this at this time," Sankey said, in tears. "Especially my mom. Ever since this happened, dealing with my brother, she has not been at ease, and this will definitely let her know."
This is more than a story about death and dealing with pain. It's more than a story about two people meeting over text messages. Sankey said she has been so depressed recently about her brother. He was supposed to go into the military and was never able to go.
"I'm still going through me grieving as well as the fact that he's gone, I try not to think about it," Sankey said. "He was joining the Army and I want to say probably a week or month after he graduated, he was about to get sent off, but it didn't turn out like that. But me, personally, I think of him being overseas. You know, like I don't think about him actually being gone."
This is a story about how God sends us comfort in our darkest times. For both Alexis Sankey and Alicia Morgan, it is a story of comfort and knowing there is more to this life than what we see.
The two plan to continue to communicate via text messages. Whenever one of them feels down, they know the other will be there. They are also planning a girls' day together.
In the end, Alicia Morgan will have a different kind of Mother's Day this year. She knows her first-born son is okay, and that's something she has wanted to know for a long time. Hopefully, Roc's mom will soon know she can be at ease as well.
Alicia Morgan also feels purpose in helping others who experience signs of depression.
The month of May is Mental Health Awareness Month. If you or someone you know are struggling with depression or suicidal thoughts, call the Birmingham Crisis Center's Crisis & Suicide Line at 205-323-7777 or call the National Suicide Prevention Lifeline toll free at 1-800-273-TALK (8255).
To connect with the author of this story, or to comment, email erica.thomas@1819news.com.
Don't miss out! Subscribe to our newsletter and get our top stories every weekday morning.