Instrumentalist, songwriter and owner of Banjo.com, Barry Waldrep has always been real about the music he likes to play.
A native of Randolph County, Waldrep has had a long music career playing alongside titans of Southern rock, Americana, jam band and bluegrass music.
In December 2021, Waldrep released a new 21-song album, which was a tribute to Tony Rice, the legendary bluegrass musician who passed away in 2020. For this project, Waldrep was joined in the recording studio by successful artists such as Vince Gill, Radney Foster, Warren Haynes, Spooner Oldham and Oteil Burbridge.
Waldrep's musical instrument company, Banjo.com, is the world's largest banjo store which has been offering customers a variety of American-made banjos for nearly 20 years.
Bluegrass since the beginning
Born in 1962, Waldrep grew up halfway between Roanoke and Wedowee. He said he got his first guitar from Forbes Piano Company in Anniston when he was four. He still has the guitar today.
Waldrep said he really got into music at age six. His father, who was a mechanic who played music on the side, taught him how to play. By age seven, Waldrep was playing on stage with his father's bluegrass band.
Throughout his childhood, Waldrep listened to the music his dad had on records, such as The Foggy Mountains Boys, Doc Watson, Norman Blake and The Dillards. He would also attend bluegrass festivals with his parents.
"I was always going to a music event or doing something musical," Waldrep said. "A lot of teachers were very supportive through the years of my music and still are."
Waldrep said his rural upbringing had a large impact on his music.
"The way that I grew up with bluegrass and rural Alabama, I grew up country," Waldrep said. "I've always been someone that's been real about what I like, no matter if it's what I'm supposed to do from a society standpoint."
When he was around 15, Waldrep got into Southern rock. He said he liked the Allman Brothers Band and Lynyrd Skynryd, but he was especially inspired by Charlie Daniels.
"Really a turning point for me from getting out of Bluegrass was … Charlie Daniels," Waldrep said. "Charlie Daniels was Southern rock, but he was using a fiddle. So it hit me that okay, I can do what I do in the format of the Allman Brothers and Lynryd Skynryd and make it work with the banjo. I wanted to do with a banjo what Charlie Daniels did with a fiddle."
Telluride and Rollin' in the Hay
"Most things that I planned to do never really work out like I have planned," Waldrep said. "Something else always presents itself … It's kind of wild how it happens, you know?"
After graduating from Randolph County High School, Waldrep spent a very short time at Jacksonville State before moving to Auburn in 1983.
"I was kind of doing what I was supposed to do," Waldrep said. "Finish high school, go to college. I wanted to do music full-time. At that particular time, I didn't know exactly how to do it."
Waldrep disliked the music scene in Nashville due to changes in the music industry there in the early 80s. He said it was much different than it had been when his father had taken him there as a child.
"At ten years old, that's where I wanted to be, but I was too young to go," Waldrep said. "By the time I graduated high school, it was over. It had all changed."
Between 1984 and 1988, Waldrep followed in his father's footsteps and worked as a mechanic at a Chevrolet dealership during the day while playing music at night. During this time, he mostly played college bars.
Waldrep left the dealership in 1988 to start playing full-time and was asked in 1992 to play electric guitar for the Birmingham-based rock band, Telluride.
Waldrep's love for acoustic instruments such as the mandolin, acoustic guitar and banjo, urged him to form another band on the side just a year later, Rollin' in the Hay. He formed Rollin' in the Hay with fellow Telluride member Rick Carter and played on off nights when Telluride wasn't performing.
One of Rollin' in the Hay's first gigs was at the Supper Club in Auburn. Waldrep said there were about four people there.
However, the band eventually started to attract a unique crowd.
"In the jam band world, you can do whatever you want, so we had fraternities, hippies and cowboys," Waldrep said. "... We could play anywhere. It really didn't matter."
Waldrep said Rollin' in the Hay even played at punk rock bars, entertaining crowds with fast-paced bluegrass music.
Waldrep played over 300 gigs a year for 16 years, anything from college bars to fraternity houses to music festivals. He said he played at every fraternity house from North Carolina to Texas.
"It was really the perfect time for mainly the music scene in every college town," Waldrep said. "Auburn; Tuscaloosa; Athens, Georgia; Chapel Hill, North Carolina; Knoxville. All those, even out in Texas A&M, Baton Rouge … All of them were just into what we were doing."
Record deal and "Smoke from the Kitchen"
In 2009, Waldrep left Rollin' in the Hay. He played with Zac Brown on his Breaking Southern Ground Tour.
In 2012, a label from California called him and offered him a record deal. The label agreed to let Waldrep play his style of music and record in Atlanta. Waldrep also got to choose the musicians who would play with him on the album.
Waldrep selected artists such as bluegrass legend David Grisman, Burbridge from the Allman Brothers, Paul Riddle from the Marshall Tucker Band, Charlie Starr from Blackberry Smoke, Chuck Leavell from the Rolling Stones and Cory Bolles from the Zack Brown Band.
Waldrep said they recorded for 12 hours a day for five days straight. They finished the album that Saturday at 3 a.m.
The end result was "Smoke from the Kitchen."
Real music
"I've always had the mindset that I'm going to do what I do, and whatever financial compensation comes from that is what I'll accept," Waldrep said. "I don't believe in writing a song a certain way to have a hit or anything like that because, to me, that's what's wrong with music. Sometimes the business of music can really stifle the art side of music."
Waldrep said his style is very influenced by the Eagles.
"The Eagles were a band where all of their music was great, and they made their art successful," Waldrep said. "In today's world, I don't hear a lot of that happening."
According to Waldrep, the music industry has changed over the years. What used to be Southern Rock in the late 60s and early 70s has become country music, which is now falling into the Americana genre.
"Country music doesn't exist anymore," Waldrep said. "Everything that was country now is in the Americana genre."
Waldrep said he enjoys both recording music and performing live.
"When you do something live, what happens is what you get," Waldrep said. "... I look for the emotional side of things. I'm not looking for a perfect performance if I'm [watching someone play] or if I'm performing myself. It's all driven from an emotional standpoint. I'm creating energy on stage and giving it to the crowd, and if the crowd gives it back, it just creates all of this energy."
According to Waldrep, music is "spontaneity within structure." When playing live, he prefers improvisation mixed with an underlying order. He said he doesn't like jam bands that play with no structure at all.
Waldrep said that "Jessica" by the Allman Brothers is a great example of the type of song he likes to play. He said it has an overall structure, but musicians are free to improvise during solos.
Another Randolph County native, Leland Whaley, of Talk 99.5's "Leland Live," has been a lifelong friend of Waldrep.
"The first word everybody uses to describe Barry is the word talented," said Whaley. "But he is much more than that. Since we were teenagers with big dreams, I would describe him as authentic. No, kind. Wait even better good to his core. And it's those things that make the man on stage so incredible at what he does. And still today, despite his success, he remains the same sincere and dedicated man he was before anyone knew his name. He is my brother and I love him that way."
Banjo.com
Waldrep's Banjo.com is the largest banjo store in the world and sells nothing but banjos and banjo accessories from right here in Sweet Home Alabama.
Banjo.com was started in 2003 by a friend of Waldrep's who lived in Atlanta. Waldrep purchased it from him in January 2015 when he was taking a short break from the road.
Waldrep moved the store to LaGrange, Georgia, then later found a building in Wedowee.
"That had been just something extra for me," Waldrep said. "It's a family-run business. I have my daughter that works there full-time, and I have a couple of other people that work with me. It's something that works out great."
Tribute to Tony Rice
Last December, Waldrep released a tribute to Rice: "Barry Waldrep & Friends Celebrate Tony Rice."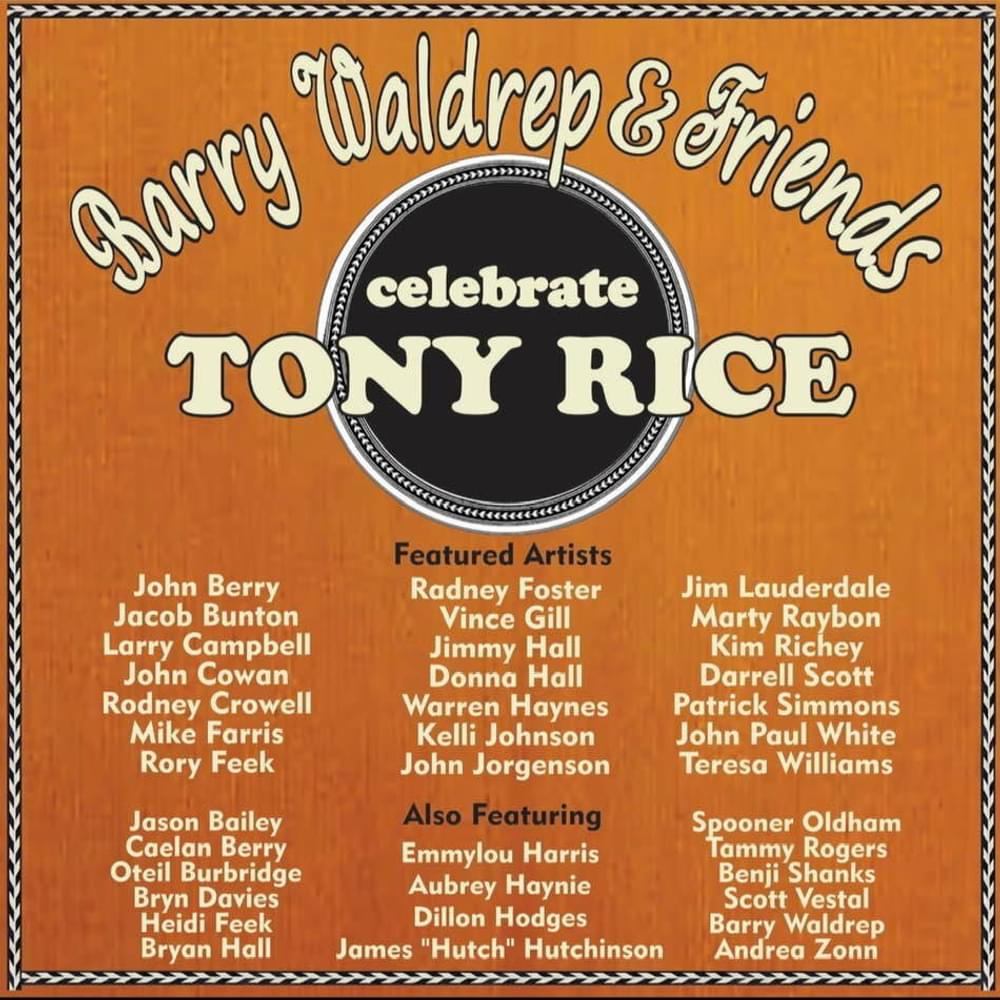 "Tony was an influence when I was a kid, and I got to perform with him one night, and we had other conversations about music and stuff like that," Waldrep said. "He was really into doing things your own way. Even though he's predominantly known in the bluegrass world, he influenced so many people."
The album was recorded in Muscle Shoals and is available on most platforms. A physical copy of the album is available at BarryWaldrep.com.
To connect with the author of this story, or to comment, email will.blakely@1819news.com.
Don't miss out! Subscribe to our newsletter and get our top stories every weekday morning.