Alabama native and die-hard NASCAR fan Tim Dugger will be playing at the Grand Ole Opry for the second time later this month.
"Real life is what I write about mostly," Dugger said. "Randolph County ends up in 99% of my songs - where I'm from, where I was raised, what I've seen growing up."
Dugger, who grew up in Roanoke, said country music and NASCAR have been with him since he was a child. His dad listened to traditional country at home, and his family rooted for legendary driver Dale Earnhardt.
Always into music
"For some reason, I was always into music," Dugger said. "Nobody in my family was really musically inclined, but it was always around."
Dugger went to church with his grandmother, which inspired him to start singing. As a kid, he formed a gospel group with his older sister.
"When she got to be a teenager, it wasn't cool to sing with little brother anymore, and I had always loved country music," Dugger said. "It was always what I told people I wanted to be when I grew up."
When he was around 16, Dugger's parents helped him put together a band, and he started playing clubs in surrounding areas, especially in west Georgia.
"I'd already been playing everywhere you can play at that age, flea markets and churches and about anything you could go play," Dugger said.
Dugger said most of his early gigs were in west Georgia, due to Randolph County being a dry county, at the time.
"We started playing clubs, started in LaGrange and Newnan and Valley," Dugger said. "…That was kind of my area, right through west Georgia, just playing all the bars around there."
Dugger's parents also brought him to Nashville, where he would record songs.
"I would write, and we would record my demos," Dugger said.
NASCAR's favorite country music star
After attending a NASCAR race in Talladega, Dugger ran into a friend of Richard Childress at a restaurant while eating with a mutual friend. Childress is a former NASCAR driver and owns the Richard Childress Racing team.
"I was always a fan of [NASCAR]," Dugger said. "I loved watching it. But I never thought it would have a key role in my music."
Childress helped Dugger get booked at a couple of races in Atlanta and Talladega.
Now, Dugger performs at around eight to 10 tracks per year. He said he performs at Talladega once a year, and this fall will mark his 12th infield concert there.
"I think I played every NASCAR track except one," Dugger said. "...It's really cool to have a sport behind you. I feel like I have the whole support of NASCAR behind me."
Dugger's song, "Circles," now appears in "NASCAR 21: Ignition", a racing video game on Playstation 4, Xbox One and Microsoft Windows released in October 2021.
"I've been able to do a lot of cool stuff with the sport," Dugger said.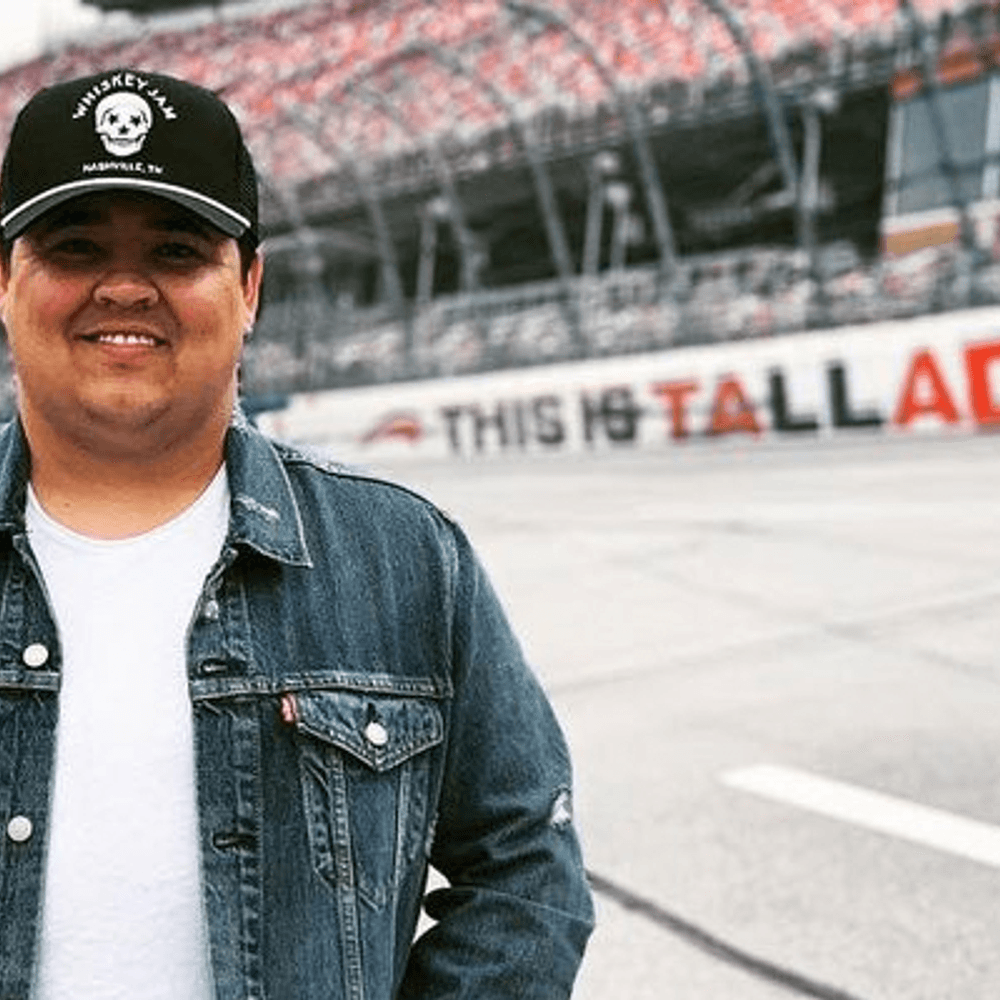 Off the track
While performing at the Daytona 500, Dugger met Mike Curb, former California lieutenant governor and founder of Curb Records.
Curb arranged for Dugger to perform at the Ronald Reagan Presidential Library in Simi Valley, California, where he sang a handful of songs, including the National Anthem.
"I'm standing looking at Reagan's Air Force One, and, of course, the National Anthem is not an easy song to sing, and about the third line in, I was like, 'Oh I blew this. At least I got a free trip to California," Dugger said. "But it ended up working out. I ended up getting a record deal.
"I was pretty green when I got signed. I had played clubs and played a bunch of places over the years, but I hadn't really honed in on my songwriting… I've been lucky enough to focus on that the last couple years."
Dugger released his first EP in 2020, during the first year of the COVID-19 pandemic.
"It was kind of weird timing for that," Dugger said.
Throwing ideas around
"I've been lucky enough to travel around over the years," Dugger said. "Meet a lot of new people, see a lot of cool things."
Dugger said he jots down notes in his phone when he gets ideas for songs.
"I'll hear someone say something in a bar or out and about," Dugger said. "If it sounds like a song, I'll write it down."
Dugger's publisher books appointments for him to write his songs and collaborate with other music professionals.
"That's when we'll start throwing ideas around," Dugger said. "That's how co-writing works… I kind of like co-writing because that's [part of] the perks of having a record deal is you get to write with some of the best writers in the world."
Dugger co-wrote his new single, "Heart of a Small Town," with his producer, Brandon Hood and singer-songwriter Tim Nichols.
Nichols also wrote songs for Alan Jackson and Tim McGraw, including McGraw's Grammy Award-winning song "Live Like You Were Dying."
"Used to, when you'd get a CD and cassette, you'd be able to look at those credits and kind of know the names, and now that's not a thing these days," Dugger said.
Traditional and 90s country roots
Dugger said his musical influences come from traditional country music like Merle Haggard, Waylon Jennings and Hank Williams, Jr.
"My dad is 78 right now," Dugger said. "He's from the old school of country music… I took a liking to it right out the gate… I always lean more traditional. That's my favorite to listen to. That's my favorite to cover."
Dugger also said 90s country was a huge inspiration, especially Alan Jackson, who grew up less than 40 miles from Roanoke in Newnan, Georgia.
Grand Ole Opry
Dugger's performance at the Grand Ole Opry is on Friday, June 24. He made his debut at the Opry on Dec. 3.
"My mom and dad got to be there, a lot of friends," Dugger said.
Dugger said it's been a dream of his to play at the Opry since he was a kid.
"There were times when I didn't think it was going to happen," Dugger said.
"There's definitely something next level about standing in that stadium and singing," Dugger said. "… It lives up to the hype."
"Heart of a Small Town"
Dugger has lived in Nashville for 12 years, though his parents still live in Roanoke, and he visits often. He said he's satisfied with the way his career is going, and he's excited about the new music he's releasing.
"My goals have always been to play music and just make a living playing music," Dugger said "… I've never set out for anything other than that… I'm blessed to be able to do it.
"...I'm proud of [my music]," said Dugger. "I think it represents who I am."
"Heart of a Small Town" is available on Spotify and Apple Music. A music video for the single can be found on his YouTube page.
"The song's getting a lot of good feedback early," Dugger said.
"I'm very lucky to be able to do music and be able to do it my whole life," Dugger said. "It's been cool to get some of these bucket-list items… and getting to check those off and play some really cool places."
To connect with the author of this story, or to comment, email [email protected].
Don't miss out! Subscribe to our newsletter and get our top stories every weekday morning.