At least 35 people have been detained following a coordinated attack Sunday on a police training facility under construction in Atlanta. One of those charged is an attorney for the Southern Poverty Law Center (SPLC), an organization that tracks and monitors what it considers to be "hate groups."
The $90 million Atlanta Public Safety Training Center, dubbed "cop city," had been protested by anti-police demonstrators and environmental activists since it was approved by the Atlanta City Council in 2021.
Police said the "agitators" on Sunday threw Molotov cocktails, large rocks, fireworks and bricks at police officers and set equipment on fire. It is believed the international group of rioters planned the attack, and several of them have been charged with domestic terrorism. Only two charged were from Georgia: Thomas Jurgens and Jack Beaman.
Jurgens is a staff attorney at the SPLC, according to his LinkedIn page, which has since been removed.
The SPLC has a map of what it considers hate groups across the United States and has collaborated with the FBI in investigations of such groups.
"The SPLC is the premier U.S. non-profit organization monitoring the activities of domestic hate groups and other extremists – including the Ku Klux Klan, the neo-Nazi movement, neo-Confederates, racist skinheads, antigovernment militias, Christian Identity adherents and others," the organization states on its website. "We're currently tracking more than 1,600 extremist groups operating across the country. We publish investigative reports, train law enforcement officers and share key intelligence, and offer expert analysis to the media and public."
The SPLC released the following statement:
"An employee at the SPLC was arrested while acting — and identifying — as a legal observer on behalf of the National Lawyers Guild (NLG). The employee is an experienced legal observer, and their arrest is not evidence of any crime, but of heavy-handed law enforcement intervention against protesters.
"This is part of a months-long escalation of policing tactics against protesters and observers who oppose the destruction of the Weelaunee Forest to build a police training facility. The SPLC has and will continue to urge de-escalation of violence and police use of force against Black, Brown and Indigenous communities — working in partnership with these communities to dismantle white supremacy, strengthen intersectional movements and advance the human rights of all people."
The primary contractor for the construction of the training center is Birmingham-based Brasfield & Gorrie. The company has yet to respond to a media request but this isn't the first time it has faced hate. In September, vandals targeted the Mountain Brook home of Brasfield & Gorrie chairman M. Miller Gorrie.
Anti-police protesters believe the training center could be ground zero for the militarization of police forces in the U.S. The environmental activists want to preserve the natural area as a green space.
The center would be used for public safety training with classrooms, simulators and an amphitheater.
Atlanta Chief of Police Darin Schierbaum said, "This wasn't about a public safety training center. This was about anarchy, and this was about an attempt to destabilize. And we are addressing that quickly. Actions such as this will not be tolerated. You attack law enforcement officers, you damage equipment, you are breaking the law. This was a very violent attack that occurred this evening."
Twenty-three people have been charged so far with domestic terrorism, including one from France and one from Canada. However, the FBI is now involved, and investigators expect more charges and arrests.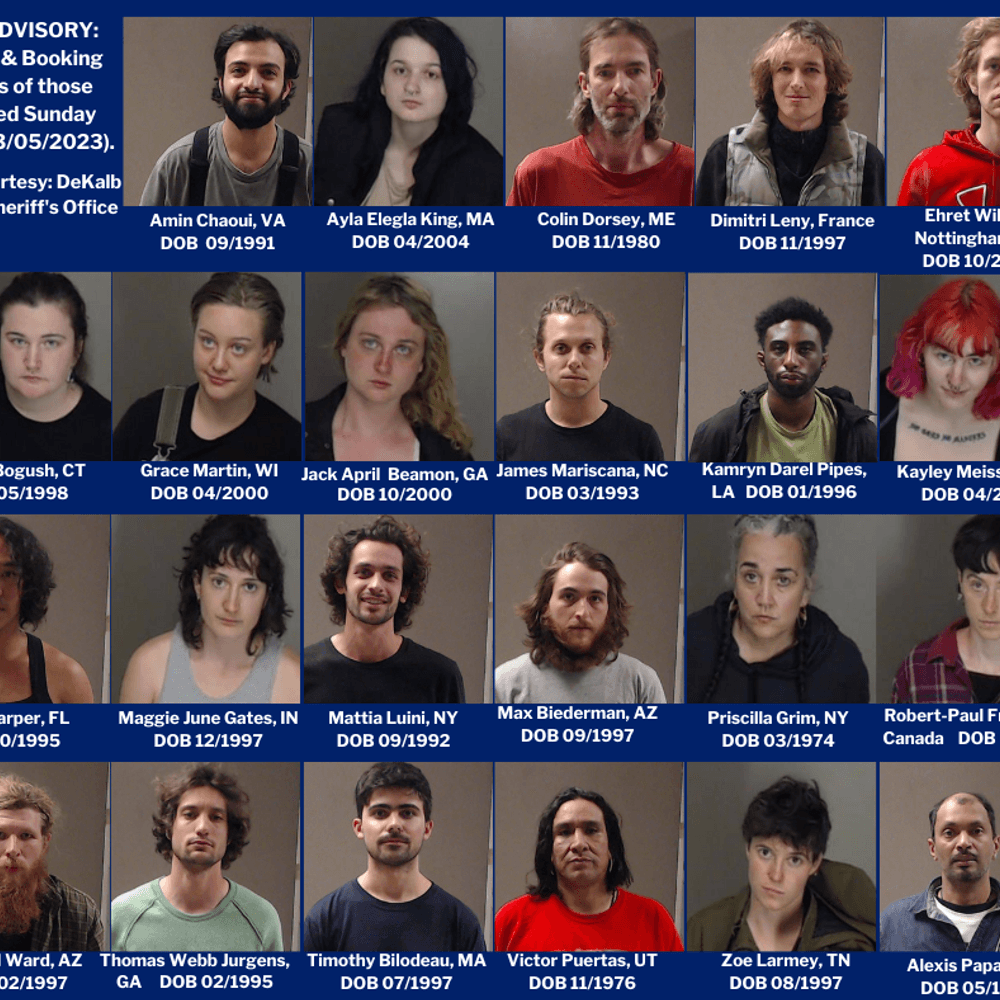 "What happened last night was not peaceful protest – it was violence. Plain and simple," Georgia Attorney General Chris Carr said in a statement Monday. "We will not tolerate this destruction of property, and we will seek to ensure that those who have engaged in this criminal behavior are held accountable to the fullest extent of the law." "This state-of-the-art Public Training Safety Center will benefit not only police officers, firefighters and EMTs, but the entire community," Carr said. "We strongly support its construction and operation, and we will not back down from violent extremists from Georgia, Maine, Oregon or elsewhere who seek to stop us."
In an official statement, police added, "The illegal actions of the agitators could have resulted in bodily harm. Officers exercised restraint and used non-lethal enforcement to conduct arrests."
Charges are accusations and anyone charged with a crime is presumed innocent until proven guilty.
To connect with the author of this story, or to comment, email [email protected].
Don't miss out! Subscribe to our newsletter and get our top stories every weekday morning.