Reading, writing and black feminism rhetoric.
If that's your idea of learning the three R's, Auburn University has the course for you.
According to a description of a recent English 1120: English Composition II course by Sharanna Brown at Auburn University obtained by 1819 News, the class has a tailored theme focusing on "The Rhetoric of Black Feminism."
"This class is designed to help you improve your abilities as a writer who's always responding to specific rhetorical contexts in ways that are in line with what you intended. This course also has a tailored theme through which you will conquer these skills: The Rhetoric of Black Feminism," the class description states.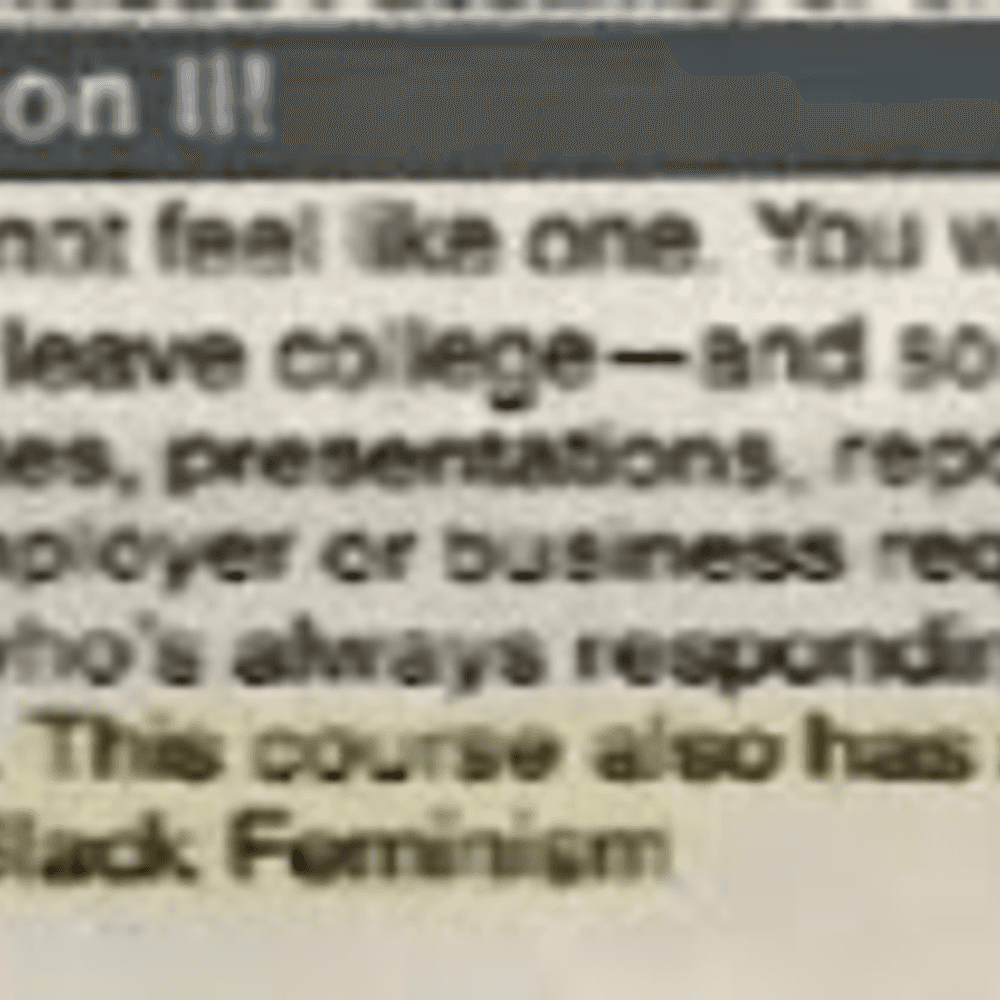 The course offers "a chance to practice with the power tools of writing," such as learning "the historical and contemporary challenges facing Black women, specifically, and Black people" and "how these experiences contribute to the overall cultural makeup of the United States."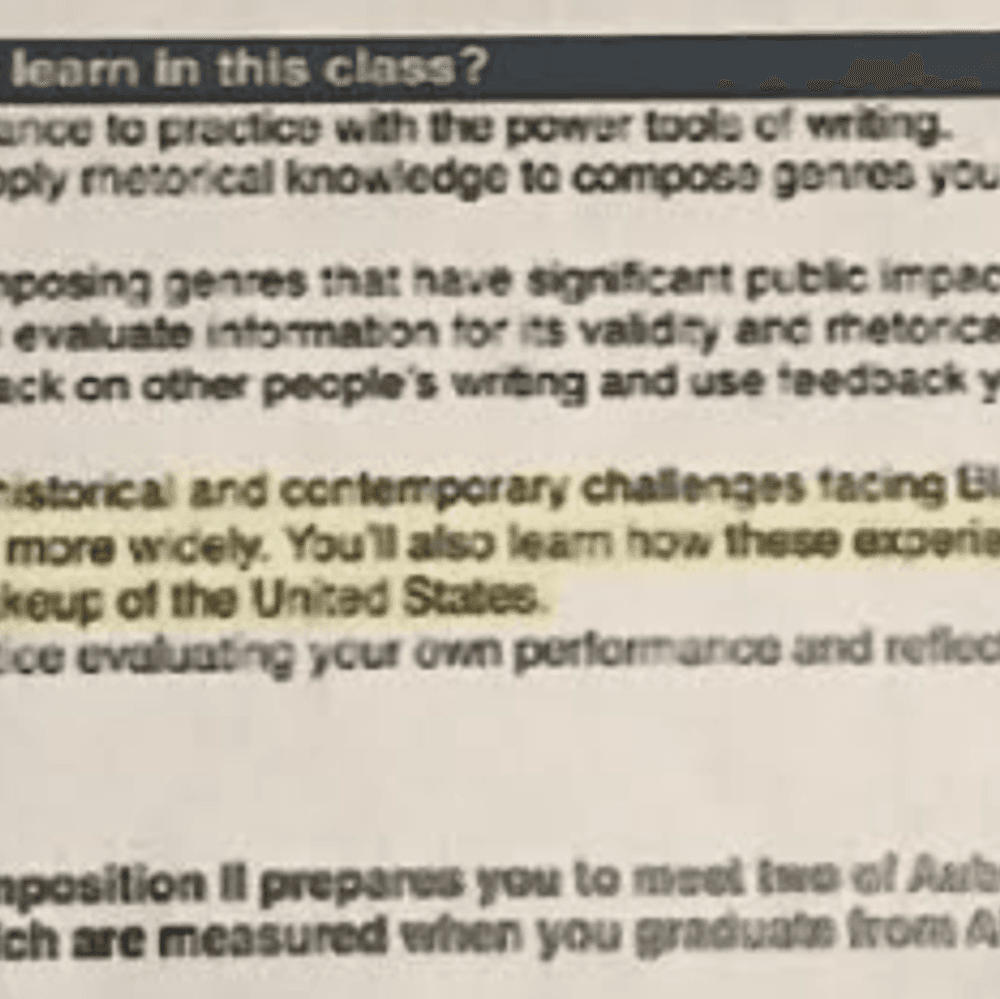 In a related essay, "This Ain This Ain't Yo' Mama's Composition Class: Addressing Anti-Blackness by Implementing AntiRacist Pedagogy," Brown said, "Because I have the audacity to hold degrees that grant me access to privileged spaces and be both black and woman, my mere presence shifts the dynamics of a classroom."
"It suddenly becomes raced. Language-use is literally put on the battlefield where micro-aggressions serve as swords and my only shield is an English degree that forces me to coddle non-Black students, while also defending my instructional choices," she wrote. "Through personal experiences, this essay aims to use the freshman composition course as a point of advocacy for anti-racist pedagogy in K-12 classrooms, and thus the programs that train this nation's K-12 teachers. "This Ain't Yo Mama's Composition Course" explores both educators and student's resistance and discomfort with implementing such strategies, while also assessing what this means for our racial reality. Many of us are not willing nor prepared to engage the monstrosity of racism, and no one has a right to demand that kind of labor from us. It is a colossal task, but I maintain throughout this essay, that our children's lives depend upon it."
Brown continued, "Anti-Blackness in the ivory tower affects my labor because the academy requires that I perform my job, but to the satisfaction of students who emanate from an environment rife with racial falsities."
"Anti-Blackness in the ivory tower manifests when Black academics are asked to expose students to ideas that differ from their own to incite critical thinking, but that exposure comes with restrictive parameters. Language is policed and the lived experience is dismissed as theory. Black academics are Black people who live in an anti-Black context, and we take this knowledge with us into the classroom," Brown wrote. "Imagine the agony of having to stand before a white classroom with the image of George Floyd pervading the news media. Imagine discussing climate control, knowing that environmental racism is almost always absent from the conversation. Now, imagine being a Black educator from Flint, MI, and knowing that your own family is experiencing clean water challenges due to anti-Black sentimentality, and a student proposing, "but maybe it's not a race thing; maybe it's because they're just poor." This is my reality."
Brown continued by noting, "Over 80 percent of the student population at this Alabama university is white and many are well-off; according to The New York Times (2017), their families have a median income that more than doubles the national median, with 65 percent coming from the top 20 percent of income earners."
"When discussing raced classrooms, we are never discussing the ones made up of solely white students and educators. However, because I have the audacity to be both Black and woman, holding degrees that grant me access to privileged spaces, my presence shifts the dynamics of a classroom and suddenly, the space is raced," Brown said. "As Kynard (2015) emphasizes in the opening statement, for racism to work, its targets must be fully aware of its presence (p. 3). I contend that anti-Blackness is even more specific, in that its targets must be routinely reminded of their subordination. In the Spring of 2019, my degree from a historically Black university was publicly questioned when pompous white male students asserted that a GED fared better than a bachelor's degree from Alabama State University (Johnson, 2019). This was supposed to be a joke, but my undergraduate degree is from Alabama State University. Not only does this kind of posturing seek to humiliate Black students who matriculate from HBCU's, it seeks to identify Black peers as part of a whole, but it does so subtly, leaving room for an easy defense. Such a joke might be dismissed, because the perpetuators' Black peers are not from the targeted university, but the premise remains: Alabama State University, founded by Black people, for Black people, as part of a tradition of Black excellence, is unworthy. So regardless of intent, this kind of humor has a long history and is meant to elicit a visceral reaction. These are the kinds of students I may/may not encounter, but the horror lies in the chance. This is what I have learned from teaching at a southern historically and predominately white university: the spaces in dire need of antiracist pedagogy are often the most resistant and many composition classrooms face difficulties when implementing anti-racist content and/or strategies because they are greeted with firm resistance from students."
To connect with the author of this story or to comment, email caleb.taylor@1819News.com.
Don't miss out! Subscribe to our newsletter and get our top stories every weekday morning.