During a special meeting on Friday morning, Birmingham City Council members officially selected Darrell O'Quinn as their new president after the results of Tuesday's election were called into question.
Now, Councilman Clinton P. Woods is calling for an investigation into what led up to the confusion, citing rumors from the community about malfeasance.
During its regular Tuesday council meeting, the nine-member body elected O'Quinn with only four votes.
Before Councilwoman Carol Clarke nominated O'Quinn, incumbent Wardine Alexander and Woods were tied in the running for council president, each with four votes, Clarke abstaining.
Since O'Quinn was one of three candidates and received votes from Hunter Williams, Valerie Abbott, Clarke and himself, he was named the new president. The council then elected Alexander as Pro Tem to replace Councilwoman Crystal Smitherman.
Officials invalidated O'Quinn's first election, claiming there was a misunderstanding of the Mayor-Council Act, which says that, in order to pass, any measure must receive a vote from the majority of those present and voting.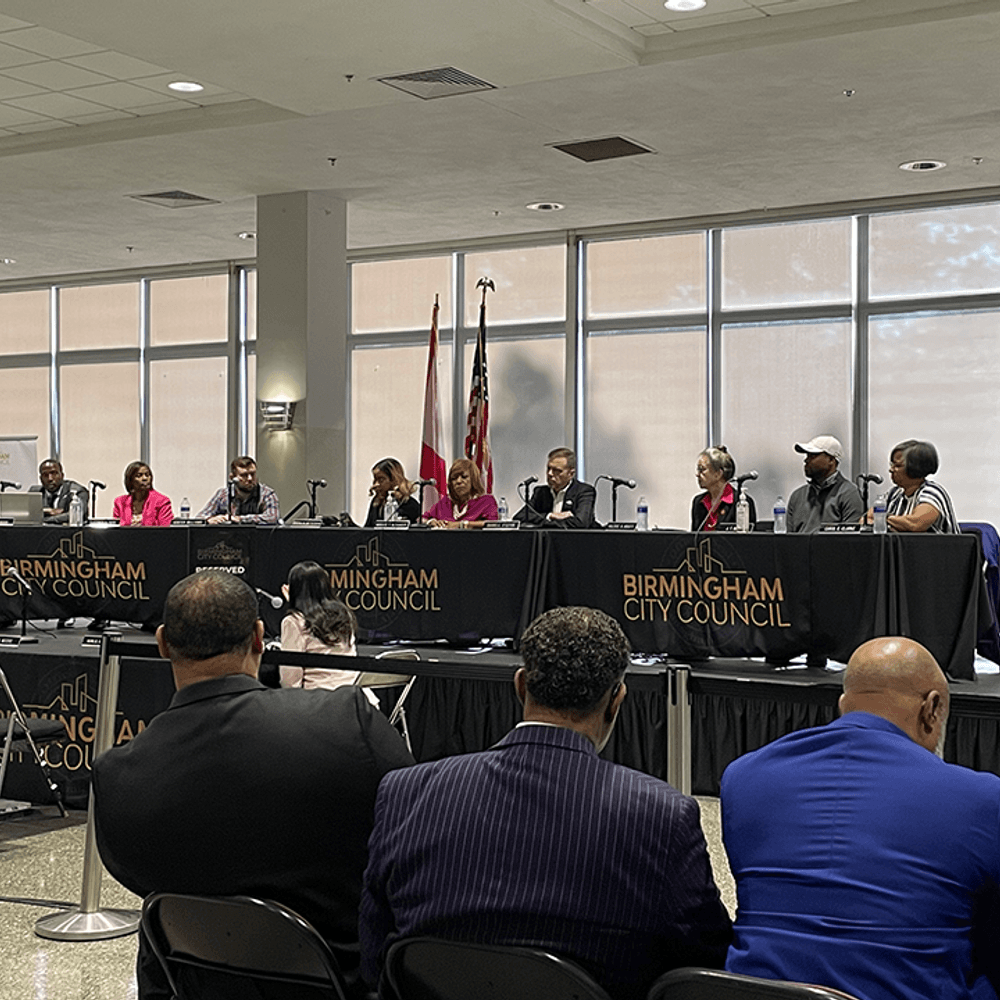 Woods poses questions
At the meeting on Friday, Woods pressed City Clerk Lee Frazier about how the issue was initially brought to his attention and if any members of the council consulted with the city legal department or the clerk's office about whether or not it was possible to elect a president without a majority of those present and voting.
"That would probably have to be answered by one of the council members," Frazier said. "I haven't, not from my standpoint … not from the standpoint of passing an item without a majority. That was not a topic of conversation."
Woods also asked Frazier if there have been any other measures passed without a majority of those present and voting.
"Several items have been passed with four votes before," Frazier said. "...It depends on the number of members present and voting."
"Well, the majority is always the majority, regardless of how many," Woods added before asking another question.
Investigation not placed on agenda
After posing questions, Wood proposed a motion to introduce a formal investigation into Tuesday's election to the meeting's agenda. According to procedure, unanimous consent is required to introduce an item that is not already on the agenda on the day of the meeting.
"The public has demanded it deserves transparency from its locally elected leaders," Woods said. "In that spirit, I think it is important that this investigation be thorough and extensive. In no way am I suggesting that this investigation preclude or delay today's vote for city council president. The investigation can take the better part of the year or even two."
Nevertheless, Clarke opposed the motion, and it, therefore, failed to obtain unanimous consent.
Woods still plans to bring the investigation before the council in the future
When speaking to the press, Woods said he intends to get the investigation on the agenda of one of the council's meetings in the coming weeks.
"Council President O'Quinn, he wants to know the truth too, so I think we're all working together to just get the answers we need," Woods said. "... We can't take a violation of state law lightly, so we've got to do what we need to do to make sure this never happens again."
To get the item onto the agenda of a future meeting through regular procedures, Woods will not need unanimous consent.
When asked by a member of the press, Woods declined to go into specifics about the rumors mentioned during the meeting.
"I think it would be inappropriate to disparage an individual without any information," he said.
Woods also insisted that he still believes O'Quinn is a hard-working leader and that he is excited to see him as council president.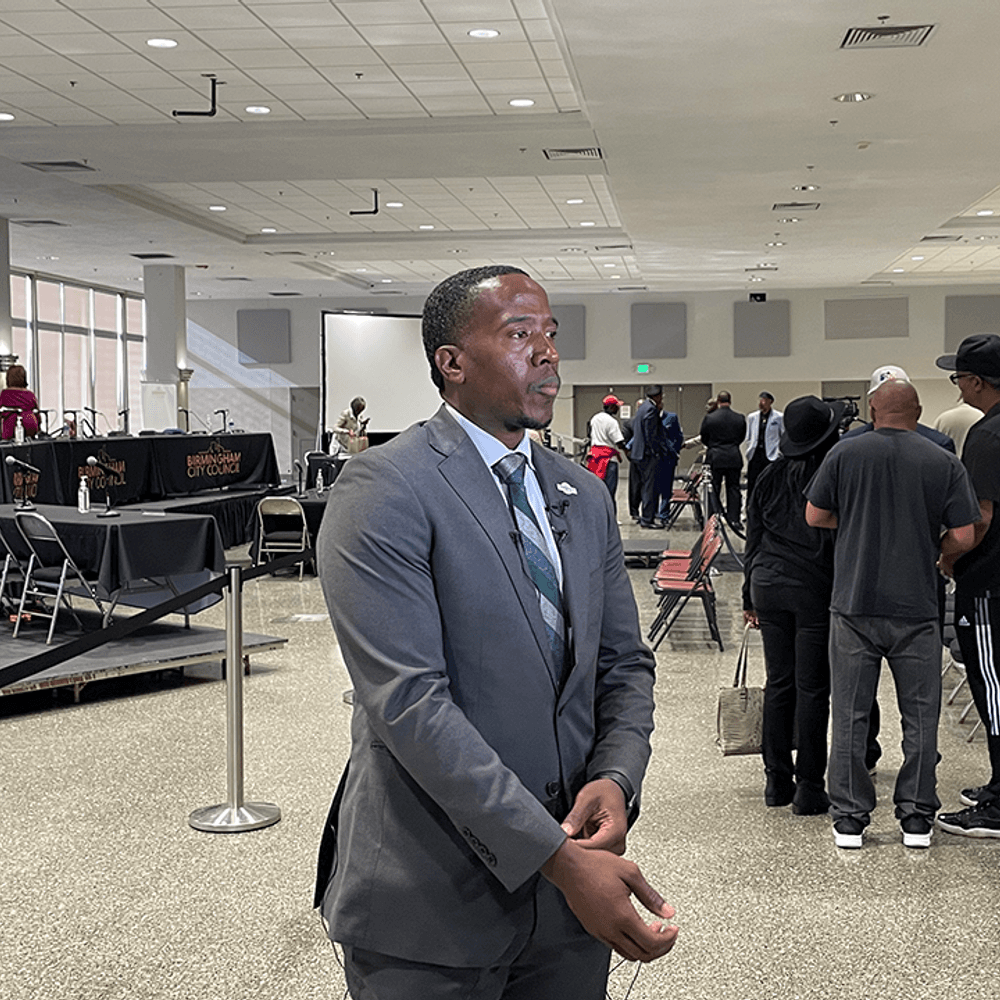 O'Quinn officially defeats Alexander
During Friday's city council president election, Woods nominated Alexander. Clarke nominated O'Quinn before Councilman J.T. Moore proposed closing nominations.
O'Quinn received votes from Councilwoman Valerie Abbott, Williams, Moore, Clarke and himself. Alexander received votes from Woods, Councilwoman LaTonya Tate and herself.
Smitherman, after a long pause, chose to abstain.
Clarke declines to comment about Birmingham-Southern
The Birmingham City Council's election comes in the midst of ongoing drama surrounding Birmingham-Southern College (BSC), which will likely shut down at the end of the semester due to a financial crisis.
In response to pressure from BSC, the Alabama Legislature passed the Distressed Institutions of Higher Education Revolving Loan Program earlier this year. According to the law, the Alabama State Treasurer's Office is in charge of administering the program, which lawmakers granted $30 million.
However, after State Treasurer Young Boozer denied the loan to BSC, the college attempted to take legal action against Boozer. Montgomery County Circuit Judge James Anderson dismissed the college's lawsuit on Wednesday.
In August, the Birmingham City Council passed a resolution promising $2.5 to $5 million to aid the financially troubled school, which is in Clarke's district. Alexander was the only member of the council who voted against the resolution, arguing that there may be better uses for the money, such as road improvements and dealing with blight.
1819 News requested to speak to Clarke following the Friday meeting, but Birmingham City Council Director of Public Information Kimberly Garner said Clarke had a commitment she needed to get to urgently and would've had time to talk. Garner also told 1819 News there would be no possibility of a phone call later that day.
Nevertheless, Clarke was lingering outside when 1819 News exited the building. We asked Clarke if Alexander's opposition to providing funding for BSC had anything to do with Clarke's opposition to Alexander as city council president.
Clarke declined to comment.
To connect with the author of this story, or to comment, email [email protected] or find him on Twitter and Facebook.
Don't miss out! Subscribe to our newsletter and get our top stories every weekday morning.