BIRMINGHAM — J'Mar Smith was part of a championship football team last spring.
You can't take that away from him. He will never forget the feeling of leading the Birmingham Stallions to a USFL championship. The 26-year-old quarterback, who is from Meridian, Mississippi, and played collegiately at Louisiana, shed tears of joy in the moments following the championship game win over the Philadelphia Stars.
In some ways, that moment and that season linger.
"People still want to talk about it," Smith said. "How's it feel to win the championship of the new league? I'm like, it feels good. To have a city behind you, a city representing you and going out and winning a championship for a city that supported you. Not being from here, it felt like home from the fans. Just winning that felt good for me. Me and Coach (Skip) Holtz finally got a championship under our belt, besides a bowl win."
In other ways, though, that moment and that season are firmly in the rearview mirror.
"This year, it's about going to make that statement," Smith said. "Shut some people up, prove some people wrong, attack everything that's in front of me."
More succinctly, Smith said, "I'm already on to the next season."
The next season begins soon. Teams will convene at their practice and home destination early next week to bring practice. For the Stallions, they will practice and train in Birmingham once again. The Stallions' first game is on April 15 at Protective Stadium against the New Jersey Generals.
For Smith, it will be the second season of a pro career that he thought would never get started.
Smith was the Conference USA Player of the Year at Louisiana Tech in 2019. He played in 44 games during his college career, with his final appearance coming in a 14-0 win over Miami in the Independence Bowl. He signed as an undrafted free agent with the New England Patriots but was released before training camp began. He was part of a Canadian Football League practice squad before being released again.
Smith was coaching football at Huntington High in Shreveport, Louisiana.
"I was the quarterback's coach there," said Smith, whose father, Kenny Smith, is a former defensive lineman at the University of Alabama and was a nine-year NFL veteran. "I coached a great guy in Kam Evans, who is going to do great things. That kept me into it, helping those guys get to where they wanted to be, helping those guys understand football a little bit more. Helping those guys understand football as a sport and the life lessons that comes with it."
Then came the call from Holtz, his coach at Louisiana Tech.
"I remember it, man," Smith said. "I was in the living room on my headset with my best friends. We call ourselves Five Guys. There's five of us. We all went to Louisiana Tech, and the night of the draft last year, I saw Coach Holtz's personal number call me. I knew how I was going to be coached. I knew the expectations. I knew what to expect from him. When me and Coach Holtz first got on the call, I'm getting chills thinking about it. The ups and down we've been through came back. There's been a lot of ups, but there's been downs too, especially with a head coach and a quarterback."
From outside perception, Smith wasn't supposed to be the starter. Alex McGough was the first quarterback picked by the Stallions. Smith played in nine games, throwing for 1,573 yards with 10 touchdowns. McGough played in seven games with three starts, throwing for 460 yards with three touchdowns and three interceptions.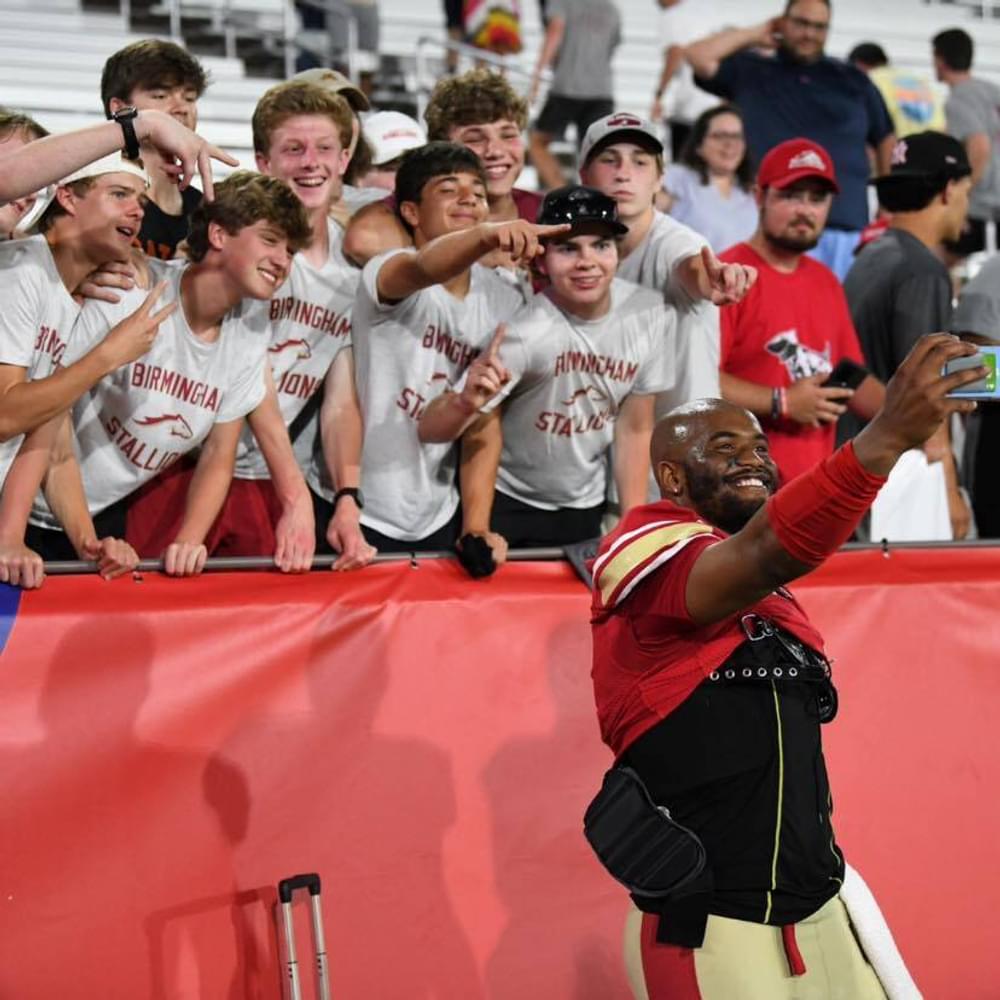 Smith said playing at Protective Stadium had a lot to do with the team's success.
"I can clearly remember, me and (linebacker Scooby Wright) went to, I want to say it was Michigan and Pittsburgh," Smith said. "It was after our game, on a Sunday, and I could count there were maybe 100 people there. You could hear everything going on the field. It was like, 'Man. We're grateful to have the city of Birmingham supporting us.' They rallied around us. It helped that first game with me, the energy. I started off slow, trying to get a groove. I was hadn't played ball since 2019. I was trying to get a groove back into the game."
He's back in the game for another year and ready to build more memories. One day, it will be back to coaching.
"I definitely want to be a coach," Smith said. "When you get bored sometimes, and you're home, you start dialing up plays. I've got a couple of playbooks that I started to create. One is an Air Raid, and the other is kind of a Pro-Style situation. Coaching will be there, but I'm going to ride these wheels until they fall off."
Don't miss out! Subscribe to our newsletter and get our top stories every weekday morning.