"The restaurant really is us," said Cathy Mashburn, co-owner of Anniston restaurant Classic on Noble. "It's very eclectic. The artwork, the things sitting around. It's all just things that we've liked."
Classic on Noble is a premier Alabama fine-dining restaurant, famous for its American seafood. It has received tremendously positive reviews for its food, service and atmosphere, and is visited by customers from all over the country.
People sometimes stay overnight in Anniston just to eat at Classic on Noble. Cathy Mashburn said she's had customers come to town on Saturday, eat dinner and come back Sunday morning for brunch.
"It's an old building, and we love it."
Cathy Mashburn and her husband David Mashburn haven't always been in the restaurant business, however.
Cathy Mashburn got her start teaching elementary school, and her husband worked at a textile plant. The couple catered part-time, mainly for friends and family.
When her husband's plant moved to Mexico, however, things changed. They decided to transition to catering full time.
Eventually, they rented a commercial building in Jacksonville, but that didn't satisfy David Mashburn. He wanted a building of their own.
They found an old building in downtown Anniston once known as the Levi Clark Saloon. The building was built in 1894 and, according to Cathy Mashburn, has served many functions since. Over the years, it has been a theater, bordello, bowling alley and an F.W. Woolworth's, which is how, Cathy Mashburn said, most people in Anniston remember it.
"It's an old building, and we love it," Cathy Mashburn said.
When the Mashburns toured the building, the second and third floors had been largely untouched since the early 50s. She didn't want to buy the building at first, but David Mashburn immediately knew it was the one for them.
"I thought, 'Well, you know, this will get this out of his system because we really don't need to buy a building, and we really don't need to do this," Cathy Mashburn said. "And we just need to keep catering because that's working so well."
She said she knew she was wrong when they got in their car to leave, and she saw her husband's face. That was when she knew they had to get the building.
Instead of exclusively catering, the couple decided to start a restaurant, and Classic on Noble was born.
Learning from experience: opening night
Classic on Noble opened on Valentine's Day, 1999, and things did not go as planned.
"It was a disaster," Cathy Mashburn said. "...I think we had maybe 300 reservations that night, and we served our last table probably at around 12:30, after midnight. People were just getting whatever food was coming out of the kitchen, not really getting what they ordered, but everybody was fine and happy. And they just went along with us. Our friends just supported us like they always have. There was a lot of laughter."
Cathy Mashburn said since the restaurant didn't have a license to sell alcohol yet, those waiting at the door went down the street to the Winn Dixie that was open at the time to purchase wine and beer.
Some of the customers stood up and began telling jokes to pass the time.
"The person at the last table was one of our true southern ladies here in Anniston," said Cathy Mashburn. "...and when she got her food she said, 'I feel like I'm in Paris' eating this late… Everybody just got along with it."
Earning a place on the map
The Mashburns learned from the chaos and over the last 22 years, Classic on Noble has seen extraordinary success.
The restaurant has become an Anniston staple, and Cathy Mashburn said people from around the country stop there to eat.
A few well-known figures have also visited the restaurant, including former president Jimmy Carter, actor Gil Gerald and current Alabama Gov. Kay Ivey.
"We've met so many neat and wonderful people," Cathy Mashburn said.
Brunch, lunch and dinner
Cathy Mashburn describes the Classic on Noble cuisine as "typical American, heavy on the seafood."
Notably, Classic on Noble's shrimp and grits made it on the Alabama Department of Tourism's "100 Dishes to Eat in Alabama." Cathy Mashburn said this dish is her personal favorite.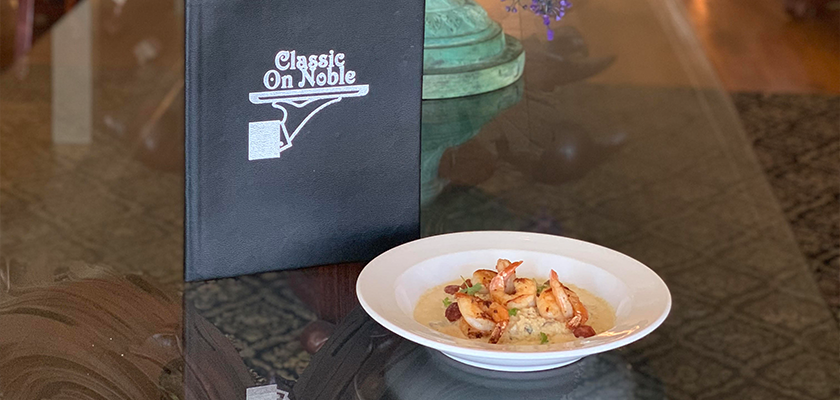 They also offer other entrees, including salmon, oysters, scallops, Angus beef rib-eye, chicken and more.
"A little bit of everything," Cathy Mashburn said.
At lunch, they serve turkey clubs, burgers and southern chicken, which comes with macaroni and cheese, black-eyed peas, collard greens and a broccoli cheddar corn muffin.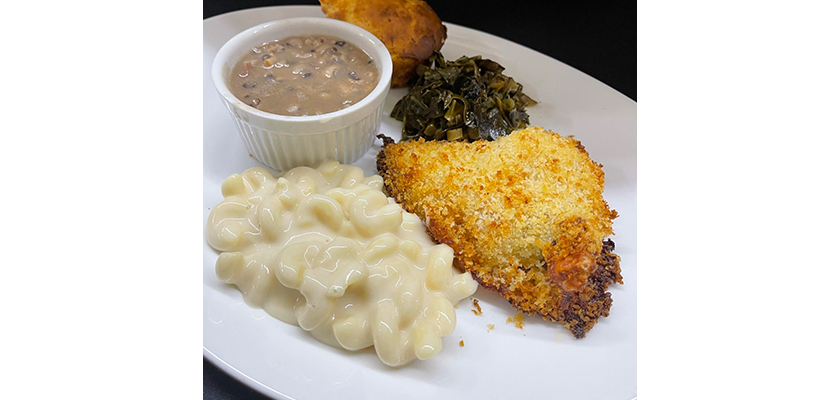 For dessert, Classic on Noble offers homemade coconut cake.
The Mashburns occasionally put apple pie on the menu, but their signature dessert is their bread pudding, which, according to Cathy Mashburn, is made by David Mashburn's mother.
"Our bread pudding is not like any other bread pudding you've ever had," Cathy Mashburn said.
After church, people often come to Classic on Noble for their popular Sunday brunch.
"Our Sunday brunch is one of the things we're known for because it's a buffet, and it's a huge expanse of food," Cathy Mashburn said.
She said they do omelets, french toast, pancakes and waffles as well as ham, lamb, turkey and beef.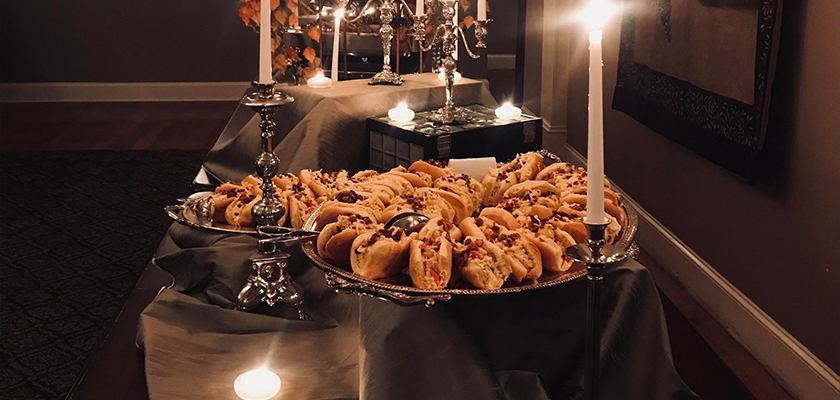 The Green Olive
Eventually, the Mashburns decided to redo the second floor, which they now call the Green Olive. The Green Olive is an upscale bar that includes an open public area as well as private meeting rooms, which can be reserved.
According to the Classic on Noble website, the second floor of the building was raided by police during prohibition, adding to the bar's unique aesthetic.
David Mashburn knew exactly what he wanted the Green Olive bar to look like and drew it out on a sheet of notebook paper himself before hiring someone to do the woodwork.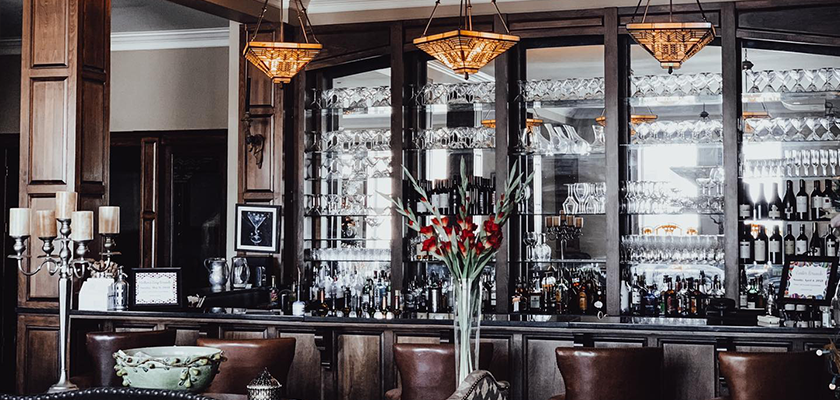 "[The Green Olive is] a lot more romantic and intimate," said Cathy Mashburn.
Classic on Noble is known for its specialty martinis, named after the Mashburns' friends around town. Bargoers can also choose from many high-end wines, which are featured on Classic on Noble's reserve list. Cathy Mashburn said her restaurant also sells more affordable wine and local craft beer.
Pandemic challenges
The coronavirus pandemic took a toll on restaurants across the country. Cathy Mashburn said COVID-19 presented some unique challenges for them and other restaurants in Anniston.
"COVID hit us pretty hard," said Cathy Mashburn.
Cathy Mashburn said the restaurant's type of food is not something people typically want to take to-go.
"We're more of an eat-in type thing," said Cathy Mashburn.
She said they tried being open for curbside pickup, and that didn't work. On top of that, because the Sunday brunch is a buffet, they had to close it. Cathy Mashburn said they opened it back up when things calmed down, having servers and customers wear masks and gloves. She said they've recently gone back to allowing people not to wear a mask if that's what they prefer.
"Now we're pretty lenient with all of that," Cathy Mashburn said.
Cathy Mashburn said Classic on Noble received tremendous help from the Anniston community during that time.
"When they found out we were having difficulties, the community gathered around us, and they started buying gift certificates," Cathy Mashburn explained. "They started coming and eating. We've been scheduling a lot of events. Everybody has been so supportive, and this area has just really been wonderful to us."
According to Cathy Mashburn, all of the restaurants in Anniston were "in it together."
Cathy Mashburn said that Classic on Noble is still short-staffed and that they sometimes have people in the community with experience working at restaurants come in and help.
She said things are starting to look better for the restaurant.
"We're beginning to see the light at the end of the tunnel," said Cathy Mashburn.
Looking forward
Over the years, Cathy and David Mashburn's daughter, Crystal, has become more involved in the business.
"She has the natural talent for it like David does," Cathy Mashburn said. "She's very business-minded. She's very driven to do what needs to be done, and she really enjoys it."
Cathy Mashburn said there aren't any significant changes coming to the restaurant, but they are looking into possibly working with food delivery services like Doordash and Grubhub.
Hours and Reservations
Classic on Noble is closed on Monday but open every other day of the week. Lunch is Tuesday through Friday from 11 a.m. to 2 p.m. Dinner begins at 5 p.m. and ends at 9 p.m. from Thursday through Saturday. Sunday brunch is from 10:30 a.m. to 2 p.m.
Classic on Noble also offers catering and has served as a venue for multiple events.
Reservations are not required but Cathy Mashburn highly recommends it, especially for brunch.
"We hope that people [will] come and experience the atmosphere of the older building and the decorations and that kind of thing," Cathy Mashburn said. "We just enjoy showing people around and we love to talk to people and tell them the stories."
To connect with the author of this story, or to comment, email will.blakely@1819News.com.