By Jim McDade
Not all parents, teachers, and administrators in the Huntsville city school system are seeing eye-to-eye about some recent diversity training for teachers and principals held at schools across the city that included a learning unit titled, Culturally Responsive Training (CRT). Some are asserting that the training violates Gov. Kay Ivey's proclaimed ban against teaching Critical Race Theory, which is also known by the letters CRT, in Alabama public schools. On Oct. 20, Ivey Tweeted, "We have permanently BANNED Critical Race Theory in Alabama. We're focused on teaching our children how to read and write, not HATE."
We have permanently BANNED Critical Race Theory in Alabama. We're focused on teaching our children how to read and write, not HATE.

— Kay Ivey (@kayiveyforgov) October 20, 2021
The three-day, system-funded continuing education training sessions conducted during the week of Nov. 7 sparked discussion on a private Facebook group named Uplifting Huntsville City Schools. One poster in that school support group, Stephanie Ulrich, complained, "They can call it what they want. It's critical race theory." Adam Stephens, a parent, submitted an official complaint about the training, stating that he had "…reported the training materials to the State. It's in the hands of the State Superintendent, the State BOE general counsel, and the Governor's office now. All facts will come out and, hopefully, (Huntsville City School Superintendent Christie) Finley will be removed."
Stephens told 1819 News that his complaint was received by State Board of Education member Wayne Reynolds and is now in the hands of State Education Superintendent Dr. Eric G. Mackey and the state board's general counsel.
Stephens listed the key terms covered during the diversity training module presentation: Allyship, (White) Privilege, Equity, Implicit Bias, Racism, Racially Responsive Pedagogy, and Discrimination. He pointed out that the Critical Race Theory concept of White Privilege was characterized in the training as some people having an advantage over others, being given the upper hand, along with having benefits and opportunities available just because of skin color. He said the training materials describe "implicit bias" as the impacts on decisions and behaviors concerning a preference for a person or group.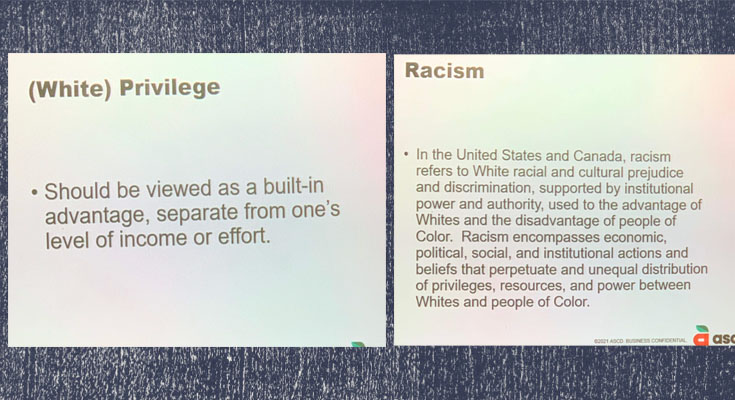 The Huntsville City Schools Board of Education responded to 1819 News' inquiry about the nature of the training program by stating that, "Huntsville City Schools' professional development plan does not, has not, and will not include lessons for implementing Critical Race Theory in our schools. Critical Race Theory is not part of the Alabama Course of Study, is not taught to students in Huntsville City Schools, and is not part of the professional development plan for teachers."
The board said it is "working on" answers to specific questions about the training sessions and explained that the diversity training offering was a part of its federally mandated compliance with "laws that protect students and employees from discrimination, including Titles VI and VII of the Civil Rights Act of 1964 and Title IX of the Education Amendments of 1972."
Huntsville City Schools, which was the first in the state of Alabama to admit minority students, is currently operating within the parameters of a 2015 U.S. Department of Justice consent order that provides the city with a pathway to ending federal judicial supervision of the school system. That consent order has a legal legacy going back to the 1963 Sonnie Hereford versus Huntsville City Schools court case that ended racial segregation in the school system, The city is compelled by that consent order to eliminate any disparities between predominantly White and non-White schools.
Finally, Ivey's proclaimed ban against CRT that the Alabama State Board of Education issued does not mention Critical Race Theory in its wording, saying only that it prohibits, "…each local board of education from offering K-12 instruction that indoctrinates students in social or political ideologies that promote one race or sex above another." The audience for the training sessions held in Huntsville City Schools consisted of teaching professionals only and did not include students, so it remains to be seen how that fact will impact the outcome of an official State Board of Education review of the matter.
1819 News is awaiting a more detailed response to our questions regarding the training program and will continue following developments regarding the story.