By Amanda E.H. Pritchard
The recent redistricting has caused conflict amongst some constituents in areas of Alabama. Every 10 years, after the results of the census, redistricting occurs. When done fairly, the redistricting will mirror changes in the area's population, represent diversity and provide equal representation in Congress and the state legislature. If appropriate representation is not intended, this is known as gerrymandering.
As defined by Merriam-Webster, gerrymandering is "the practice of dividing or arranging a territorial unit into elections districts in a way that gives one political party an unfair advantage in elections."
Some lawmakers believe Alabama's GOP-drawn congressional map, signed by Gov. Kay Ivey on Nov. 4, limits Black voters' voices and is considered racial gerrymandering. Lawsuits have been filed challenging the map.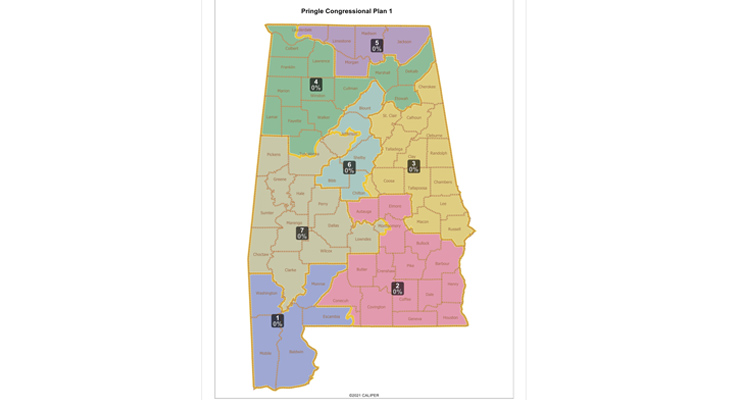 "One man. One vote."
Chris Pringle, Reapportionment Committee member and Alabama House member representing District 101 in Mobile County, is a defendant in one of those lawsuits. Defending the actions of the Reapportionment Committee, Pringle said the committee complied with redistricting guidelines and was following the 14th Amendment and referenced the quote, "One man, one vote."
Although several Alabama House of Representatives colleagues disagree, Pringle said the Reapportionment Committee was as open and transparent as possible.
Charlotte Meadows, Alabama House member representing District 74 in Montgomery County, said she feels she is the most affected representative on the Republican side.
"It's not the first time I've dealt with redistricting," said Meadows. "This time, the process has been very political and doesn't explain why a Republican is drawn into a Democratic district."
Meadows is seeking re-election and said she was told by a friend, "You can't win if you don't run!"
A Montgomery native and a citizen there for most of her life, Meadows said she understands demographics are different within the area but didn't expect such a change in how District 74 was redrawn.
"I felt blindsided."
"The shape of the district changed," said Meadows. "I said that's not my district, and I was told, well, that's the way we've drawn it. Leadership said they'd get it fixed. I had no input and fought as much as I knew how. I've never heard of a ... person in ... [the majority] caucus [being] drawn to lose their seat. I felt blindsided by people I felt I could trust. They weren't paying attention to what I was saying. Once the district became the way it is now, a majority-minority was created, and they couldn't change it."
Susan Dubose announced her candidacy for Alabama House of Representatives District 45 in portions of Jefferson, Shelby and St. Clair Counties against incumbent Dickie Drake. Drake won and took office in November 2011, after running in a special election when his brother, Owen, who previously held the seat, passed away. Drake currently represents 45,578 residents through eastern Jefferson and Shelby Counties. Drake said he only asked for one thing.
"I asked to be able to represent the people that live within the city limits of Leeds, in St. Clair County," said Drake.
Dubose's concern is the area where she's lived for 22 years, Greystone, was split in the redistricting.
"Most of my neighbors, who I've known for 22 years, can no longer vote for me," said Dubose. "The redrawn maps removed 1,300 homes and placed them in District 48.
"They're trying to make me a less viable candidate. Hundreds of people signed a petition to keep our community intact. Letters were sent, and the Reapportionment Committee ignored all public outcry. They did not follow their own guidelines."
Pringle denies anyone was left out, saying, "We held 28 public hearings to get input from the general public and met with 140 state legislators to hear what they'd like to see in their district. We put together maps and met with people. We listened to every person."
Dubose said Greystone citizens are confused and are demanding answers.
"The HOA and people of Greystone are upset," Dubose said. "We've sent hundreds of emails and been totally ignored. This is unfair to the public."
Describing this redistricting cycle as "unique," Dubose said it's about doing what's right for the people of her community and the state of Alabama.
"Elected officials work for us," Dubose said. "They should not be doing anything behind closed doors. This is what gives politics a bad name. We've come too far for that. We have good people in the state of Alabama."
Central Alabama impact
Those affected in central Alabama are in the Center Point and Homewood areas. Both elected on Oct. 6, 2020, Center Point Mayor Bobby Scott served on the Center Point City Council from November 2016 – October 2020, while Homewood Mayor Patrick McClusky has served on the Homewood City Council for two terms since October 2009. Like Scott, when elected, McClusky pledged to increase engagement throughout his community. Scott and McClusky were notified that redistricting could affect their cities, but both agreed they're happy to work with new and familiar representatives.
"We hope everybody is looked after across the board," said Scott. "Gary Palmer was our previous Congressman and at one point, Congresswoman Terri Sewell had all of Center Point…Having multiple ears to listen—we have no issues with that at all."
McClusky added, "The relationship between the cities and their state representatives, especially here in Homewood, will remain strong simply because we plan to continue communication with our elected officials to make sure Homewood receives top representation from a state level."
Homewood and Center Point's current U.S. House Representative is Republican Gary Palmer, but with the recent redistricting, these areas may also work alongside Democrat Terri Sewell.
"We've met Palmer's team," said Scott. "They've been very helpful, and I like them a lot. Representative Sewell's group has been checking in on us. Both representatives are wanting to make sure we reach the goals for our city and are helping us out as much as possible."
Serving 16,400 Center Point citizens, Scott added, "If the district is split or stays with one representative, we look forward to working with our Congresspeople to continue to grow and develop. As long as we're able to state our case and they're willing to help the city move forward, we don't have an issue with that at all."
Working toward progress as well, McClusky added, "Any new representative should continue to have the best interests of their communities at heart and represent the wants and needs of our city from a holistic level. Communication and cooperation with our elected officials must continue in order for Homewood to receive the best possible representation from a state and national level."
Sylvan Springs Mayor Steve Parsons was transitioned out of his current district. Sylvan Springs was moved from the 6th district to the 7th.
"The most frustrating aspect was the lack of transparency," stated Parsons. "There was no warning or information that I was ever aware of, but all of a sudden, we were changing districts."
Regarding receiving new representation, Parsons said, "We will create new friendships and build new bridges to continue to do what's best for Sylvan Springs."
Jefferson County Commission President Jimmy Stephens agreed.
"We'll work with each representative and move forward," Stephens said.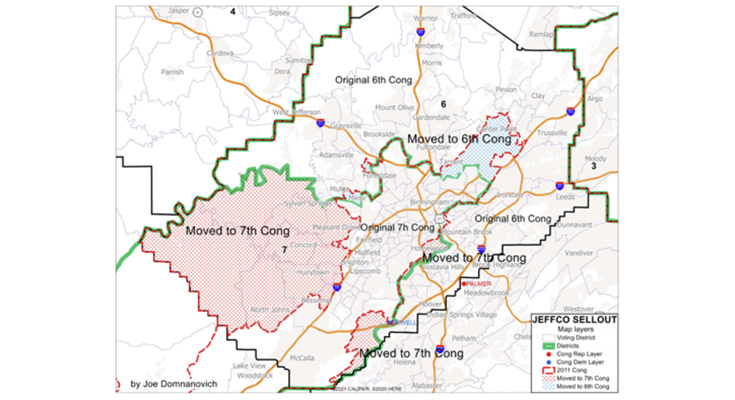 "Huge black eye"
Like Parsons, former Alabama House of Representatives member Paul DeMarco is infuriated about how the redistricting was constructed.
"The way this was handled further erodes the confidence Alabama citizens have in our lawmakers," said DeMarco. "The way the maps were drawn in secret and not released until hours before they were voted on is disgraceful. That's why the public wants to see an Alabama legislature that's more transparent."
A Homewood citizen himself, DeMarco said Homewood residents called lawmakers in Montgomery and D.C.
"How the Reapportionment Committee treated Jefferson County was really disgraceful," DeMarco said. "Calls to legislators in Montgomery were swept aside. The best interest of the public did not reflect the will of the public. This is a huge black eye on the Alabama House of Representatives and Senate. Voters need to take that into consideration when they go to the polls in May."
The next primary election is set for May 24, 2022.
To connect with the author of this story, or to comment, email news@1819News.com.