State Rep. David Cole (R-Huntsville) was arrested Tuesday on charges of voter fraud stemming from long-standing complaints from the 2022 election.
Cole took office in 2022 after the 10-year tenure of Mike Ball. Cole is charged with fraud by voting at multiple or unauthorized locations. He was booked into the Madison County Jail and held on a $2,500 bond.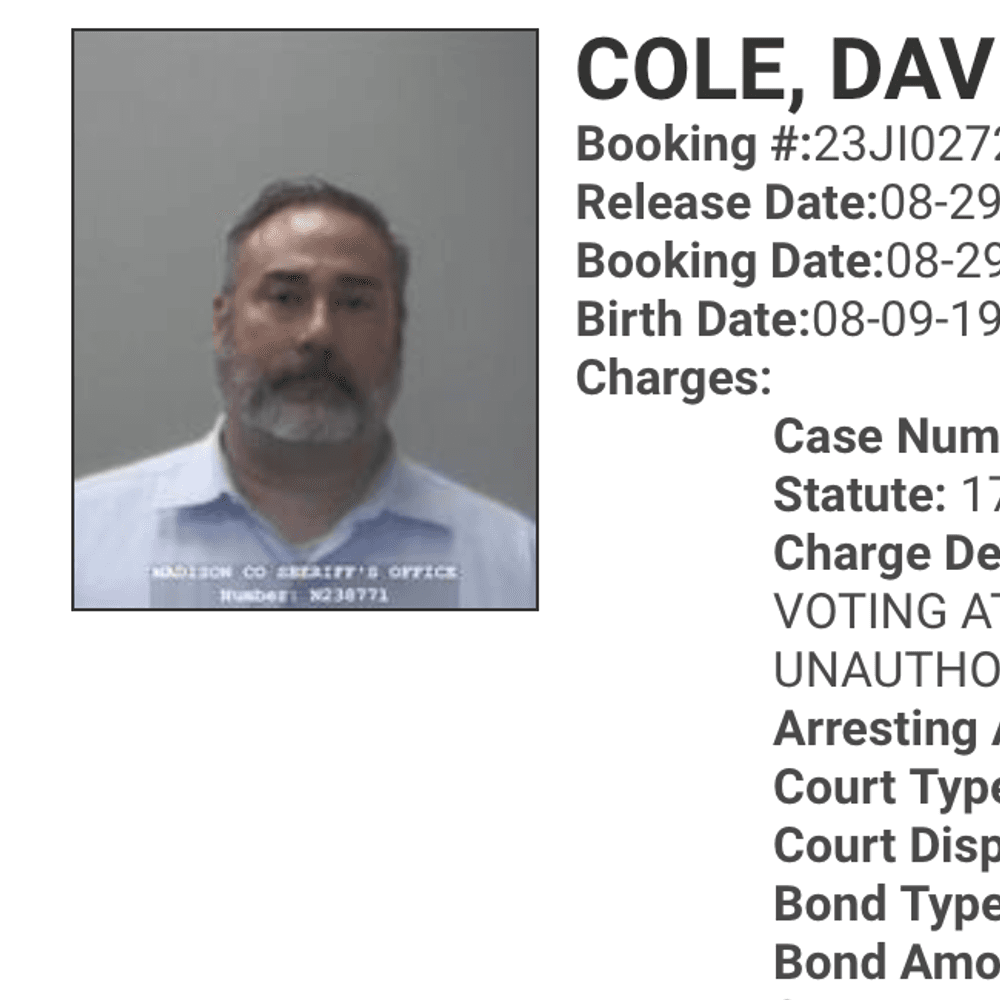 Earlier this year, Cole's residency was questioned by his Libertarian election opponent Elijah Boyd, who alleged that Cole claimed a residence in District 10 when he declared for the race, while tax documents showed his residence was in District 4.
RELATED: State Rep. Cole asks for delay days before State House deposition in election lawsuit
Cole won the House District 10 seat with 51.6% of the vote in the general election. Marilyn Lands, a Democrat, received 45%, and Boyd won 3.4%.
Boyd filed a complaint for contesting the election in Madison County Circuit Court on November 22, alleging Cole wasn't eligible under state law to serve as State Representative for House District 10 due to him not being a resident of the district and him not being a resident of the district for one year prior to the general election on November 8.
Alabama's constitution requires state representatives to be citizens and residents of the state for three years and residents of their respective counties or districts for one year before their election.
The extent of Cole's charges is still unclear; however, Attorney General Steve Marshall's office is involved in the case.
House Speaker Nathaniel Ledbetter (R-Rainsville) released a statement after the arrest, saying Alabamians can be assured the state's elections are properly conducted.
"This afternoon, the Speaker's Office became aware of David Cole's arrest on the charge of fraud — voting at an unauthorized location," Ledbetter said. "As this is an ongoing investigation, we are still waiting to learn more details as they become available."
"In recent years, the Alabama House has prioritized legislation that promotes election integrity, and we believe that any allegation of fraud must be addressed regardless of the party, public official, or candidate involved."
"Alabamians may remain confident that their elections are conducted honestly, their votes are cast and counted fairly, and their ballot boxes are secure. Now, it is up to a court of law to determine the validity of the allegations Cole is facing, and I anticipate Alabama's election laws will withstand their true intent."
The legislature passed several election integrity bills this past session, drawing fierce opposition from Democratic lawmakers.
RELATED: Two election integrity bills pass Alabama House, head to Ivey's desk for signature
To connect with the author of this story, or to comment, email craig.monger@1819news.com.
Don't miss out! Subscribe to our newsletter and get our top stories every weekday morning.