As Alabama legislators prepare for the 2023 regular session, the need for a new state house continues to be a topic of intense debate.
The legislature met in the Montgomery capitol building until 1985 when the building underwent massive renovations. The House and Senate relocated next door to a building constructed in 1963 for the Department of Transportation, then the Highway Department.
The relocation required a constitutional amendment for a temporary state house since Alabama's constitution requires the legislative bodies to meet in the capitol building. That change was not meant to be permanent. However, the legislature has been relegated to that same building for the last 40 years, even though capitol renovations concluded in 1992.
As a registered architect specializing in commercial architecture with a subspecialty in historic preservation, State Rep. Craig Lipscomb (R-Gadsden) holds a unique perspective on the current state house building conditions.
For Lipscomb, the undesirable aesthetic of the building, combined with various safety concerns due to environmental hazards and delayed maintenance, make constructing a new state house an absolute necessity.
"We are residing in a building that is 60 years old," Lipscomb told 1819 News. "And the general lifespan of an extremely well-built commercial structure rarely exceeds 50 years; I mean, that's just the nature of American construction."
According to Lipscomb, the ill-suited way the current building was set up was due to its proposed transience. Since the arrangement became permanent, repairs to the aging building have struggled to keep up with its decay. He also stated the previous area in the capitol building does not contain sufficient square footage for the legislative branch's needs, so moving back to the capitol building isn't an option.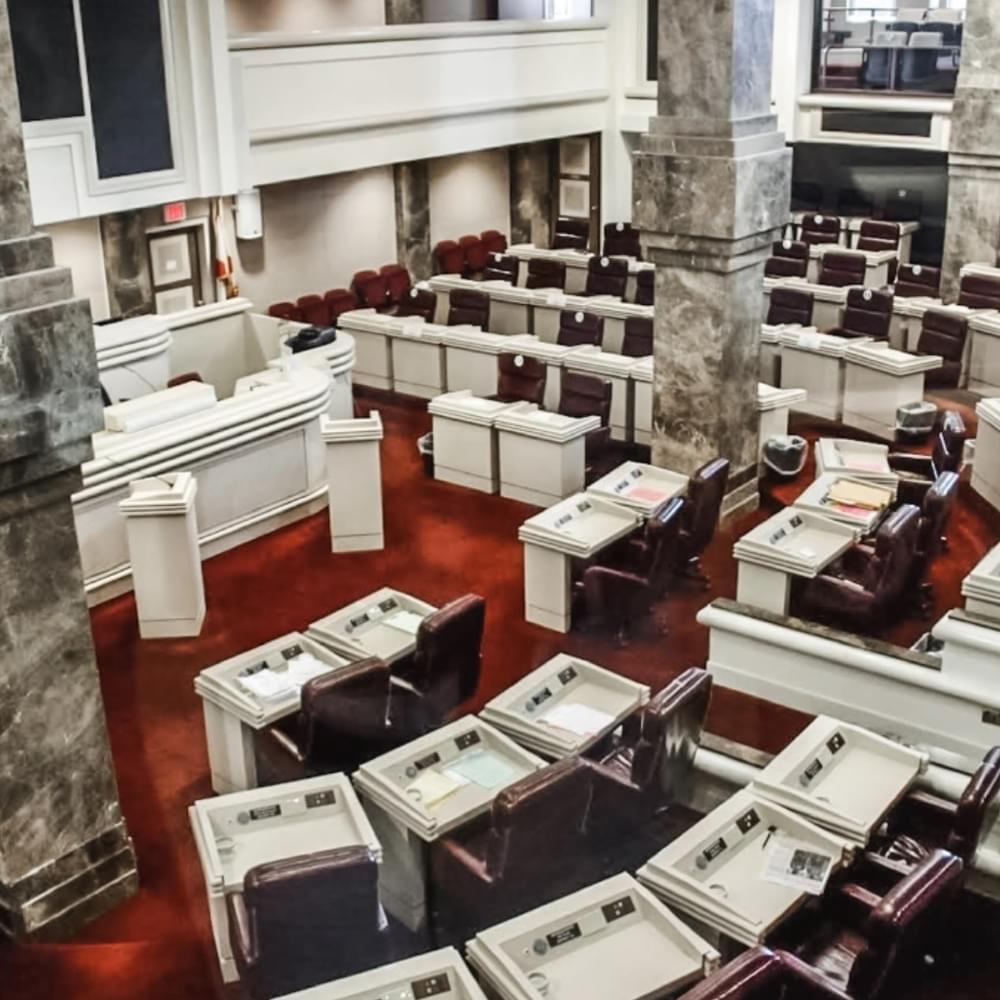 Lingering issues with the state house go beyond the lackluster interior aesthetic for Lipscomb. Citing recent flooding due to burst pipes, electrical malfunction, mold and water migration, he believes remaining at the current building poses a "dangerous" health risk to occupants.
"There are so many environmental problems in the building as it is," Lipscomb continued. "I hate to see any full-time staff member working there even one more day. It frightens me to think that someone has to work there every day for another couple of years.
"Alabama just needs more of a sense of pride, and they can accomplish that at the same time that they actually – in my opinion – try and save some money by building a new structure as opposed to trying to patch and repair this building with bubblegum and duct tape."
An engineer's report in 2021 stated the state house needed nearly $52 million in repairs just to fix issues with HVAC, roofing and electrical work, not including any aesthetic remodeling or additional space. For Lipscomb, the current building is beyond hope apart from a complete "gutting," which he believes could cost more than new construction.
For those who support a new building, time is of the essence. According to Lipscomb, it would take at least a year for the design, planning and bidding process on a new state house could commence. Construction would require an additional 18 to 24 months before being complete.
Additionally, due to restrictions, a state house separated from the capitol may require an additional constitutional amendment, which is why Lipscomb proposes building a new structure attached to the capitol building.
Calls for a new state house have been around for years, but funding has always been the hang-up for lawmakers. Previously, lawmakers suggested using federal COVID-19 relief funds for a new building, which drew the ire of Gov. Kay Ivey and never materialized.
"The problem that we've had over the past few years is that we've gone about discussing [the new state house] the wrong way," Lipscomb said. "…[T]he method of funding it was not something that people were willing to palate. The real question is, how do you build it and build it properly and responsibly."
"In all fairness, during the course of those 30 years, from '92 till today, the state was really in no financial position to build a new state house. It's only been in the past decade, since the state came under Republican control, that we've been able to grow our economy, save money for the lean years and manage our budget in a way that would make the construction of a proper state house feasible."
To connect with the author of this story, or to comment, email [email protected].
Don't miss out! Subscribe to our newsletter and get our top stories every weekday morning