Dylan Hopkins showed up on his first day at UAB with a broken foot.
Bryant Vincent, the program's offensive coordinator at the time and now the interim head coach, chuckles at the memory.
"He comes in on freshman report day, he's on crutches, and I'm like 'What did you do?'" Vincent said of the 6-foot-2, 215-pound Hopkins, who is now entering his fifth year at UAB. "He said, 'Broke my foot, coach, jumped up, heard something pop, landed on it.' He started his career that way."
Injuries have certainly been part of Hopkins' UAB career to this point. There was a torn thumb ligament in his throwing hand in 2019. There was the left shoulder injury last season. Both led to spring surgeries. There was the foot injury that contributed to him not playing in 2020.
However, his isn't a story of an injury prone player. Not even close. His is a story of enduring through pain. His is a story of doing what he thought was best for his teammates. His is a story of letting adrenaline carry him through the pain on game day and grit taking over the remainder of the week.
In some ways, his is a typical college football story.
"I think it's a respect thing," Hopkins said when asked what it means to his teammates to see him playing through pain. "I know this past season, [center] Will Rykard, I can't remember which game it was. It was a home game and he got hurt really bad. I remember telling him, 'Give me two more plays, I promise we'll score.' We ended up scoring. That was a moment for me with Will where, 'He's got my respect. He's tough. He's not going to go out when things get tough.' I think that's everyone on this team. There's a lot of guys who will have injuries that the media doesn't know about. They always have my respect."
Hopkins was considered one of the gems of the 2018 signing class. He was in the midst of leading Maryville High to a Tennessee Class 6A championship in 2017 when he committed to the Blazers over a host of schools. Late in the signing period, Cincinnati, North Carolina and Indiana extended scholarship offers.
His father, Archie, a former linebacker at Virginia Tech, stepped in with some advice.
"He was telling me, 'Hey, you've had a relationship with UAB this whole time, they care about you, they want you, you're their No. 1 guy, and these other schools are calling you just wanting to sign someone two weeks away,'" Hopkins said. "That really made sense to me. They do show it, and they really do care about you as a person. If I would have went to another school at that point, I would have been just another guy."
He came to UAB and basically missed most of fall camp because of the foot injury. Chances of playing were slim at that point, anyway, with the return of 2017 starter AJ Erdely and backup Tyler Johnston III. Slim left the building with the injury.
"He gets cleared, he's on the scout team and you see him down there just making crazy plays," Vincent said. "He was one of those guys who is just talented, so gifted that players are drawn to him. He's just got that 'it.'"
What he didn't get the following season, though, was the starting job. Johnston was fresh off leading the Blazers to the 2018 C-USA championship and the first bowl win in school history. Johnston won the starting quarterback battle entering the 2109 season. Hopkins was the backup and soon appeared to be headed toward a medical redshirt. In his first college action, which came in the third game of the season against South Alabama, he was hit while running and put his right hand down to cushion the fall. The ligament in his right thumb snapped.
Hopkins said the trainers taped his hand and put a pad on the thumb during games, just in case he was needed. Six games later, the plan changed. He went from the just-in-case-you-are-needed quarterback to "Here are the keys to the offense, son, you're our starting quarterback."
He came in when Johnston hurt his shoulder against Tennessee and threw his first college completion and first college touchdown in front of family and friends, not far away from where he played high school football. The next week, college football reality slapped him in the face when he threw two interceptions and was sacked four times during a 37-2 loss at Southern Miss in his first college start.
"It was like, 'Welcome to college football, Big Daddy,'" Vincent said.
What's important, though, was his response. Vincent settled in and led the Blazers to regular-season-ending wins at home over UTEP and Louisiana Tech and on the road at North Texas. Those three wins clinched a spot in the C-USA championship game, which didn't end well for Hopkins or the Blazers. Put all that together and Hopkins did enough to earn Freshman All-Conference USA honors with a throwing hand injury that would have kept many out of the lineup.
"On game day with the adrenaline and what not, you don't feel a whole lot," Hopkins said. "But, the practices every day, every ball I threw there was a type of pain. It didn't go away. Right after the season, I had the surgery. It took a lot longer [to heal] than I thought, I guess from just gripping the ball and ... throwing the ball. I haven't had any problems with it since, and that's with everything I've had done."
That was simple compared to a 2020 that was easy for no one. Hopkins tested positive for COVID-19 during fall camp and was quarantined two other times during the season. He also hurt his foot during camp and was in a boot. He seldom practiced and did not play a snap all season. All the while, he watched the quarterback position take shape with Johnston winning the starting role once again and Bryson Lucero taking over, flourishing at times when Johnston missed games because of injury.
When UAB went to Rice, after more than a month without a game, Hopkins remained at home. When UAB went to Marshall and won a C-USA championship, Hopkins remained at home.
It was not an easy time.
"It was definitely hard to swallow," Hopkins said. "I'll take the blame. It was my fault. It was on me. Honestly, I really wasn't mentally locked in. I didn't think we were going to have a season. There is really no one to be mad at except for me. Some of it was freak accidents, with the COVID and other things, but, at the end of the day, it's on me for not preparing myself better and staying ready when my time does come."
He was better than ever the following spring.
"[The 2020 season] hurt him," Vincent said. "[2021] was the moment Dylan became a college quarterback. He came back in January and he was locked in. He was on time, not missing meetings, doing the thing he needed to do. He came out and had the best spring and best time he ever had. We're all looking around and we're going, 'Are you kidding me?' As coaches, we're going, 'That's Dylan Hopkins, that's the guy we've been waiting on.'"
Need to guess what happened next?
During fall camp, during team work, he rolled to his left while being pressured, stuck out his left hand and felt his shoulder pop. Hopkins said the shoulder "was just hanging for a few minutes." After consulting with team doctors and trainers, it was decided he would attempt to make it through the season before having surgery. Now, gutting out an injury in, say, Week 10 is one thing. Doing so before fall camp is in its infancy, however, is in another league.
"Yeah, that was a tough one," said Hopkins.
He began the 2021 season as the backup to Johnston once again but this time was different. This time, Dylan felt like the job would eventually be his. He didn't say that as a slight to Johnston, who is a close friend and did great things as the UAB quarterback. Hopkins just carried a different determination into the season.
Johnston was sharp in the season-opening win over Jacksonville State, throwing for 319 yards and two touchdowns, but had trouble in the following two games and was dealing with shoulder problems. Hopkins, in those first three games, was 10 of 12 for 292 yards with four touchdowns. His first start came the following week at Tulane, where he threw for 240 yards and three touchdowns in a 28-21 win.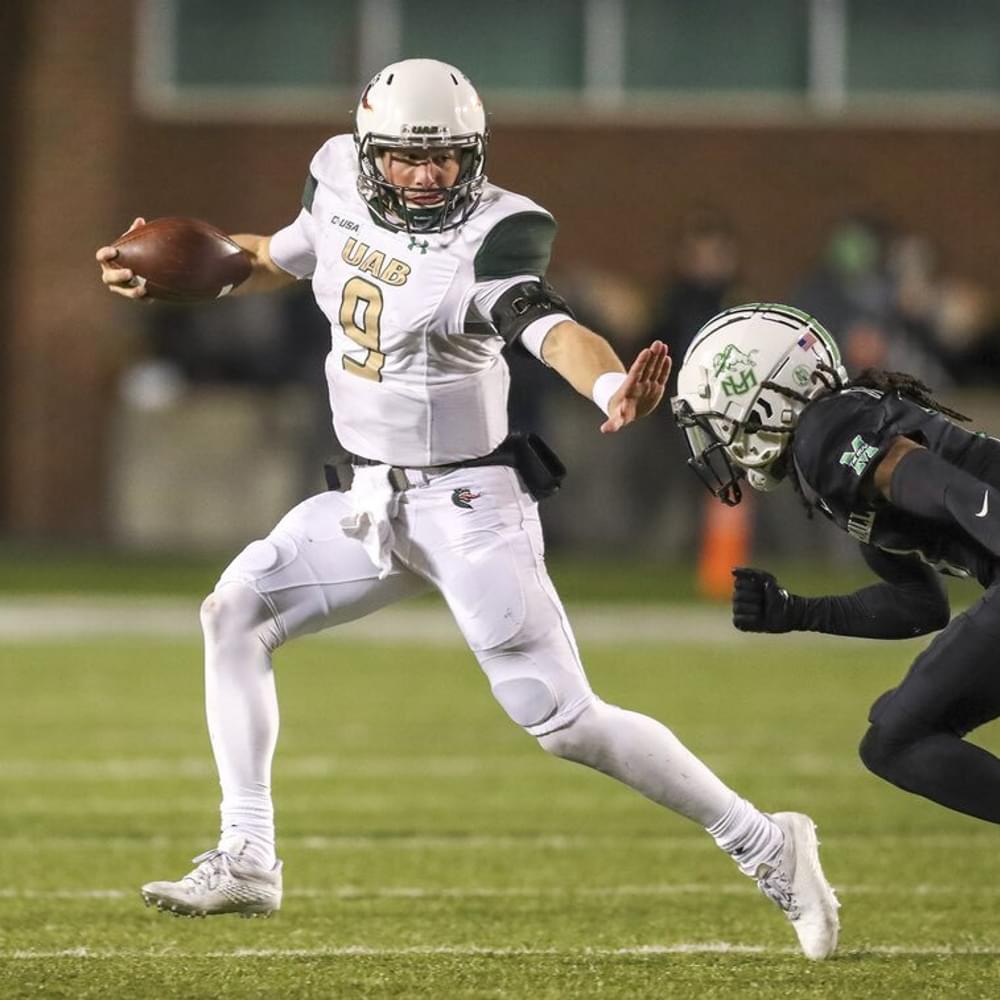 He never left the starting lineup. He wasn't crisp in a couple of games but was sharp most of the season. Perhaps his best games came in some of the biggest games on the schedule, including back-to-back outings at Marshall. He saved his best for last.
What Hopkins did on the field in the 31-28 Independence Bowl win over 13th-ranked BYU is just part of the story. He got sick soon after arriving in Shreveport. His temperature spiked at 103 degrees. He couldn't hold any liquid or food down and didn't really try to eat for nearly three days. By the time he got home to Birmingham, his forearm was full of bruises from IVs. On game day, he was able to eat a few crackers and some fruit. Vincent asked him if he could play, and Hopkins said he was ready. The team drove to the stadium in the rain. By the time they went out for warmups, the rain was coming down so hard that it was difficult to see the field from the press box.
"Oh my gosh, it was freezing," Hopkins said. "It was raining; it was cold; everyone had these towels that we were covering up with."
Vincent came by once they reached the field and asked again if he could play.
"He said, 'Coach, the only way I'm coming off this field is if they pull me off; there's no way I'm letting this team down,'" Vincent said. "Then he's 12 for 12 at halftime and I'm saying 'Hey man, you need to be sick more often.'"
Hopkins finished 19 of 23 for 189 yards with three touchdowns. UAB finished with a victory over the highest-ranked opponent in program history.
Soon after, Hopkins got his left shoulder taken care of with surgery. While he was out, he had to watch the UAB coaching staff put the finishing touches on what is probably the deepest quarterback depth chart in program history. Jacob Zeno, a four-star recruit in high school, who had flashes of big-time ability at Baylor, came to UAB via the transfer portal. Damon Stewart, from junior college power East Mississippi Community College, signed, and the newcomers joined Lucero and Dylan Mehrotra on the roster of scholarship quarterbacks.
Hopkins watched during spring, itching to get out on the field to compete and went to work when ready. He said he feels better than ever. His shoulder is completely healed and he's added 13-14 pounds on his frame. Today, for the first time since he's been at UAB, he opens up a fall camp as No. 1 on the depth chart. It will be a fun battle to see if he stays there.
"Dylan is super excited about it," said Archie Hopkins. "Quite frankly, with the competition, with Zeno and all the quarterbacks, man, that's good. Who doesn't want that? If you love this game, you want competition. It's going to make you better. Dylan will be better and, here's the thing, Zeno and the others will be better. Dylan, this is the first season at UAB that he's actually coming in with confidence. The type of confidence of 'Hey, I've been there. I was at San Antonio. I was at Marshall.' It's different this year. I'm just telling you. His whole demeanor, how he carries himself, no distractions."
To connect with the author of this story, or to comment, email steve.irvine@1819news.com.
Don't miss out! Subscribe to our newsletter and get our top stories every weekday morning.