BIRMINGHAM – Career wins on the beach volleyball court are one way to mark Emma Andraka's time at UAB.
The King of Prussia, Pennsylvania native will leave Birmingham as the UAB beach volleyball program's all-time leader in wins. She set the record on April 1 after a win with partner Jessica Ennis during the UAB Beach Classic. It was her 53rd career win, which surpassed the old mark of 52 wins set by Tressa Buckland from 2016-19. Andraka went on to win four more times before the regular season closed last weekend.
"It means a lot," Andraka said. "I think it's definitely representative of all the people on the team with me and everyone who has coached me. All of the work that they've poured into me, I feel, showed up in that. I've played at all five seeds in the lineup, at some point of my career. This year alone, I've played with over two-thirds of our team as partners. It takes a lot of strategy and adaptation to be able to win in all those different circumstances. I think it's pretty cool, in that respect, it's kind of representative of me as a person."
Her time at UAB is not only marked by her time on the beach volleyball courts. She's also excelled in the classroom, completing requirements for a pair of degrees in Neuroscience and Biomedical Science and will soon begin a Ph.D. program in Neuroscience.
Juggling the demands of being academics and Division I athletics hasn't been the easiest task.
"When I was a freshman and I started to understand what my course load really looked like and the demands of a Division I sport, I realized I must make the most efficient use of my time," Andraka said. "I started to develop a lot of habits based around that. And, also keeping myself healthy, because it would be impossible to do all of this if I wasn't a healthy functioning person. I just started early on to get as much sleep as possible, having a regular sleeping-eating schedule."
When her final season began, Andraka was finishing up her master's thesis. Defense of her 66-page thesis came a few weeks into the season.
"That was really tough and I was really stressed," Andraka said. "During that time, I didn't really know what to prioritize, because if I didn't sacrifice some things to work on my thesis, I wasn't going to graduate. And, if I wasn't performing in games and practices, I wasn't helping my team. That was really hard to imagine, at the time. I think getting through that is a result of all the habits I've built up over time, but also the support of everyone in my life. Everyone has been so supportive and helpful with regards to helping me reaching my goals."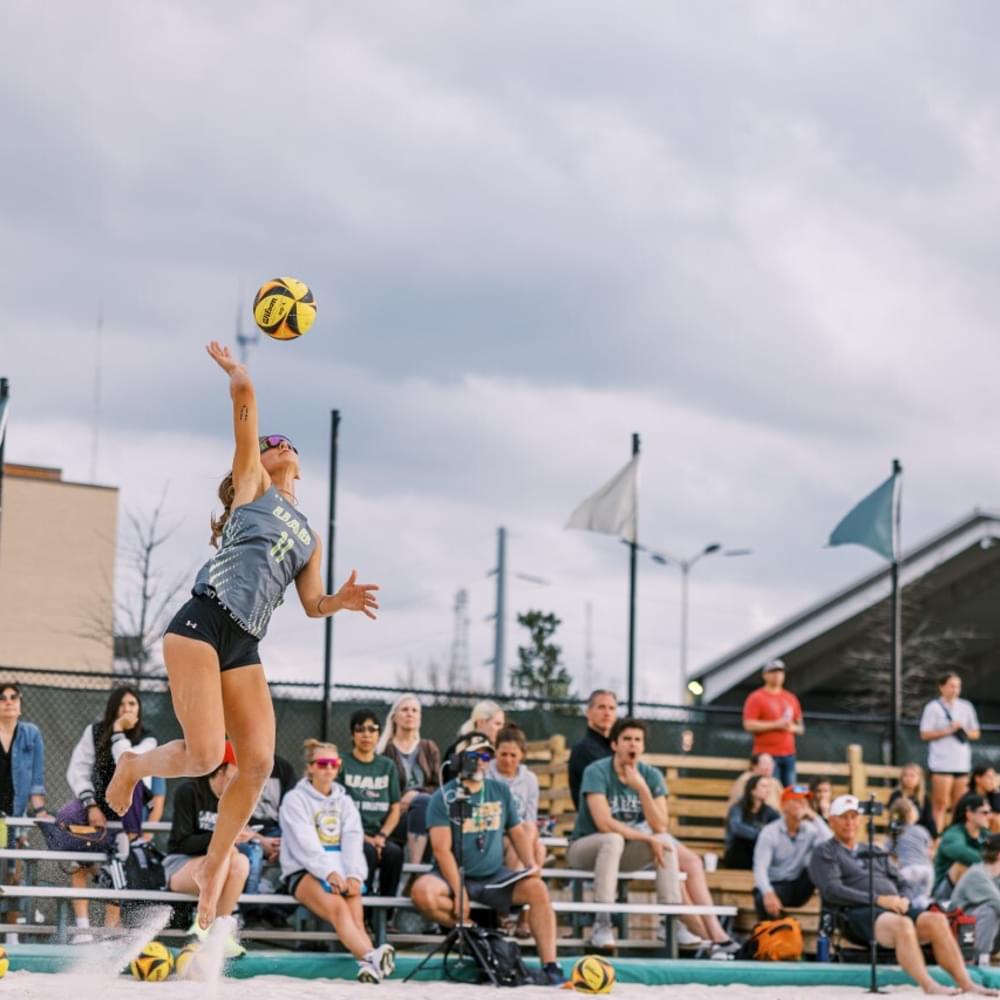 Finding her way to beach volleyball certainly wasn't common, at the time, in her hometown. Andraka began playing indoor volleyball at the age of 12 and was a standout at Upper Merion High in her hometown. As part of offseason training, when she was a high school freshman, she was required to play in a beach tournament in Delaware. It was her first experience in beach volleyball and she teamed with her partner to finish second.
That led to her seeking other opportunities to play beach volleyball. It took some traveling and dedication but she began growing in the sport. She spent a couple of summers staying with her aunt in Hermosa Beach and getting experience in camps and other opportunities that come easily in Southern California.
"It was really shocking at first," Andraka said. "Being in my bubble in Pennsylvania, I was one of the best beach players around. But, it was so small that when you got out to California, where everyone plays, a lot of them since elementary school. The level of talent, skill and knowledge was pretty overwhelming. It was also really cool, to see a lot of the little intricate details about the sport that I hadn't learned. I know that, even in situations that can be uncomfortable like that, they produce the greatest amount of growth. After the shock, I kind of embraced it a bit more. It helped me get so much better along the way."
She had college opportunities for indoor and beach volleyball. One of her friends, Sally Napolitano, was already at UAB. She put her in contact with the UAB coaches. As it turned out, the match was perfect.
"There's not that many schools that have beach volleyball and neuroscience, period," the 5-foot-9 Andraka said. "That was really attractive to me. Everyone on my visit was really nice. I loved the people, everyone was really growth minded and I think Birmingham is a really cool city. People who aren't familiar with the area, probably wouldn't know that. But, there is a lot of cool stuff to do around here, as far as restaurants and parks and shows going on."
She's made her mark on the program and will move on with her name in the record books. UAB will play in the Conference USA Tournament next week in Fort Lauderdale, Florida. She's not sure, yet, where she will work toward her Ph.D. but said at some point she plans on landing in New York City. She's been told that there are beach volleyball courts in Central Park.
"One of the reasons I chose beach volleyball over indoors, I know the longevity of this sport was a lot greater, definitely easier on your joints," Andraka said. "Even when I was growing up, when I would play tournaments in New Jersey, I would get beat by old ladies who couldn't overhand serve. They were just underhand serving and putting the ball in smart locations. They were like 70 years old or something. That was always attractive to me. I'll definitely play going forward."
Don't miss out! Subscribe to our newsletter and get our top stories every weekday morning.