BIRMINGHAM -- It shouldn't have been the final play of his high school football career.
Ricky Lee III was sure of that. He joined with a teammate to make a tackle in the vicinity of the 2-yard line in the final seconds of the Georgia Class 3A state championship at Center Parc Credit Union Stadium in Atlanta. Lee quickly jumped up with fist clenched, signifying fourth down.
One more stop and Cedar Grove High could celebrate a second consecutive state title and fifth in the past five seasons.
Nearly as quickly, Lee glanced up and saw the official from the sideline running toward the middle of the field with arms raised, signaling a touchdown. With no chance for a replay, the decision was final. Sandy Creek had the winning points in the 21-17 victory.
Fast forward three months, Lee and teammate and cousin Everett Roussaw Jr., who was nearby on the play, have not only moved on from that game but they've taken the next step. Both signed with UAB in December and started classes in January. This past week, during the first three spring practice sessions, they began work toward making an immediate impact in college football.
Yet, the final play of their high school career still lingers.
"I don't think a day goes by where I don't think about a little tiny piece from it," Roussaw said. "I'm thankful for it, to be honest. It got worldwide attention. Everywhere I go, when I mention Cedar Grove, they say 'Oh that's the team that (got cheated).' I feel like it's a learning lesson. Everything don't always go your way, but how do you move forward from that? You can't dwell on that, you can't get that play back. You just keep moving forward."
Moving forward immediately was a bit overwhelming. Video of the play quickly went viral. Millions of people from inside and outside the country watched and reacted.
"It's crazy, everybody witnessed the bad call on the 3-yard line," Lee said "It went everywhere. (ESPN) SportsCenter, Good Morning America, high school highlights, everywhere. It was just good for whole world to see we got cheated. Every day, my Instagram and everything else was blowing up. Y'all got cheated, y'all got snubbed. I didn't even know them, it was all over the country. It was just too much. I just took my eye off it and was ready to move onto the next level."
Fortunately, both said, the play brought about potential change. Instant replay in championship and playoff events could be coming soon to Georgia high school football.
"At least we opened doors for the next group," Lee said.
That's a win, according to Roussaw.
"It's a crazy experience," Roussaw said. "We played on TV but it was way bigger than just people watching the game. I feel like it was a blessing, though. It put our high school on a worldwide stage. It helped the kids in Georgia, because we need instant replay review. I feel like it turned out for a better cause. If I could go back, I wouldn't change it, because I feel like something better will come out of this. We're going to change it."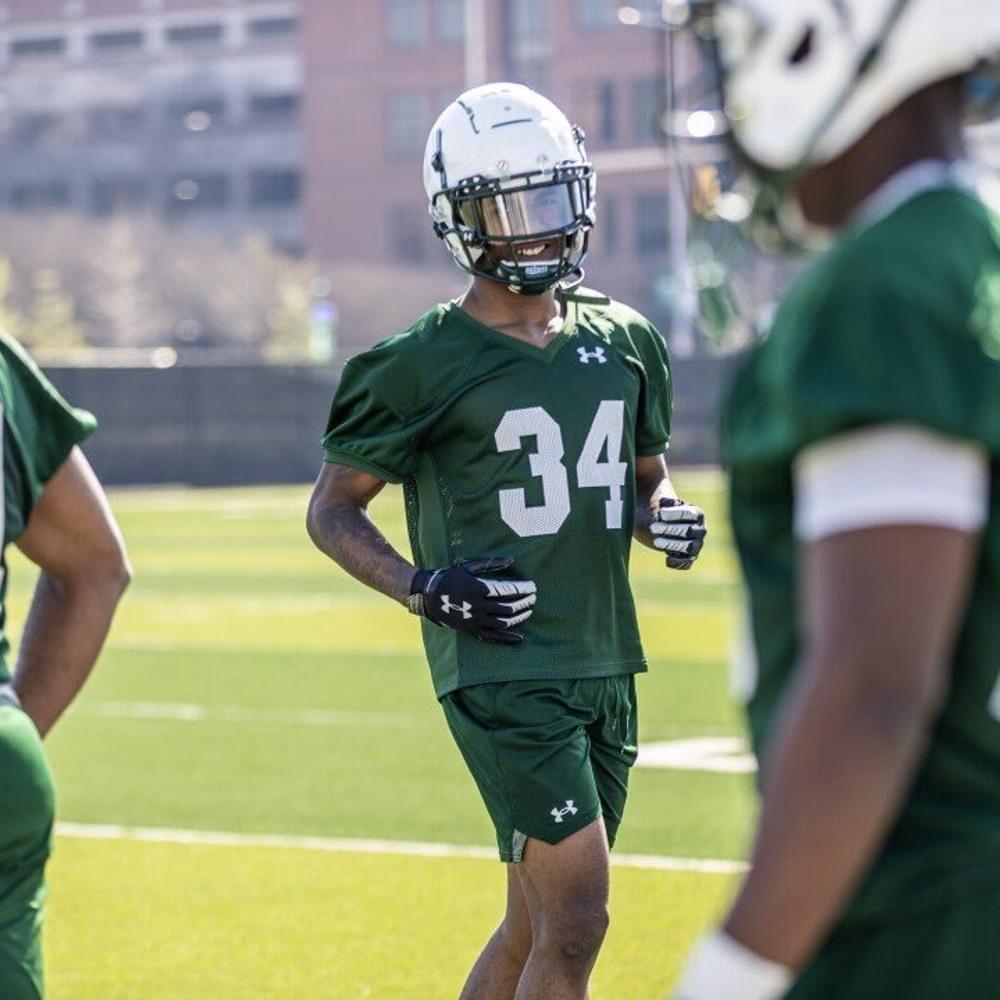 Now, though, the focus is on being college football players. The former Cedar Grove teammates and wide receiver Amare Thomas are the lone scholarship true freshman early enrollees.
"I think early enrollment is a huge deal," said UAB head coach Trent Dilfer. "I saw it as a high school coach, watching my kids who were early enrolled and how far they were. You can see it in these guys. They are already acclimated as college students. They understand the rigors of school. They understand the schedule. They learn how to take care of their bodies and their mind. They've found their little tribe, right. And now they're making plays. Amare has been as impressive as anybody. Roussaw has been in the starting rotation at inside linebacker. You have true freshmen, who should be in high school right now, who have been contributors. It's a big deal."
Lee said he weighed 150 pounds when he started classes. By the time spring practice began, he said, he weighed around 170 pounds. By the time fall camp ends, he plans on being somewhere around 180 pounds. And he is showing that he could work into the rotation at a position where depth is needed.
Even with the additional size already, it's an adjustment.
"The speed is way faster than high school," Lee said. "You got to read schemes a lot better. You got to have good eyes. You got to work on your technique as a player. You got to get better and faster. You have more coaches around you and lift you up to the best of your ability."
That process will continue next week when classes and spring practice resume following spring break.
"My goals for the spring are to get bigger, stronger, faster and just continue to adjust to college football and college life in general," Roussaw said. "Time management, just being a college athlete, on and off the field. Just becoming the best version of myself, developing my game and taking it to a new level. As the summer rolls on, defining my role on this team. Just be the best I can be and control what I can control."
To connect with the author of this story, or to comment, email steve.irvine@1819news.com.
Don't miss out! Subscribe to our newsletter and get our top stories every weekday morning.