TUSCALOOSA — Former Vice President Mike Pence spoke at the University of Alabama (UA) on Tuesday night, touching on a wide variety of issues from the Biden Administration to the PATRIOT Act.
Pence served as vice president under President Donald Trump from 2017 to 2021. Before that, he served as governor of Indiana from 2013 to 2017 and was a Republican member of the U.S. House of Representatives from 2001 to 2013.
After the 2020 election, Pence butted heads with Trump after he declined to take action to block Joe Biden's certification as president when Trump suggested that he should. Pence told CBS earlier this year that he won't speak ill of Trump but is "very confident we'll have better choices comes 2024."
Pence's name has been mentioned as a possible 2024 Republican presidential candidate, alongside former South Carolina Gov. Nikki Haley, who announced her official bid earlier this year, and current Florida Gov. Ron DeSantis.
According to Pence, he became a Republican and a Christian in college. Before winning his first political election, he hosted a radio show in Indianapolis that he described as "Rush Limbaugh on Decaf."
During his speech, Pence touted statistics from the Trump administration, particularly pointing to the administration's ability to appoint 300 conservative judges, three of which now sit on the Supreme Court and were influential in overturning Roe vs. Wade last year.
He was also critical of President Joe Biden and the left-wing policies put in place since Democrats took over the White House in 2020, which he said contributed to the inflation Americans are seeing today.
"Over the past two years, Americans have witnessed the Biden Administration release a title wave of left-wing policies," Pence said. "… Frankly, the Democrats move so fast that sometimes I think the left hand doesn't know what the far-left hand is doing."
He even criticized critical race theory (CRT), leftist indoctrination in universities and regulations forcing schools to permit males to play female sports.
"Under the Biden administration, wokism has run amok at our public universities," Pence said. "Patriotic education has been replaced with political indoctrination. They abolished the 1776 commission and authorized the teaching of [CRT] in our schools … [CRT] is nothing more than state-sanctioned racism, and it should be banned from every school."
"Here, at the University of Alabama, which is synonymous with extraordinary achievement in athletics, we're living in a time when the radical left is actually advancing their extreme gender ideology in ways that threaten the very fabric of women's sports," he added. "...Participation in sports should be determined by ones gender at birth as a matter of common sense."
Pence, a neoconservative known for his hawkish foreign policy, suggested the U.S. should continue to support Ukraine and criticized the "allure of populism."
"America is the leader of the free world," Pence said. "We are the arsenal of Democracy, and America must continue to stand with the courageous people of Ukraine as they reclaim ambition and their freedom."
"We must resist the temptation to put what is popular over what is wise," he said later. "We must resist the politics of personality and the allure of populism unmoored from conservative principle."
When asked by a high school student from Mississippi whether he thinks the PATRIOT Act violates the privacy of American citizens, Pence defended the controversial legislation, arguing it helped facilitate cooperation between domestic and foreign intelligence agencies.
"It's always a balance between preserving individual liberty versus [security]," Pence said.
When the PATRIOT Act was signed into law by George W. Bush in 2001 following the attacks on September 11, Pence was on the U.S. House Judiciary Committee. The law radically expanded the surveillance power of federal agencies such as the National Security Agency (NSA).
UA's Young Americans for Freedom (YAF) chapter hosted Pence's speaking event. Before Pence spoke in the UA student center, a small group of left-wing protestors culminated outside, chanting sayings like "My body, my choice" and "Trans lives matter."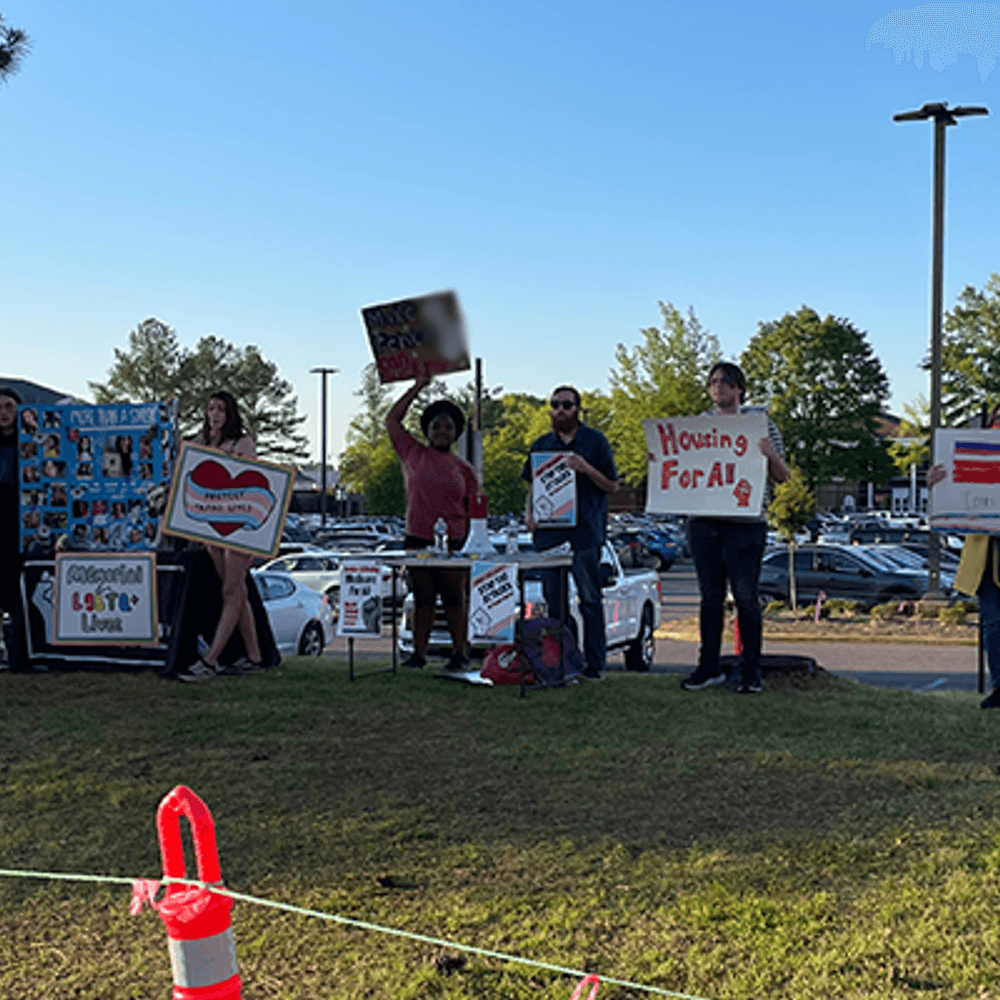 Alabama Republican Party Chair John Wahl and former Alabama Secretary of State John Merrill were both there to watch Pence's speech.
To connect with the author of this story or to comment, email will.blakely@1819news.com or find him on Twitter and Facebook.
Don't miss out! Subscribe to our newsletter and get our top stories every weekday morning.