Jaylyn Sherrod's turn on the national stage is now.
The Birmingham native, who played at Ramsay High, played an integral role in her team's March Madness win earlier this week. She had her turn on postgame TV while the celebration swirled around her. She's spent the rest of the week preparing to face one of the most respected teams in the country and one of the most accomplished players in the history of women's college basketball.
This happened because Sherrod was willing to step outside her comfort zone and chase a dream in an unlikely setting.
can't even put this into words. blessed truly blessed. 🖤 https://t.co/qzaWHCtZ6H

— Jaylyn Sherrod 🖤 (@JaylynSherrod) March 21, 2023
Sherrod is a 5-foot-7 senior point guard at the University of Colorado. She's been part of two NCAA Tournament teams, including this year's group that knocked off No. 3 seed Duke at Cameron Indoor Stadium in the Round of 32. Now, she's gearing up to play Big Ten champion Iowa and the Hawkeyes' extraordinary leader Caitlin Clark.
It's impossible to understand the magnitude of this without considering where Sherrod and the Colorado women's basketball program came from.
Sherrod was an outstanding player at an excellent Ramsay program, but she lost most of her senior season due to a hip problem. She had built a relationship with Colorado head coach JR Payne the year before, and Payne was the only Power 5 coach who offered her a chance.
"She wanted to go somewhere and not just be a good player, not just play a lot of minutes, but she wanted to go somewhere and help establish a culture of excellence," Payne said.
Colorado wasn't excellent when Sherrod arrived on campus in 2019. They weren't bad. They just weren't excellent. The most recent winning season, at that point, was a 17-16 finish in 2016-17, and the last NCAA Tournament trip was in 2012-13.
Sherrod saw plenty of room for the program to grow.
'When I got here, I always knew we had it, but when you're coming in a program that's never gotten there in so long, you have question marks about how good you can be," Sherrod said. "We never focused on it. We just focused on the little details that would make us better. You bring in players that believe and want to win. I think, at the end of the day, what makes this team so special is we're close in a sense that we come together to do whatever it takes to win. We put it together and figured it out."
#MDFNATION @JaylynSherrod @CUBuffsWBB pic.twitter.com/uVWC0s1i2U

— MODERNDAY FITNESS (@MDFNATION) March 21, 2023
She averaged 5.1 assists per game as a true freshman for a team that finished 16-14. The following year, she only played in 12 games for a team than was 12-11 overall and played in the WNIT. Last season, it all came together for the Colorado program.
"We're not going to get all five stars, all the top names," Sherrod said. "We've accepted that, and we're okay with it. That made us one of the hardest working, toughest and most disciplined teams in the country. We knew that's how we were going to win. That's something we take pride in. You've seen that this year and last year."
Payne said that approach is led by Sherrod.
"I think most of her life sort of had this mindset of will over skill," Payne said. "It's just in her DNA. I think, as a group, it's in our DNA. I think we just ultimately have a ton of belief in ourselves, in each other, in what we're capable of being on -- when people don't believe in us, we believe even more in ourselves and things like that."
Last year's team finished 22-9 with an NCAA Tournament first-round loss to Creighton. Sherrod had a career-best 27 points in the 84-74 setback. This year's team has built off that finish.
Colorado is 25-8 heading into Friday night's Sweet 16 game against Iowa in Seattle, Washington. They were the No. 3 seed in the Pac-12 Tournament and lost in the semifinals to Washington State. Colorado opened the NCAA Tournament with an 82-60 win over Middle Tennessee and followed with a 61-53 overtime win against a Duke team that entered the game with a 13-1 record at home. That loss came against rival North Carolina.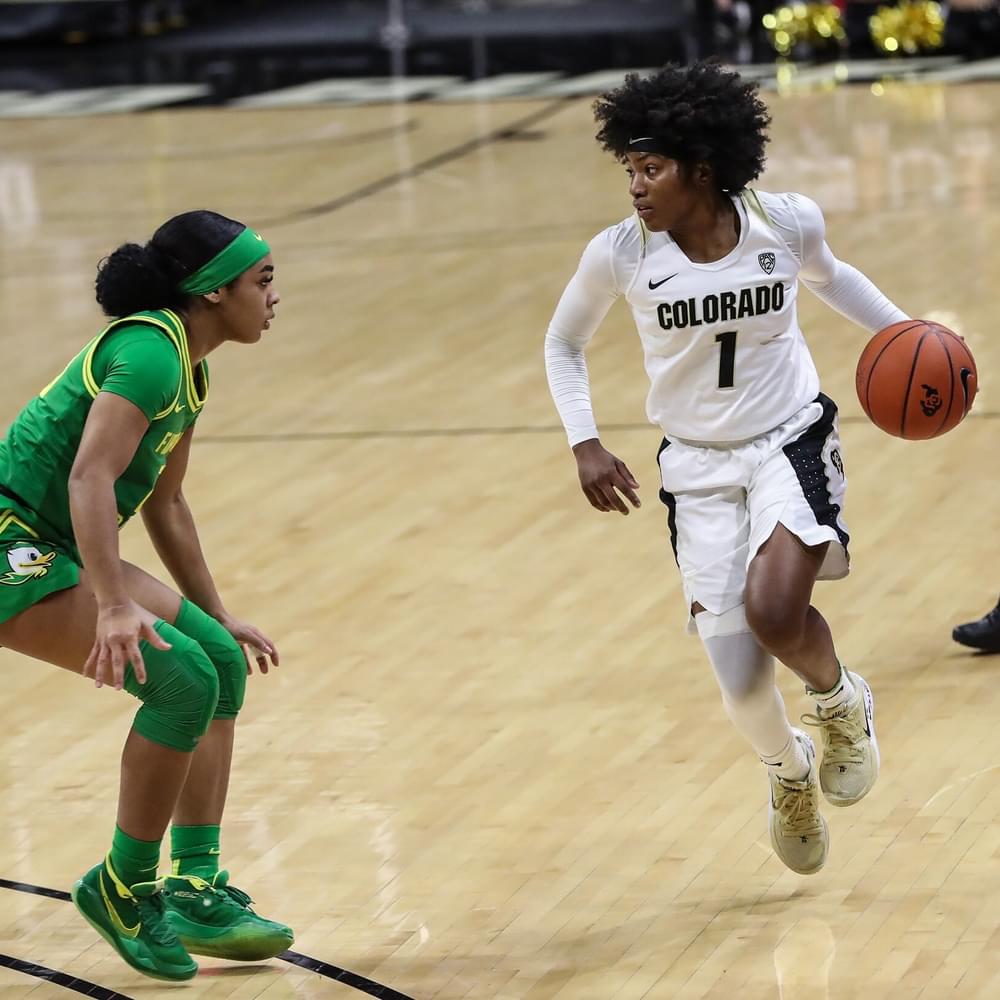 A large dose of the grittiness in the win over Duke came from Sherrod. She hit a pair of layups in the final 1:21 seconds to tie the game at 50 and shook off, missing the front end of a 1-and-1 situation with 33 seconds left. In the overtime period, she hit three free throws in the final 45 seconds to preserve the win.
"It's on to the next game against Iowa," Sherrod said. "You can't really bask in the moment too much. I'm just proud of this team. That's all I can really say. We've come such a long way in the past six months. We've had so many learning lessons throughout the season that prepared us for this moment. For one, it's a blessing, and I'm really thankful for this team to be a part of it. It's really a blessing to be in this position, but we're on to the next one."
At some point, Sherrod's time in Boulder will come to an end, but she will leave a clear legacy.
"She's helped us establish a culture of toughness, of fearlessness, of overcoming any obstacle that's put in your path," Payne said. "I mean, she's everything you could want in a player. She works hard. She's an avid listener, avid learner and really wants to be great. She's willing to do anything. So I think she's — yeah, she's put her heart and soul into this program for four years and truly has helped us get to where we are today."
Don't miss out! Subscribe to our newsletter and get our top stories every weekday morning.