In the fall of 2021, WTVM sports anchor Dave Platta was heading up a busy team at the beginning of football season. For more than 36 years, he had dedicated his time to working late nights and covering local sports in Georgia and Alabama. Many called the award-winning sportscaster a legend, and those who worked alongside him knew he put his heart into his job. But on Sept. 15, 2021, it all ended when Platta was fired for "not complying with company policy" by refusing to get the COVID-19 shot.
Less than three years before, WTVM, an ABC affiliate out of Columbus, Georgia, which also covered several east Alabama counties, was acquired by Gray Television in a package deal with Raycom Media. Other stations acquired in the purchase of Raycom were WSFA in Montgomery, WBRC (Fox 6) in Birmingham, WALA (Fox 10) in Mobile and WAFF in Huntsville.
The local managers at WTVM, Platta said, were not the ones making the decisions on the mandate. According to emails sent by Gray Television's Human Resources Department, supervisors were required to be fully vaccinated by September 15, and other employees had until October 1. Until days before the deadline, Platta said he was unaware he was considered a "supervisor."
"Nobody at the station knew it," Platta told 1819 News. "In fact, our general manager found out at the same time I did."
Platta wrote a four-page letter requesting religious exemption from the shot due to his Roman Catholic faith, but that request was denied two days after he turned in the form.
"We have reviewed your request for a reasonable accommodation from this condition of employment," Gray wrote to Platta in an email. "Your job position, however, requires close contact with other individuals to fulfill the essential duties of your job. This means that no reasonable accommodation is available for your current role. Therefore, if you are not fully vaccinated against COVID-19 by September 15, 2021, you will not be qualified to remain employed with Gray Television on that date."
After nearly four decades in the business, Platta was unable to retire. He was ineligible for unemployment benefits because he was told he was terminated for not following a company policy.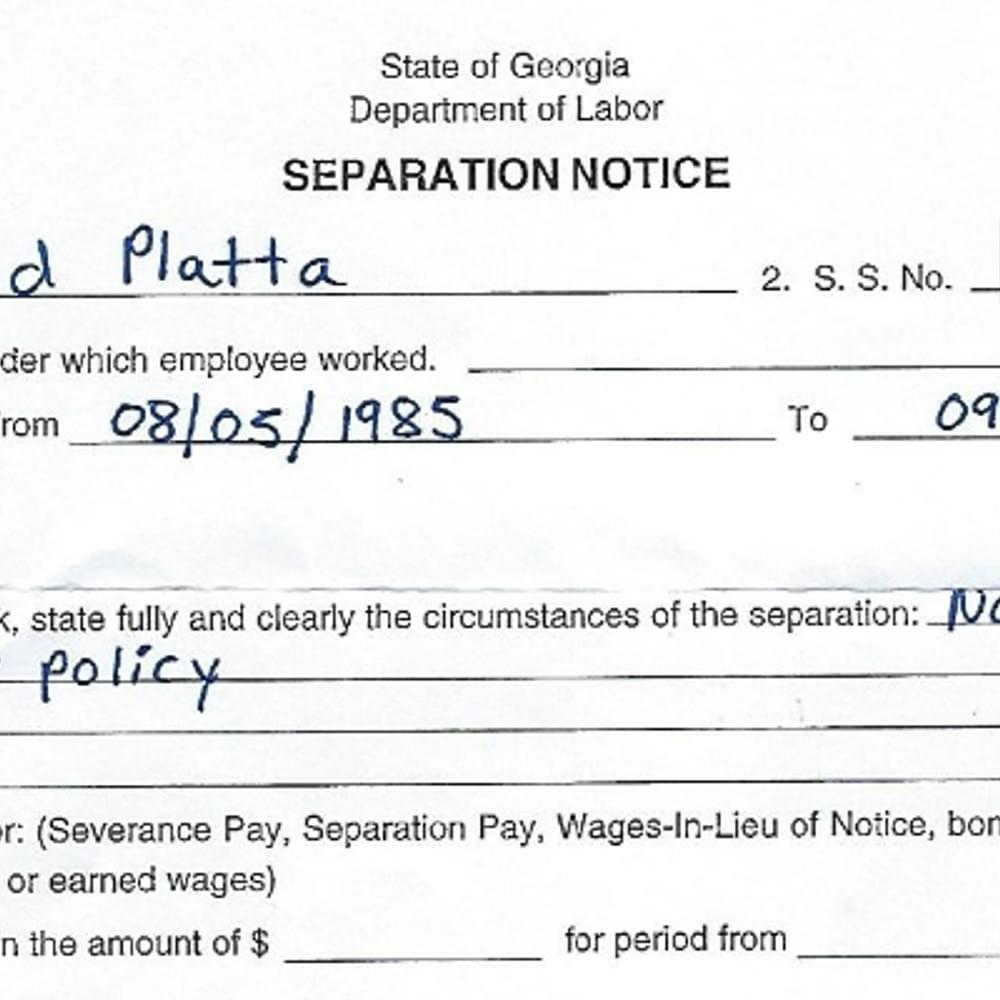 "I wasn't going to quit. I wasn't going to retire," Platta explained. "It wasn't even a decision. I knew what to do. It was never even a question. I was never going to get the shot. I wasn't going to do it."
After Platta hired a lawyer, Gray Television contacted him to offer him a severance deal as long as he ceased all legal action. In response, he requested his old job back, including back pay and health insurance and a fair accommodation for his exemption from the vaccine mandate. The request was denied.
Making matters worse, Platta could not work in the market where he had made a home for the past four decades because of a non-compete clause in his contract.
On January 17, Platta filed a lawsuit in the U.S. District Court of Atlanta against Gray Television, stating the defendant's actions were "extreme and outrageous." The lawsuit cites Breach of Contract, Violation of Title VII, Violation of the Americans with Disabilities Act As Amended (ADAAA), Violation of Section 1983 (Deprivation of Rights under Color of State Law), Intentional Infliction of Emotional Distress, Practicing Medicine without a License and Failure to Obtain Informed Consent and Negligence.
"My suit is about the highhanded action of Gray, mandating that I take part in an experimental medical trial against my will or be fired," Platta stated on his website. "Forcing someone to participate in a medical experiment is evil. World War II pounded that into everyone's consciousness. This is best characterized as bodily autonomy – the God-given right to choose what to do with our own bodies."
Platta said he wants to fight for everyone whose lives were devastated by COVID shot mandates. In the end, he hopes Americans can come together, respect each other's rights and do the right thing.
"For me to let this go without fighting would be an act of cowardice," stated Platta, on his website.
He told 1819 News, "I want to make a statement, I want justice, and I want to open the door for other people."
Platta's website outlines exactly what happened. There are links to news stories about his departure, as well as a timeline of events, issues he had with the shot, laws he has referred to and emails between him and Gray Television's corporate offices. There is also a link to Platta's legal fund because he said he is aware he is going up against corporate attorneys, and the fight will be expensive.
1819 News has called Gray Television and left a message requesting comment on the lawsuit. The company promised viewers it would continue to share information about COVID and would go above and beyond to "ensure the communities we serve are informed of relevant developments so that families can make important decisions to secure their health and safety."
On Gray Television's homepage, there is still a COVID-19 tab that offers the latest headlines on COVID from each of its 180 stations nationwide.
To connect with the author of this story, or to comment, email [email protected].
Don't miss out! Subscribe to our newsletter and get our top stories every weekday morning.