Governor Kay Ivey spent the earlier part of the week visiting two Alabama prisons to demonstrate her appreciation and support for correctional officers and support staff.
Ivey made surprise trips to Kilby Correctional Facility in Montgomery County and Tutwiler Women's Facility in Wetumpka on Tuesday and Wednesday.
She took the time to meet with several correctional staff members, presenting each with an official Governor's Challenge Coin.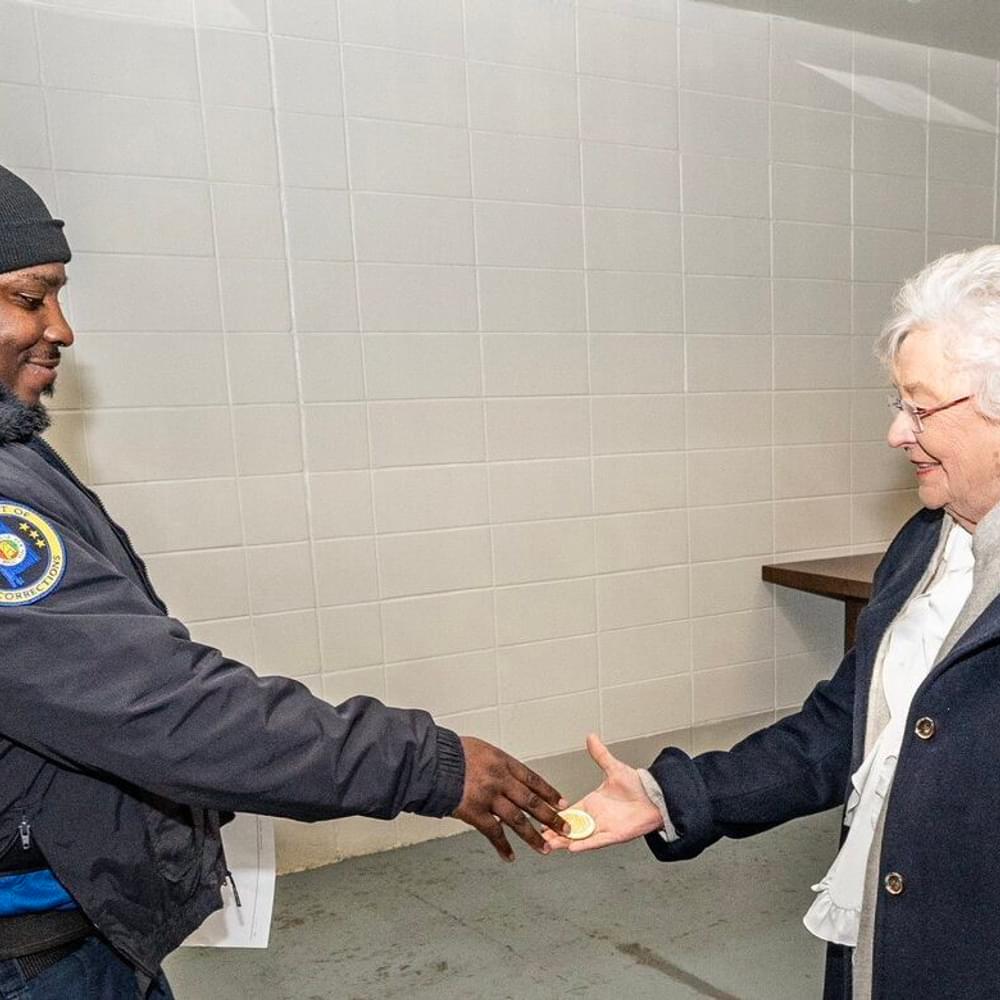 "The work of correctional staff is not easy," Ivey said on Wednesday. "In fact, it may just be one of the toughest jobs in the country, absent of the recognition that is beyond well-deserved. Corrections officers and support staff play a vital role in keeping our families and communities safe while providing opportunities for rehabilitation to the inmates willing to better themselves. The work they do each and every day is essential to our public safety, and their necessary contributions are something we should never take for granted."
The Alabama Department of Corrections (ADOC) has been under the spotlight in recent years after the Department of Justice (DoJ) sued the state for its prison conditions in 2020.
In the federal suit, the DoJ demanded that ADOC add 2,000 additional officers. Despite increased bonuses for prison officers, ADOC has not been able to meet the federal requirements thus far.
In tandem with the staffing shortages, several ADOC officers have been fired and charged with bribery, receiving bribes and bringing contraband into prisons in the past few months alone.
ADOC is also under the microscope after a series of failed executions. In September, Ivey called for a halt on executions until ADOC Commissioner John Hamm could "undertake a top-to-bottom review of the state's execution process and how to ensure the state can successfully deliver justice going forward."
Hamm, who Ivey appointed in January, applauded the governor's decision to highlight and commend corrections staff.
"Working in Corrections can be compared to managing a small city where you provide all of the food, laundry, utility and maintenance services while also providing security and protection to the public and incarcerated," said ADOC Commissioner John Hamm. "I thank Governor Ivey for her constant recognition and support of our correctional staff. They are essential to day-to-day operations, and without them, safety, security, and successful rehabilitation wouldn't be possible."
To connect with the author of this story, or to comment, email craig.monger@1819news.com.
Don't miss out! Subscribe to our newsletter and get our top stories every weekday morning.