Alabama's performance during the COVID-19 pandemic may not be as bad as one might think.
A study by the National Bureau of Economic Research (NBER) shows Alabama stayed in the middle of the pack in some categories and beat its neighboring states in others.
The COVID-19 pandemic brought about restrictions on businesses and private affairs across the nation. The leadership in each state was left to create its own COVID policy and procedure. Some states were more restrictive than others. Lockdowns, curfews, business shutdowns, mask mandates, and other measures were instituted in some capacity nationwide.
The NBER research studied the economic and health impact of individual states' COVID policies.
Ratings were determined by observing the economy, education, and mortality in all states across the U.S.
Alabama came in 20th place overall, beating out Tennessee (24) and Mississippi (23) and coming just behind Georgia (19). Florida was in sixth place.
Utah, Nebraska, Vermont, Montana, and South Dakota were the top five states. The five worst states were New Jersey, the District of Columbia, New York, New Mexico, and California.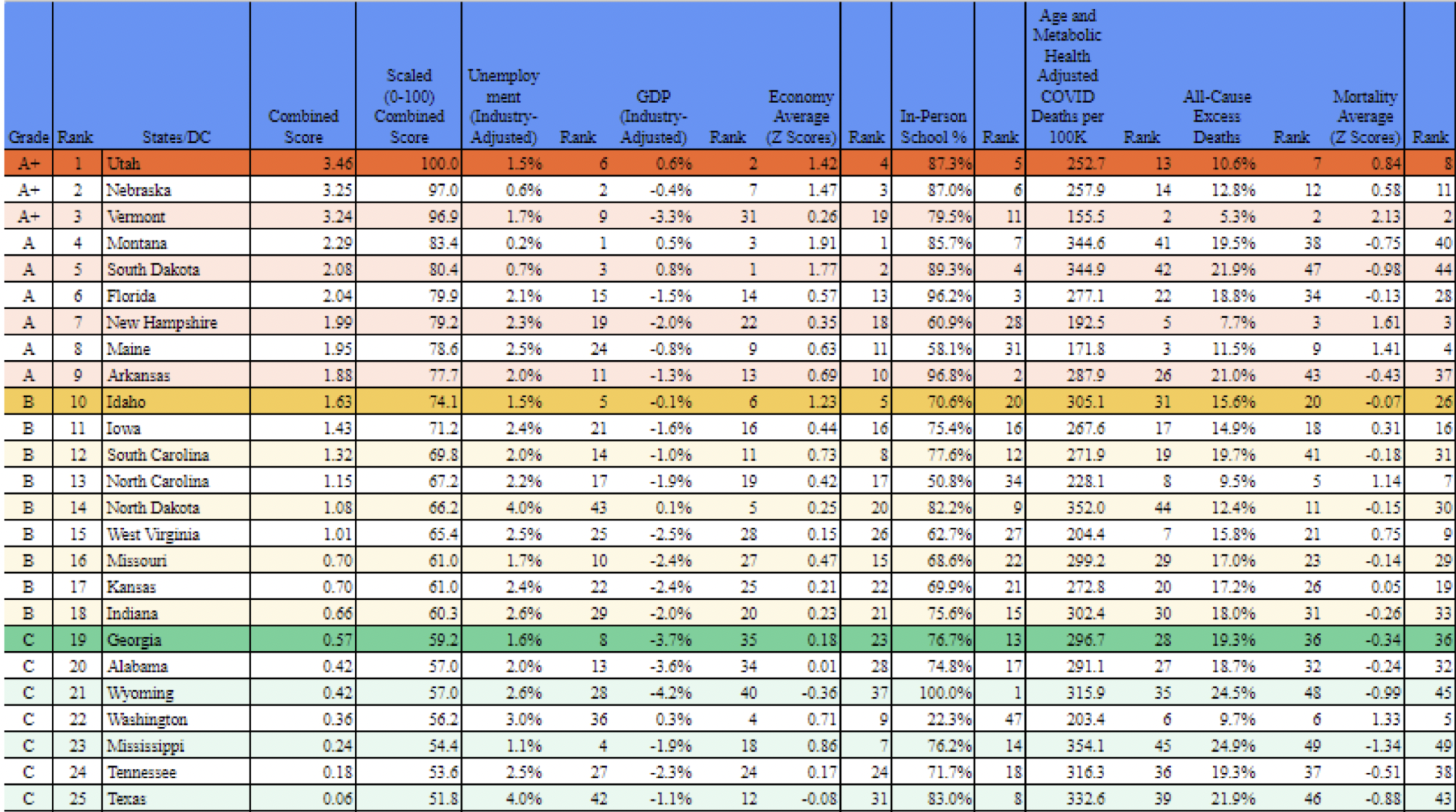 Mortality was a significant measure in the study. Although Alabama ranked 49th in the overall COVID-related mortality rate, when adjusted for obesity and diabetes as comorbidities, it ranked 27th.
Alabama was the third most obese state in the union, with West Virginia and Mississippi being the only states to have more obese people per 100,000. Alabama also ranked fourth in diabetes, with Louisiana, Mississippi, and West Virginia leading.
Alabama beat out all neighboring states in excess mortality, coming in 32nd place. Excess mortality is determined by comparing the deaths during the pandemic with an estimated baseline, excluding the pandemic.
Education took a central position in the discussion of COVID-19 lockdowns, with many believing the effect of COVID measures on education could have the most long-term impact on the country. Studies by the Organisation for Economic Co-operation and Development have shown that pandemic-related school closures could cause a 3% decline in lifetime earnings. The study also claims that a loss of just one-third of a year of learning has a long-term economic impact of $14 trillion.
Alabama had the lowest percentage of in-person learning of all its neighboring states, except Tennessee (18).
Alabama came in 17th place, with 74.8% of the students doing in-person learning.
NBER statisticians measured economic performance by cumulative months of unemployment and by their Gross Domestic Product (GDP)
The cumulative months of unemployment (total unemployed over the period divided by total labor force over the period) were measured from April 2020 to December 2021. Each state had the same measures subtracted from January 2019 to February 2020.
Alabama's economy came in 13th place in cumulative unemployment, beating out Florida (15) and Tennessee (27).
Alabama ranked 34th in overall GDP, coming behind all of its neighboring states with a decrease in GDP by 3.6%. The state showed marked reductions in all GDP measures, such as oil and gas, food and accommodations, and arts and entertainment.
The data showed Alabama's number of unemployed more than doubled during the pandemic, growing from 946,744 in Feb. 2020, to 2,246,616 one year later.
Overall, Alabama stayed relatively middle of the pack throughout the COVID-19 pandemic. Other states with more stringent lockdown measures performed significantly worse, and other states with less restrictive measures performed better.
There have been mountains of criticism from both sides of the political aisle for the way in which Gov. Kay Ivey and her administration handled the pandemic.
Many criticized the Ivey administration's decision to follow CDC guidelines restricting businesses, churches, schools, and other public activities in 2020. Others chastised her when she began to loosen those restrictions in 2021.
While further studies come forward and data continues to be analyzed, it is clear that the initial reactions by some states did not have the intended impact.
To connect with the author of this story, or to comment, email [email protected].