For five years, Larry Peoples has battled acute myeloid leukemia (AML). For five years, he has been treated on and off at Kirkland Clinic, and for five years, he has experienced ups and downs in the fight for his life. It was in October of 2017 that Larry learned of his diagnosis. After nearly a year of treatment, he went into remission, but since March of this year, he has been back on the front lines of the battlefield.
Recently, a problem many of us hear about in the news hit home for Larry and his wife, Sheila, and made his fight a little more difficult.
"They came back and said, 'we can't give you platelets today," Sheila Peoples said. " … We can't do it because of the shortage."
Peoples was referring to shortage of blood donations and platelet donations. The American Red Cross and LifeSouth Community Blood Centers, which both serve Alabama, often talk about a "critical need" or "critical shortage" in donations. They ask people to come forward to donate blood, but as Sheila Peoples pointed out, many people never experience the impact of those shortages. She believes if they did, more people would line up to give.
"I'm happy to bring attention to the shortage because there are so many patients like Larry that need platelets," said Peoples. " … It's so important. I don't think people realize if you're not in this … it's just scary to me when you are told you need blood, or you need platelets, but they don't have enough, or 'you're not bad off enough."
UAB and other local hospitals treat thousands of patients who are in need of blood and platelets every week. Many of them are cancer patients. Larry, who has an O+ blood type, has to have that specific blood type when he needs an infusion.
AML impacts the bone marrow, which is where new blood cells are made. Often, AML patients need infusions. UAB has multiple infusion centers, and Sheila and Larry Peoples have seen the need firsthand.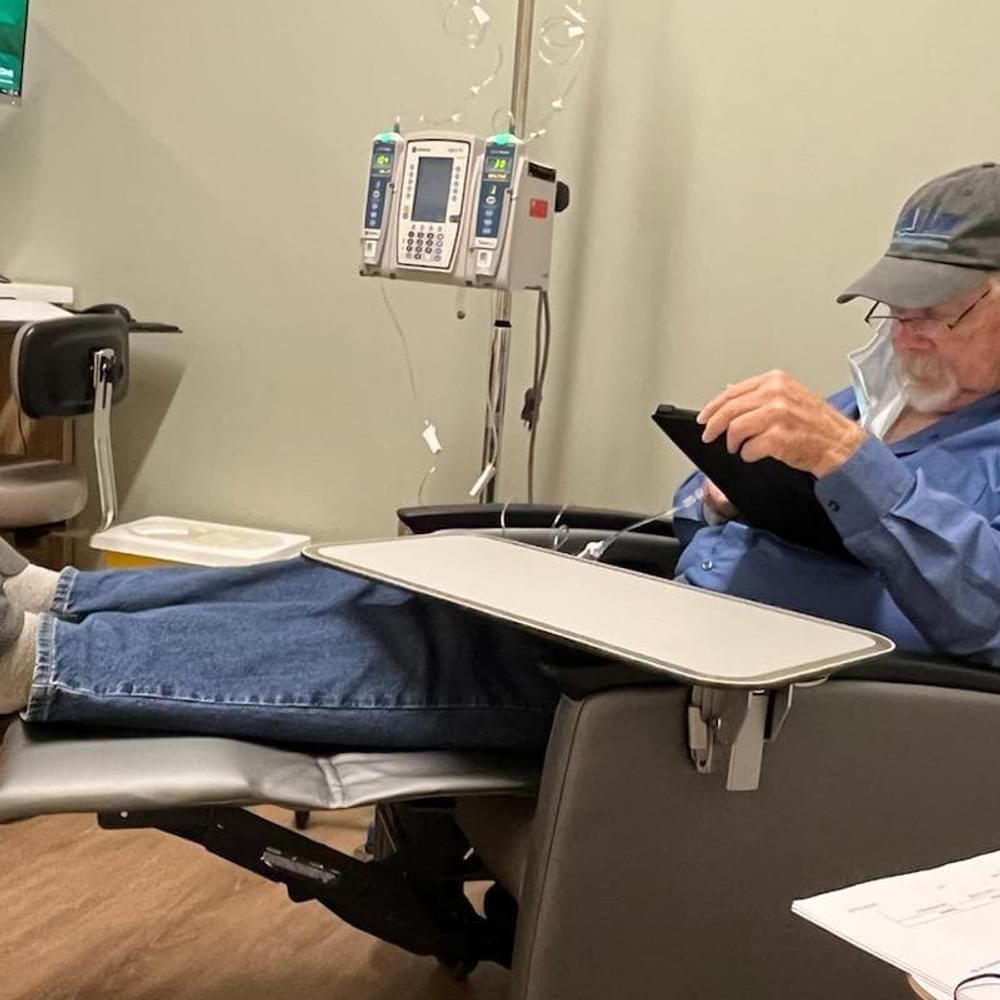 "We have sat in the infusion clinic, and there are maybe 50 or 60 people in there waiting," Sheila Peoples remembered. "But there are four or five or maybe six other rooms just like that with that many people waiting, all for infusions. And we have spent all day there, from 7 a.m. until about 4:30 p.m., when he needed two units of blood and two units of platelets."
Sheila Peoples said the shortage seems to have brought longer waiting periods, but when they are able to receive platelets, they are thankful, no matter the wait time. When Larry is done with the treatment, they have to drive 45 minutes back home to Tuscaloosa County. Sheila said, along with fatigue. There are other concerns during that ride home.
"There's a risk that he would just bleed out if he got cut, and he would have to go to the emergency room," she added. "I think a lot of people just aren't aware of how critical blood is and how cancer patients depend on it so much."
The primary function of platelets is to stop bleeding. So, when Larry is unable to get them, Sheila said he has to be very careful not to cut or scratch himself. He has also taken multiple chemotherapy drugs and has undergone procedures to stop the leukemia. Right now, he has to go to the doctor twice a week. Just this week, his baseline count was around 1200, a very low number.
"Sometimes he has very little energy," Sheila Peoples explained. "He can't do a whole lot."
But Sheila Peoples believes other people can do a whole lot by giving blood and platelets.
"A lot of people think you can specifically give to one person, but in Alabama, you can't do that anymore," she said. "You can give, and it goes to who needs it most. That's important."
When it comes to seeing the difference after her husband gets an infusion, Sheila Peoples said she wishes she could thank each person who took the time to care about others.
"When they bring the blood in and stuff, I wish I could thank that person," Peoples said in tears. "I don't know who they are, of course, but it's so lifesaving for us. The next day he feels better, he breathes better, he has more energy. On days that he needs blood, and he hasn't had it for a week, he's almost lethargic."
The process of giving blood is a little different that the process of donating platelets. You have to specify that you want to donate platelets, but also, they can only be stored for five days, so new donors are needed every day.
Platelets are also used to treat chronic diseases and traumatic injuries.
When platelets are taken, a machine is used that extracts the platelets and returns the rest of the blood back into a donor's body. The process takes a lot longer than a regular blood donation session. It can take around three hours but can also help multiple people.
"Anybody that takes the effort to help makes such a big difference," Peoples said. "I just want to thank these people because it's not just Larry. There are so many people, and we're all in this same boat together."
The American Red Cross and LifeSouth Community Blood Centers urge people to give blood and platelets as often as they are able. In fact, this year, the Red Cross said it is concerned that seasonal illnesses and a potentially severe flu season could drastically impact the blood supply.
To connect with the author of this story, or to comment, email [email protected].
Don't miss out! Subscribe to our newsletter and get our top stories every weekday morning.