Alabama Gov. Kay Ivey addressed the Cherokee County Chamber of Commerce Thursday at Gadsden State Community College's Cherokee Campus in Centre.
The event was part of the Cherokee County Chamber Breakfast, and the governor was Introduced by Rep. Ginny Shaver (R).
"Governor Ivey has been good to Cherokee County," said Ginny Shaver. "She's been good to District 39. And she is great for the state of Alabama."
Ivey spoke on multiple issues, including police funding, infrastructure, economic development, broadband access, tax relief and education.
Supporting the police
Ivey referenced pay raises for state troopers and gave support to public security.
"As long as I'm governor, we will fund - not defund - public safety, and these brave folks who put on their uniform each day to protect our communities," Ivey said. "This legislative session, I was proud to promise a pay raise for folks like our state troopers."
She also commemorated Rep. Shaver's husband, Cherokee County Sheriff Jeff Shaver, for
receiving
the "Sheriff of the Year" award for 2021 by the Alabama Sheriffs Association.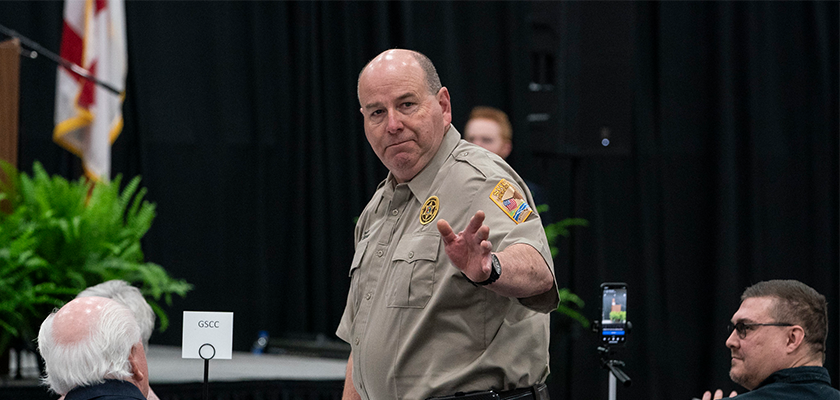 Improving infrastructure
Ivey wanted to be clear that her definition of infrastructure was different from Joe Biden's.
"When I say infrastructure, I don't mean Washington D.C's definition of the word," Ivey said. "We're Alabama, so I mean roads and bridges."
Ivey praised the Rebuild Alabama Act.
"We've made significant progress, thanks to the Rebuild Alabama Act," Ivey said.
Ivey attributed 1,900 new road and bridge projects started during her time as governor.
The Rebuild Alabama Act was passed by the legislature in 2019 and provided funding for ports, roads and bridges. It also imposed an incremental gas tax within the state and enacted fees on electric vehicles.
Ivey also addressed interstate access across the state.
"When I became governor, there were 16 counties without four-lane access to an interstate, Cherokee County being one of those," Ivey said. "Thanks to Rebuild Alabama, that's changing. I've made it my goal to make sure every county in Alabama has four-lane access to an interstate."
The state of Alabama's economy
Ivey assured the crowd that "Alabama's economy is rock solid."
"Dozens of new businesses opened their doors here locally during the pandemic," Ivey said. "Alabamians are the model for the nation."
Ivey lauded Alabama's ports, tourism, outdoor recreation and the non-union workforce in the Alabama auto industry as well as the aerospace and aviation industries.
"We are building rockets and building technologies to get this country back to the top when it comes to space exploration," Ivey said.
Improving broadband connectivity
One of the issues Ivey focused on heavily was broadband connectivity.
"An issue I know is important, in this group, is improving our broadband capabilities in all parts of the state," said Ivey. "Broadband is no longer a luxury item. It's a must for education, economic development to healthcare to business that you all do, and just our daily lives."
The governor credited the Connect Alabama Act with success in broadband connectivity around the state.
"I was proud to sign that bill into law," Ivey said. "We've also completed a map of broadband availability in Alabama, along with a plan to provide full access to broadband service."
Tax relief
The governor spoke favorably about two tax bills she has put her name on, one which she said is intended to provide relief for families and the other to offer support to small businesses following the coronavirus pandemic.
She did not mention suspending taxes on gas as Gov. Brian Kemp of Georgia announced Wednesday he would be doing to alleviate the burden of rapidly rising gas prices.
Nevertheless, Ivey assured, "We will continue to work hard to make sure Alabama is the best place to live, to work and to raise a family."
Schools and masks
Overall, Ivey insisted that education was her top priority.
"As a former teacher, I say the single most important issue in Alabama and in our nation is our children's education," Ivey said.
She spent much of her time on this issue, talking about the coronavirus pandemic, its impact on K-12 education and her disapproval of mask mandates in schools.
"No doubt the COVID-19 pandemic shined a light on our country's education system in many ways, but, folks, Alabama is a state leading the way in getting things back to normal," Ivey said. "Our children are receiving in-person learning, and schools are making the right decision to make masks a personal choice."
Ivey claimed she has informed schools that are still mandating masks to stop.
"We don't need them in Alabama," Ivey said about the mandates.
This appears to be a sharp turn-around in her attitude about face masks. In 2020, she signed the Safer at Home Order, which imposed mask requirements in public places, even outdoors where 10 or more people were gathering. Everyone, including children six and older, was required to wear masks. Ivey opted not to extend the mask requirement when it expired on April 9, 2021.
Ivey concluded her speech within 15 minutes, leaving the members of the Cherokee County Chamber to enjoy their breakfast casserole.
"If we work together to lay the groundwork for tomorrow, I'm confident our best days are ahead," Ivey said. "So, let's not waste a moment."
To connect with the author of this story, or to comment, email will.blakely@1819News.com