ORANGE BEACH — Governor Kay Ivey is requesting $50,000 to pay an attorney to assist her office with concealing from the public texts and emails sent from state officials concerning plans to build a new bridge in Baldwin County.
1819 News obtained a Contract Review agenda document stating the governor's office does not have the staff necessary to serve as lead counsel in the case.
"Contractor shall assist the Governor's Office with respect to discovery related matters and the protection of privileged information in litigation to include the lawsuit styled Baldwin County Bridge Company, LLC v. John R. Cooper, et al., Case No. 03-CV-202-90130.00, Montgomery County," the document reads.
In October, the Baldwin County Bridge Company (BCBC) filed suit against ALDOT and director John Cooper over ALDOT's plans to build a new bridge over the Intercoastal Waterway, just one mile from the Beach Express bridge that BCBC operates. The company claimed the new ALDOT bridge could put them out of business or lead them into bankruptcy.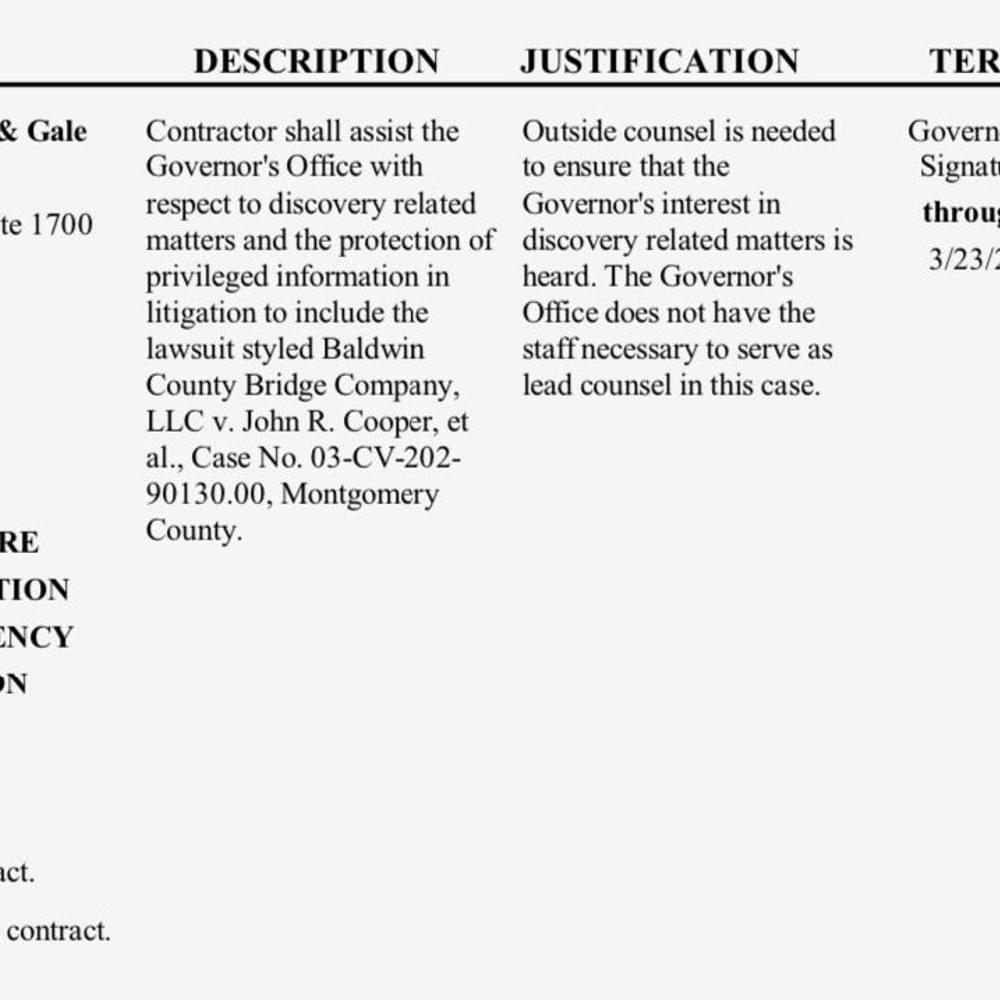 The judge in the Circuit Court case, the Honorable Jimmy Pool, ordered Cooper to produce discovery documents, including communications between himself and chiefs of staff with Ivey's office. However, that order was stopped by the Alabama Supreme Court almost immediately with an emergency order claiming executive or deliberative process privileges. Those privileges protect government agencies by allowing them to withhold information on how decisions or policies were made or created.
Ivey's team maintains communications, in this case, are protected by executive or deliberative process privileges.
"The governor's legal team is working to formally state her position, and that will be done the right way and the most transparent way – in court," Ivey's Communications Director Gina Maiola told 1819 News in early February. "Governor Ivey's executive order on public records makes the request process more accessible, response times more timely and fees more reasonable, while also acknowledging that there has to be a balance for an efficiently run government."
Maiola also pointed out that the order states, "the Alabama Supreme Court has also recognized that disclosure of government records must always be balanced against the need for government business to be conducted 'efficiently and without undue interference.'"
The Contract Review Legislative Oversight Committee meets Thursday at 1:30 p.m.
To connect with the author of this story or to comment, email erica.thomas@1819news.com.
Don't miss out! Subscribe to our newsletter and get our top stories every weekday morning.