Kendall Watson's first look at a Samford football game came in his hometown of Chattanooga.
Watson, who can be described as a not-so-tall wide receiver, was intrigued while watching the Bulldogs sling it around the field. He saw 5-foot-8 Kelvin McKnight, an All-American receiver, and 5-foot-8 Chris Shelling catching passes and scoring touchdowns.
Ultimately, he was hooked.
"It was incredible to see," said Watson, who is now listed at 5-foot-10, 183 pounds. "Samford, they lost that game, but it was amazing to see. KJ McKnight scored two touchdowns that game. I was like, 'He looks like me.' I felt like I could go do something similar to that. It was kind of inspiring. Shout out to KJ for that."
At the time, Watson had several Division III offers he was contemplating. Soon after that day, Samford started calling. Eventually, he came to Samford as a preferred walk-on player.
It was a win for Watson. It was a win for the Bulldogs. These days, Watson and Chandler Smith are making life miserable for opposing defenses. Both have played a big role for a Samford team that is 6-1 overall and 4-0 in Southern Conference play heading into Saturday's SoCon game at The Citadel.
"I guess we're really good walk-on recruiters, because Chandler and Kendall both were walk-ons when they came [to Samford]," joked Samford head coach Chris Hatcher.
Just like with Smith, it hasn't been an overnight process to becoming one of the better receivers in the Southern Conference. Watson was a redshirt in 2017 and caught two passes in six games the following season. He had 25 catches for 360 yards with three touchdowns in 12 games in 2019 and 16 catches in the spring of 2021. Last fall, he had what was then a career best season with 36 catches for 410 yards.
Add all of that up and you have 79 career catches for 1,030 yards with four touchdowns.
This season, in the first seven games, Watson already has season-highs in receptions (44), receiving yards (509) and receiving touchdowns (4). Last week, he had 11 catches for 146 yards with a touchdown. It was his second consecutive double digit reception performance, following his 10 catch, 83-yard performance with a touchdown against Wofford. Perhaps his best overall game came in the season opener when he had nine catches for 187 yards and two touchdowns.
"It's the best offense you can be in [as a receiver]," Watson said. "We get the ball as much as running backs do in other conferences and other systems. Just going out there, each and every day, knowing you're going to be counted on to make plays is comforting as a receiver. When you prepare throughout the week, you know you're going to have the opportunity to make plays on Saturday."
Through seven games, Watson and Smith (47 catches for 494 yards, seven touchdowns) grabbed the role as go-to receivers for quarterback Michael Hiers. But the Bulldogs also spread the ball around. Five more Samford players have at least 19 catches, 10 players have at least one touchdown catch and 13 players have at least one reception.
"We're going to spread it out, everyone is going to get in there and have an opportunity to make a play," Watson said. "We always talk about next man up. Whenever one person isn't in, the next person can be the one who makes that play, scores that touchdown or whatever he's asked to do."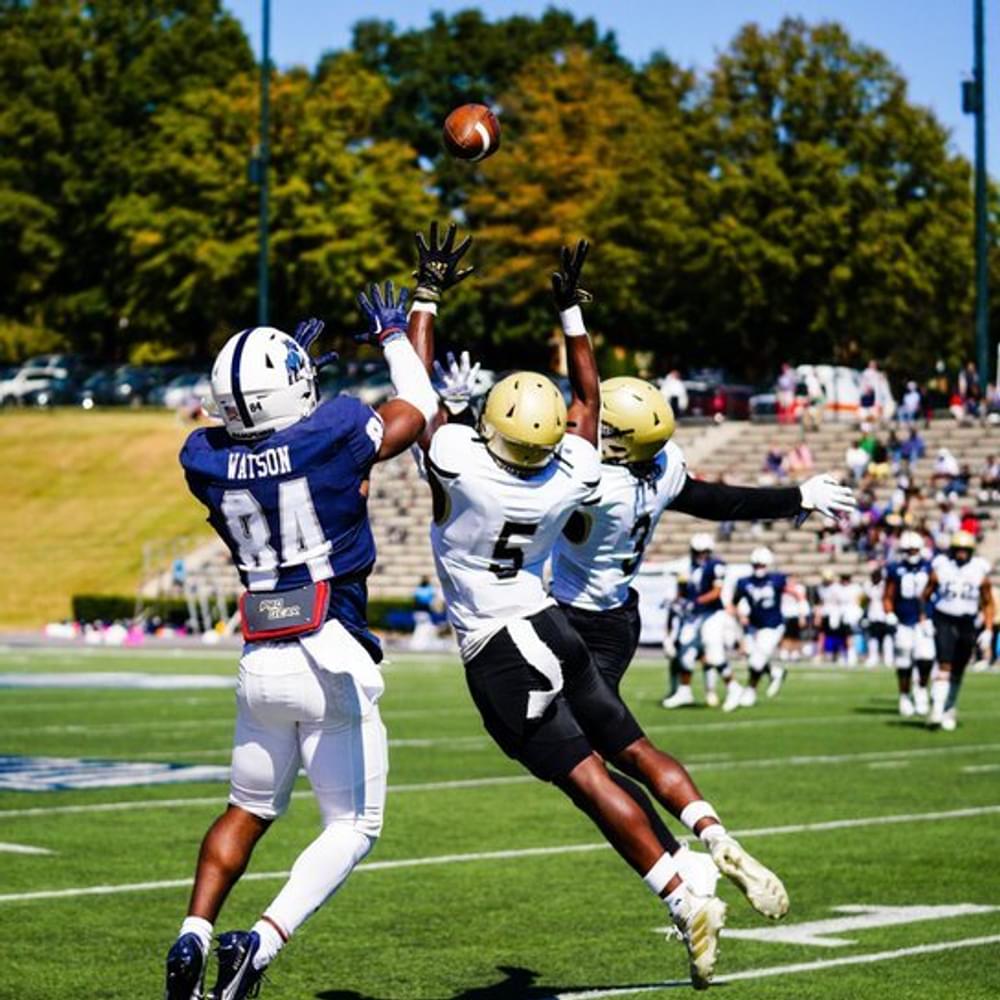 What Watson is asked to do right now is be one of the most consistent players on the offense.
"He's playing really well," Hatcher said. "He's worked extremely hard. He's catching the ball more consistently, and he's working more on the fundamentals. That was a big emphasis leading into spring practice. He's been a go-to guy. We've missed him a few times on some big ball early in the year. The biggest thing I've seen this year is he's much better after the catch than he's ever been. I don't know if that's due to getting older or more experienced or he really trained in the offseason, which I know that he did. He's been an explosive guy with the ball in his hands."
That's exactly what Watson had in my mind when he decided to come to Samford. However, this wasn't just a football decision. Watson said the chance to get a Samford education also played a big role. He earned his undergraduate degree in sports administration in the spring of 2021 and hopes to finish his MBA next spring. He wants to work in operations or the front office of a professional organization.
Chances are pretty good he will make that happen.
To connect with the author of this story, or to comment, email steve.irvine@1819news.com.
Don't miss out! Subscribe to our newsletter and get our top stories every weekday morning.