Christians have been increasingly playing defense in society's culture wars. Much of this is owed to progressives attempting to mock, shame, and ultimately remove any semblance of traditional Christian principles from the public square.

Indeed, progressives have attacked the legitimate role of parents as the primary educators of their children by labeling parents who challenge morally questionable school curriculum as domestic terrorists. They have scoffed at our country's established history of respecting religious conscience rights and medical freedoms in their demand for unwarranted COVID-19 vaccine mandates. They have deemed the sacred life of a child in the womb as easily replaceable and worthy of elimination at any stage of pregnancy by their biological mothers. They have dismissed the notion of objective truth when it stems from faith or Scripture but have forced allegiance to their version of "truth" when it stems from false ideologies that reduce a person's inherent value down to race and gender.

And to date, Christians, such as myself, have resorted to a good bit of defense to simply hold the line. We've created watchdog groups, promoted Christian-protective legislation and policy, and of course, defended our beliefs against what feels like a culture increasingly hostile and ignorant of faith.

Something occurred to me, though, after watching a clash between pro-lifers attending last week's annual March for Life in Washington, D.C., and some pro-choice activists.

The night before the March, faithful attendees gathered for a prayer vigil inside The Basilica of the National Shrine of the Immaculate Conception. Meanwhile, a group of activists calling themselves "Catholics for Choice" reportedly projected a series of pro-choice messages onto the Basilica's bell tower and church front. Messages such as …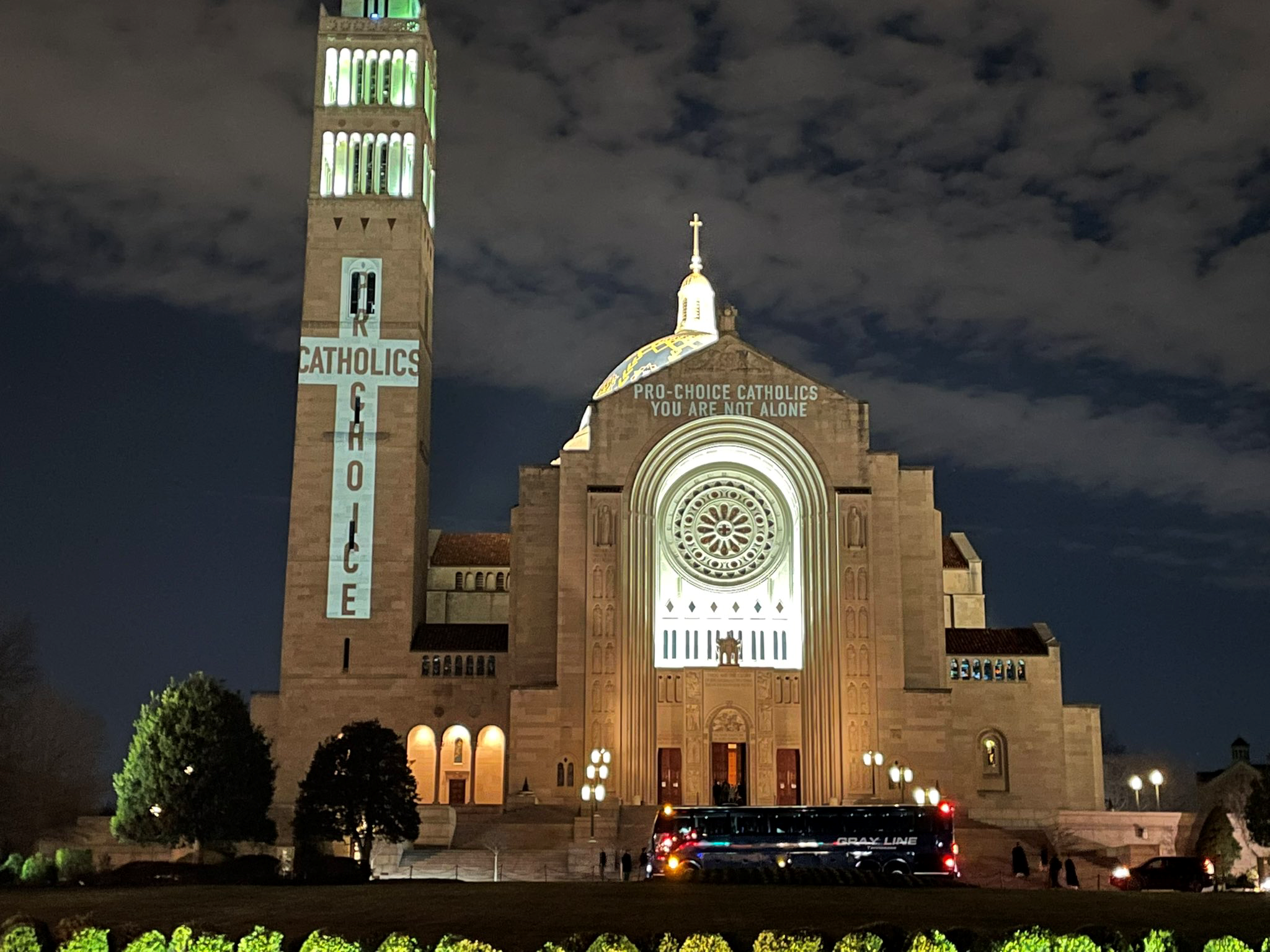 Director of Communications and Strategy for Catholics for Choice Ashley Wilson then Tweeted on social media the reason for their demonstration: "I know that my faith teaches Catholics to honor personal conscience," she wrote. "And yet, the Catholic hierarchy seeks to polarize pro-choice Catholics and villainize people who make the moral choice to have abortions."
It was yet another assault on faith beliefs, and as such, my first instinct was to play defense. Do they know one's conscience should be nurtured in faith before it can be deemed a reliable moral guide? Do they realize they are the ones who aren't "listening" because they turn deaf ears on the most vulnerable in society, our unborn children?
The more I studied the visual these activists created, however, the more I realized it offered an important reminder.
Ironically enough, the visual revealed an impressively majestic church filled with believers committed to prayer and devotion on the inside while those outside used flashy lights and false claims to distract and divert them from their mission. It also revealed a church whose strength, serenity, and beauty actually made their meager attempts to degrade it appear not just irreverent and superficial, but frankly, immature.
And that's the message many of us Christians could use right now.
When there are overt attacks on faith that could potentially deceive others, it is surely necessary to set the record straight with God's truth. It is also important to preserve our religious freedoms in the public square. But the real strength — the actual attractiveness of the church — stems from an undeterred focus on Christ's mission. And that mission is achieved best by prioritizing our offense over our defense.
In other words …
In the midst of defending against the advances of toxic ideologies that create division between people based on race or economic status, we must not neglect the real work of creating authentic Christ-centered relationships and communities that transcend color and economic lines.
In the midst of defending parental rights, we must not neglect the real work of intentionally parenting our children in faith inside the four corners of our home.
In the midst of challenging those who insist our identities are grounded in superficial characteristics or who ignore our conscience rights, we must not neglect our real identity in Christ—and call to witness His love — by serving the poor, feeding the hungry, visiting the sick, and loving our neighbors as ourselves. In the midst of combatting secular narratives, we must not neglect our real joy in Christ and stories of His saving love and mercy.
The point is there will always — always — be those hostile to matters of faith who are ready to attack believers. And sometimes those attacks will be worthy of response and redress.
We shouldn't forget, however, that the real strength of the church stems not from fighting off outside attacks but staying true to its mission in a way that draws more people inside.
Krissie Allen is a former attorney and English teacher who writes about issues impacting faith, society, and good sense. Her column appears every Tuesday in 1819 News. The views and opinions expressed here are those of the author and do not necessarily reflect the policy or position of 1819 News. To comment, please send an email with your name and contact information to Commentary@1819News.com.