He's been through body transformations and season-altering injuries. He's been through a pair of coaching staffs and seasons that didn't go well. He's been through a COVID season.
Put it all together, and it's made Samford senior Logan Dye the player and person he is today.
What Samford senior Logan Dye hasn't experienced, though, is something that is still on the table. The Haleyville High School product has never been part of a team that won the Southern Conference Tournament.
"It would just mean absolutely everything," Dye said. "It's what I dreamed of as a kid. Obviously, I didn't know I was going to be in the SoCon. I didn't know where I'd be. But to be training for something as long as I've been training with basketball, it wasn't just a sport I wanted to play when I was growing up. It was, I'm going to a career out of this, I'm going to play college, I'm going to do whatever I can."
Dye put together his best college season in a year that the Bulldogs claimed a share of the regular season for the first time in program history. It hasn't been easy. There was a seven-game losing streak at the end of non-conference play, a few injuries and plenty of in-game adversity. But the Bulldogs persevered and take the No. 2 seed into the SoCon Tournament with a quarterfinal matchup against the winner of Friday night's game between Chattanooga and VMI.
"I've seen all these teams win," Dye said. "Last year, we felt like we were close but not close enough. This year, we truly have a lot on the line, knowing it's our last year. Winning it, that's just going to stick with me for the rest of my life. That's something you're going to look back on. You're going to remember the guys that you won it with. You're going to remember how you win. You're not going to remember all those bad days and all those losses. It's going to carry on through the rest of your life."
He has another motivation.
"I want to have that memory forever," Dye said. "I want to be able to tell my kids about it. I don't want to be that bum where my kids say, 'You never won anything.'"
Win or lose, Dye will have a tale to share with his kids about a college journey that wasn't always smooth. It began with a freshman season where he played 24 games before sitting down for the final eight games with a broken foot.
"My freshman year, my coaches probably should have sat me out and redshirted me," said the 6-foot-9 Dye. "It's hard for me to make that decision, I thought they should have saw that."
The season did teach him that he had to get his body ready for college basketball. It began a journey toward finding the right mix of weight loss and muscle gain.
"I lost some weight but I didn't do it like I probably could have," Dye said of the offseason after his freshman year. "You just truly don't understand the dedication and how much you have to truly devote to something when you haven't done it yet. Once I realized what I needed to be doing, going into my sophomore season, I really got to where I could devote a lot of time to it. I remember that summer, I spent all my time in the gym, all my time researching. Going into my junior year, was COVID, so it was kind of weird. Senior year, I gained a little bit of weight back. I thought I was gaining muscle, but I was actually gaining too much."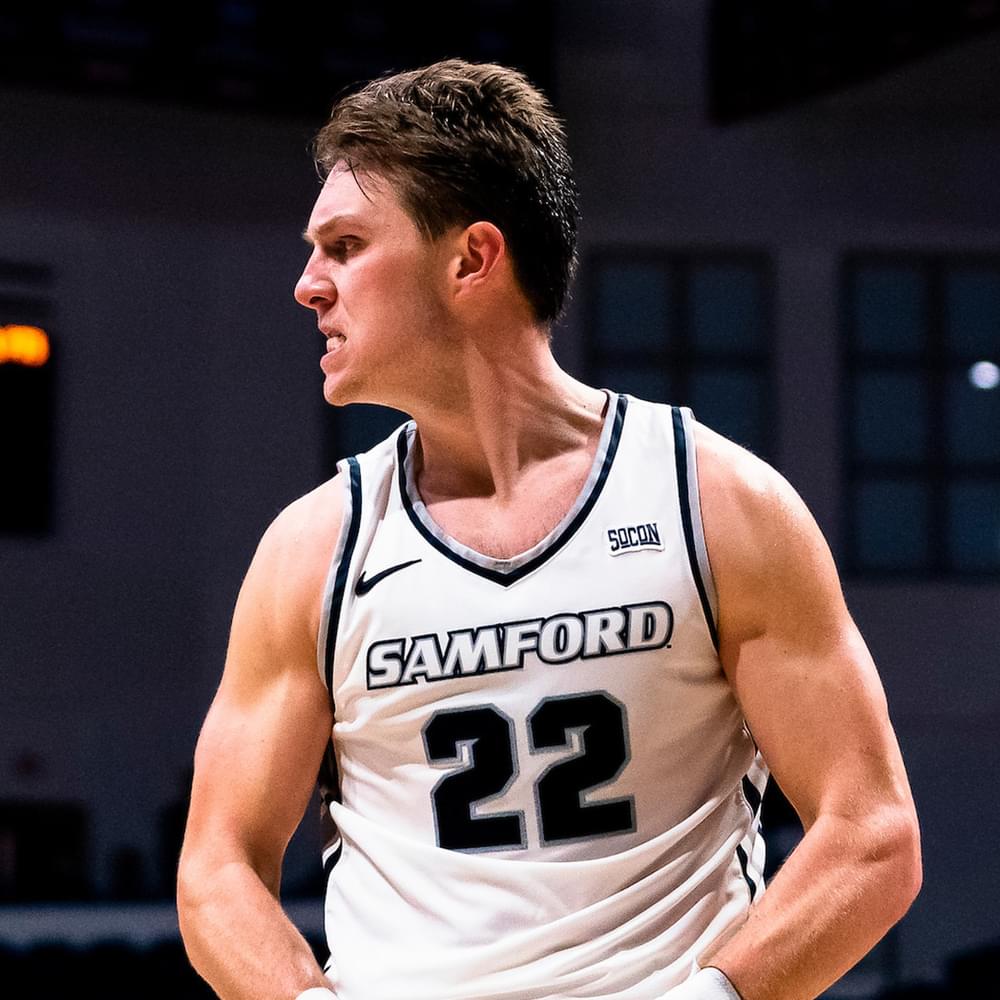 This season was different. This time was his final shot at college basketball. He wanted no regrets.
"This year, I was like, 'This is it,'" Dye said. "When you know it's your last one, you kind of do everything like you're walking on ice. Everything you do, you want to make sure you're doing the right thing."
That began long before the season.
"I lost 30 pounds this summer," Dye said. "That's been the world of difference this year. I've just been able to fly around and be able to play as long as I want. My endurance has gone up; I haven't had as many injuries. I would say that's the biggest key to my success is just changing my body. I wouldn't say I've developed new skills or anything. Everything I've had, I had since I was in high school and coming up. I just didn't have the athleticism or body for it. I think that was the biggest thing for me."
He responded with an All-Southern Conference season. Dye averaged 13 points and 5.1 rebounds per game with a career-high 36 3-pointers. Now he wants to finish in style.
Don't miss out! Subscribe to our newsletter and get our top stories every weekday morning.