U.S. Sen. Tommy Tuberville (R-Auburn) found himself the target of an onslaught of accusations of racism following comments he made at a political rally staged by former President Donald Trump over the weekend.
However, much of the controversy reported by some Alabama media outlets is based on not just misrepresenting the point he was making but misquoting him entirely.
In Tuberville's remarks at the campaign rally on behalf of Nevada GOP U.S. Senate nominee Adam Laxalt, Tuberville talked about what he perceived to be the Democrats' promotion of crime in the nation.
"Some people say [Democrats] are soft on crime; no, they're not soft on crime," Tuberville said. "They're pro-crime. They want crime. They want crime because they want to take over what you got. They want to control what you have," the senator said.
However, it was the next line that critics have been calling out as blatantly racist: "They want reparation because they think the people that do the crime are owed that. Bullshit! They are not owed that."
Nearly every major news outlet quoted Tuberville as saying "reparations" with an "s" instead of the word's singular form.
"Reparation" has a technical definition, which is "the making of amends for a wrong one has done, by paying money to or otherwise helping those who have been wronged."
In standard political speech, the word "reparations" refers to the redistribution of wealth to descendants of slaves.
While a seemingly innocuous addition, the single letter lends a mouthful of intent to Tuberville's words.
Alabama media and national media alike have misquoted Tuberville, with some going as far as to brand the senator's comments as racist.
"Sen. Tommy Tuberville silent amid uproar over racist remarks made at Nevada event," read a headline for the Montgomery Advertiser, where Tuberville was quoted as saying "reparations."
WSFA called Tuberville's comments "racially-charged," quoting him as saying "reparations."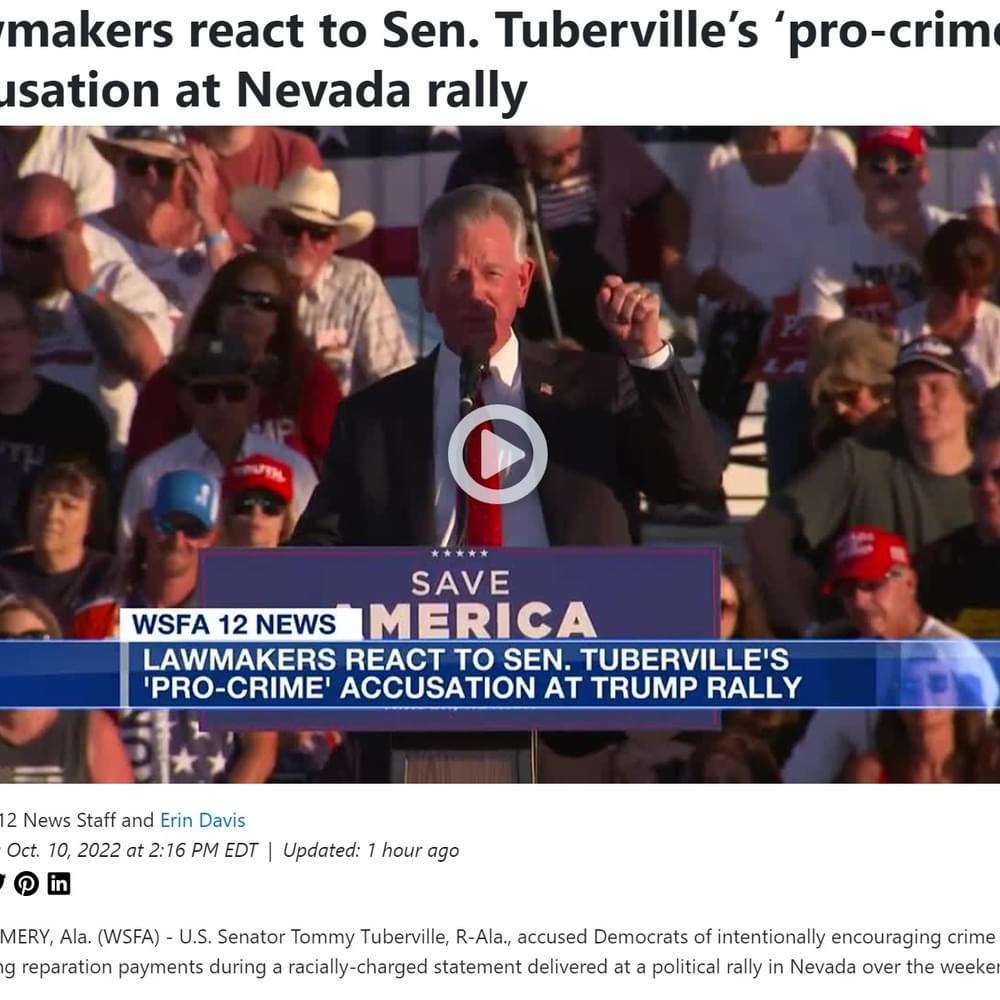 The Alabama Political Reporter also quoted Tuberville as using the word "reparations," calling the remarks "a race-baiting screed."
AL.com quoted the senator as saying "reparations," even though the tweet which contained that video being quoted accurately transcribed the word "reparation."
When challenged on the decision to quote Tuberville as saying such, AL.com education editor Ruth Smith said that the meaning of the two words is "often used interchangeably" and, therefore, did not substantially change the meaning of the quote, even if they misquoted it.
Tuberville has yet to respond to the outrage over his remarks. Although his speech lacked any racial component, Tuberville's words have also been reinterpreted by Alabama political figures.
Former U.S. Sen. Doug Jones (D-Mountain Brook) took to Twitter to live stream his reaction.
Tommy is at it again. Let's talk about it. https://t.co/hssCuqEqwN

— Doug Jones (@DougJones) October 9, 2022
"This is a bridge too far," Jones said. "This racist rant at a MAGA rally just can't go uncalled out. Somebody has just got to call bullshit on his bullshit … He knows full well that reparations are identified with the black community in Alabama and across the country."
Tabitha Isner, vice chair of the Alabama Democratic Party, took to Twitter, calling the senator's comments racist and imploring the Alabama GOP to do something.
Hey @ALGOP, Tuberville just equated Black Americans with "people that do the crime." What're you going to do about such blatant racism in your party's leadership? My money's on NOTHING. But please, prove me wrong. https://t.co/FyghAwBeYc

— Tabitha Isner (@TabithaK) October 9, 2022
"Senator Tuberville's comments are flat out racist, ignorant and utterly sickening," NAACP President Derrick Johnson said in a statement.
To connect with the author of this story, or to comment, email craig.monger@1819news.com.
Don't miss out! Subscribe to our newsletter and get our top stories every weekday morning