Except for the state's lone Democratic congresswoman U.S. Rep. Terri Sewell (D-Birmingham), Alabama continues to have very conservative representation on Capitol Hill in Washington, D.C.
The American Conservative Union released the results of its 2021 scorecard with ratings based on votes taken by the members.
Given the Democrats' control of both chambers, scoring was mainly based on opposition to legislation that included economic, environmental, fiscal, social and voting issues.
Leading the way, with a 97-out-of-100 score, was U.S. Rep. Mo Brooks (R-Huntsville), who is also running for Alabama's U.S. Senate seat up in November.
Brooks was followed by U.S. Rep. Barry Moore (R-Enterprise), scoring 95%, U.S. Rep. Robert Aderholt (R-Haleyville) at 92%, U.S. Rep. Gary Palmer (R-Hoover) with 92%, U.S. Sen. Tommy Tuberville (R-Auburn) at 92% and U.S. Rep. Jerry Carl (R-Mobile) with 90%.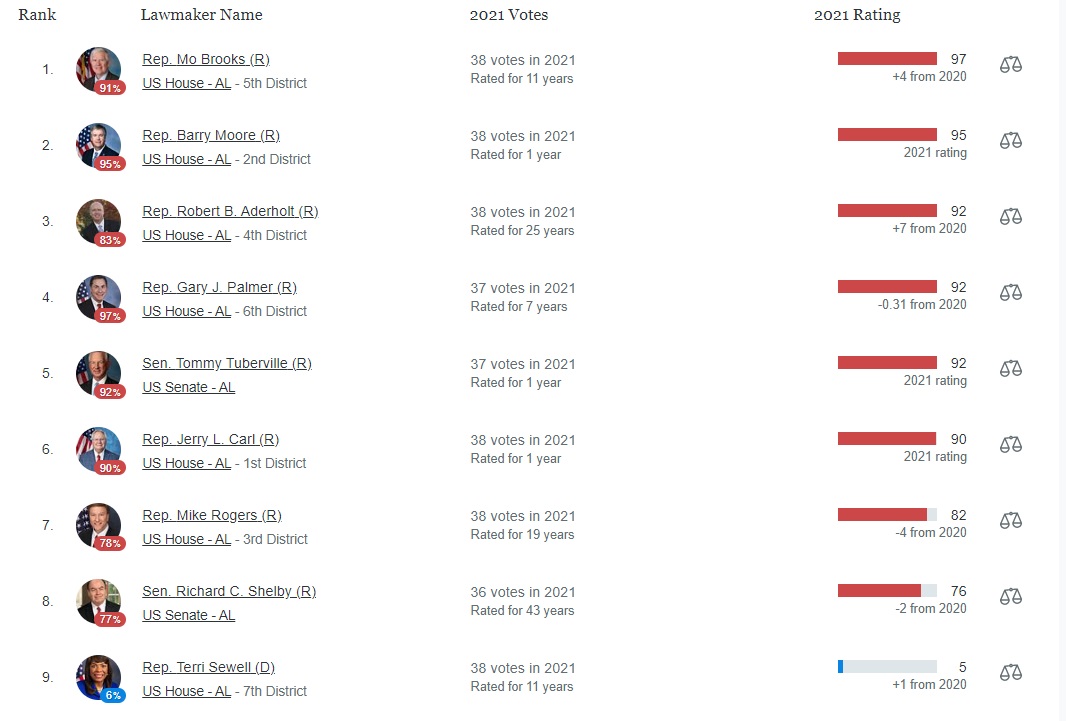 SEE ALSO: Mo Brooks responds to conservative award
Rounding out the delegation were U.S. Rep. Mike Rogers (R-Saks) with an 82% score, U.S. Sen. Richard Shelby (R-Tuscaloosa) at 76% and Sewell, coming in with a 5% rating.
According to the ACU's website, those earning a score of 90% or higher are presented with the Award for Conservative Excellence, while those who earn a score of 80% or higher, but less than 90%, are presented with the Award for Conservative Achievement. 
In addition to that, lawmakers earning a score of 10% or lower qualify to be a part of the ACU's Coalition of the Radical Left.
To connect with the author of this story, or to comment, email jeff.poor@1819News.com.
Don't miss out! Subscribe to our newsletter and get our top stories every weekday morning.